Posted on: Thursday, 10th February, 2022
Abune Antonios, the third Patriarch of the Eritrean Orthodox Tewahedo Church died on 9 February 2022 at Asmara, Eritrea, at the age of 94
Abune Antonios was born on 12 July 1927 in the town of Hembrti, in the province of Hamasien. He was ordained priest in 1942, and later elected as Abbot of the Debre Tsege Abuna Endrias monastery in 1955. When Eritrea gained its independence from Ethiopia in 1993 the Eritrean Orthodox Tewahedo Church was granted autocephaly by Pope Shenouda III, Patriarch of Alexandria of the Coptic Orthodox Church, and Antonios was one of the five abbots of Eritrean monasteries who went to Egypt to be ordained as bishops so that their church would have its own Holy Synod. He was consecrated as Bishop Antonios of Hamasien-Asmara on the Feast of Pentecost, 19 June 1994, in Saint Mark's Coptic Orthodox Cathedral, Cairo, by Pope Shenouda III, on the same day that Abba Seraphim was ordained as a Metropolitan by Pope Shenouda.
The first Patriarch of Eritrea was Abune Phillipos (1901-2002), who was appointed by Pope Shenouda on 7 May 1999 but was succeeded by Abune Yacob. The pontificate of Abune Yacob (1924-2003) as second Patriarch of Eritrea was very brief, as he died not long after his enthronement, and he was then succeeded by Abune Antonios as the third Patriarch of Eritrea. Abune Antonios was elected on 5 March 2004, and enthroned as the third Patriarch of the Orthodox Tewahedo Church of Eritrea on 24 April 2004. Pope Shenouda III presided at the ceremony in Asmara, together with the Holy Synod of the Eritrean Orthodox Church and a Coptic Orthodox Church delegation.
He was illegally and forcefully deposed by the Eritrean government in 2006, and was placed under house arrest thereafter.
In August 2005, Abune Antonios, the Patriarch of the Eritrean Orthodox Tewahedo Church, was confined to a strictly ceremonial röle. In a letter dated 13 January 2006 Abune Antonios was informed that following several sessions of the church's Holy Synod, he had been formally deposed. In a written response that was widely published, the Patriarch rejected the grounds of his dismissal, questioned the legitimacy of the synod, and excommunicated two signatories of the 13 January 2006 letter, including Yoftahe Dimetros, whom the Patriarch identified as being responsible for the church's recent upheavals. Patriarch Antonios also appealed his case to the Council of the Monasteries of the Eritrean Orthodox Church and to the Coptic Orthodox Church of Alexandria. Abune Antonios was deposed by the Eritrean Holy Synod supposedly under pressure from the Eritrean government led by President Isais Afwerki. The religious freedom situation in Eritrea under the régime of President Afwerki was extremely grave, with an estimated 2,000 to 3,000 religious prisoners and reports of torture and other inhumane treatment of religious prisoners. The government dominated the internal affairs of the Orthodox Church of Eritrea, which was the country's largest Christian denomination, and also suppressed Muslim religious activities and groups.
In 2006 Abune Antonios was placed under house arrest and strict surveillance and held without charge and on 27 May 2007 the government wrongly deposed him in violation of the church's constitution and canons and on the same day, in the early hours of the morning Abune Antonios was forcibly removed from his residence and transported to an undisclosed location, where he was kept under house arrest, but he protested government interference in his church's affairs. Abuna Antonios was replaced by Bishop Dioskoros of Mendefera as the 4th Patriarch of the church, who eventually died on 21 December 2015. Charges were brought against him by Yeftehe Dimetros, a layman appointed by the government as administrator of the Orthodox Church.
Among accusations brought against the Patriarch, were his reluctance to excommunicate 3,000 members of the Medhane Alem, an Orthodox Sunday School movement, and his demands that the government should release imprisoned Christians accused of treason. He was allowed to officiate at church services, but prohibited from having any administrative röle in church affairs.
He continued to be held under duress, with state agents ensuring that he could not leave the premises. There has never been an opportunity for him to question and challenge this illegal detention in a court of law. He was detained arbitrarily and without charge or trial, solely at the whim of the Eritrean President and ruling clique in government. He was being held virtually incommunicado, and was deprived of all contact with clergy and friends.
Since 2007 Abune Antonios had been considered by the USA to be a religious prisoner of conscience. His removal at the behest of the Eritrean government was denounced by the other Oriental Orthodox Churches, who refused to recognize Abune Dioskoros as Patriarch of Eritrea. In July 2019, in an unprecedented move, bishops of the Holy Synod of the Eritrean Orthodox Tewahedo Church excommunicated Abune Antonios for heresy. The letter from five of the six most senior Eritrean bishops declared that "His name should never be mentioned and remembered and those who do so will be punished severely." Although the Patriarch was expelled from being a member of the church, the bishops promised he could still live in a church building. The president of the Standing Conference of Oriental Orthodox Churches condemned his excommunication.
Following his deposition Abba Seraphim frequently joined an annual Protest outside the Eritrean Embassy in Islington, London.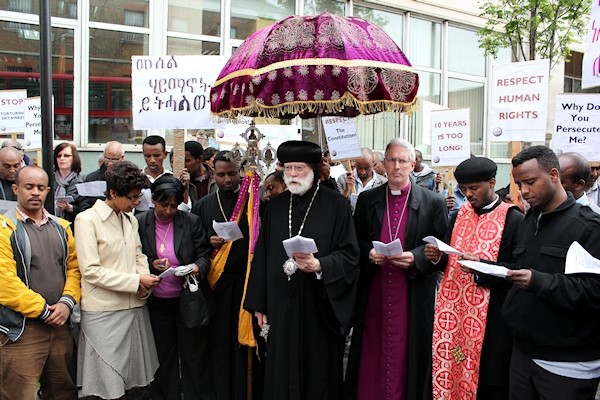 The protesters took up their position on the pavement opposite the embassy and represented a wide rank of Christian denominations as well as of several human rights groups (Christian Solidarity Worldwide, Release International, Release Eritrea, Church on Chains, Human Rights Concern Eritrea) who came together to pray for the persecuted Christians of Eritrea and their government. A large number of the banners portrayed His Holiness Abune Antonios, the imprisoned Patriarch of Eritrea. Abba Seraphim was joined by the Anglican Bishop of Southwark (The Right Rev'd Christopher Chessum), Father Yonas Tesheme (Sheffield) and Deacon Joannes Gebrehiwet (Manchester) with a number of other deacons representing the Eritrean Orthodox Diocese of Europe. Speakers and Prayers were led by Abba Seraphim, Andy Dipper (Release International), Dr. Berhane Ashmelesh (Release Eritrea), David Turner (Church in Chains), Elsa Chyrum (Human Rights Concern Eritrea), Selam Kidane (Release Eritrea), Dr. Khataza Gondwe (CSW). At the end of the protest a letter was signed on behalf of the whole group by Abba Seraphim and Bishop Christopher and was delivered to the Eritrean Ambassador.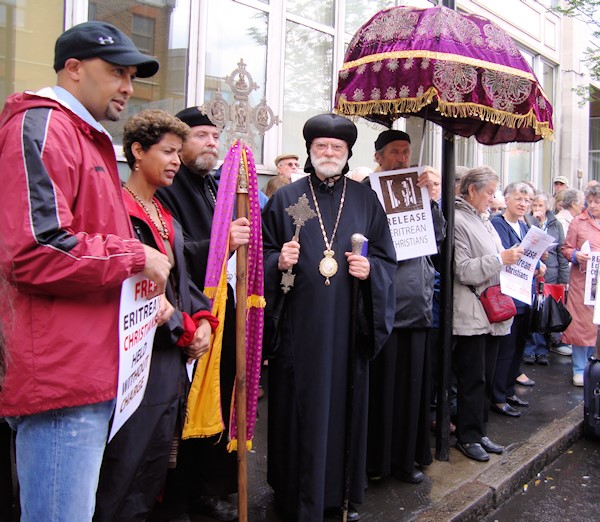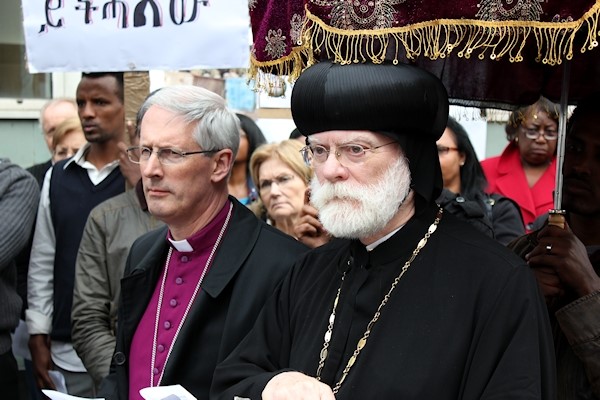 Posted on: Friday, 4th February, 2022
The British Orthodox Church is resolutely Monarchist and as 6th February 2022 is the seventieth anniversary of the death of  King George VI and the accession of his daughter  as Queen Elizabeth II, the Divine Liturgy for this Sunday will include special prayers for Queen Elizabeth's Platinum Jubilee and the commemoration of King George VI. Our queen's great-great-grandmother, Queen Victoria was previously our longest reigning sovereign, but only reigned for sixty-three years (1837-1901) whilst the longest reigning European monarch was King Louis XIV of France, who reigned for seventy two years (1643-1715). Metropolitan Abba Seraphim will commemorate our Queen's Jubilee by celebrating the Divine Liturgy at the Church of St. Mary & St. Felix at Babingley, which is in the fields of the royal Sandringham estate in Norfolk.  
Posted on: Sunday, 21st November, 2021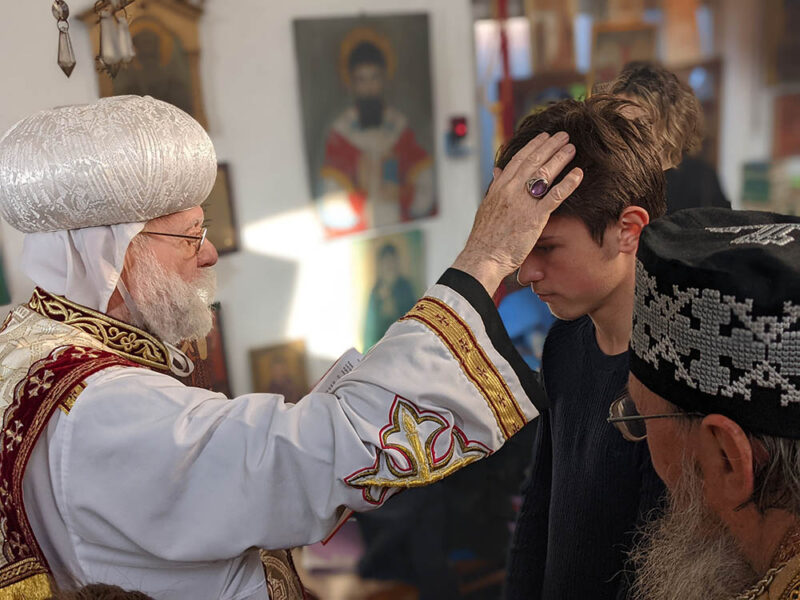 Now that his visual problems have improved following his recent operation at Moorfield's Eye Hospital in London, Abba James drove His Beatitude Abba Seraphim to celebrate the Divine Liturgy at the Church of Christ the Saviour at Winton, Bournemouth, which they had last been to only thirteen months previously. They were supported by Hieromonk John Ives and Epsaltos Yuriy Kot but during the Liturgy Abba Seraphim ordained the two brothers, Dmitriy Sitnikov (aged 15) & Gregory Sitnikov (aged 10) as Epsaltoi as they have been regularly assisting Hieromonk John when he celebrates the Liturgy there.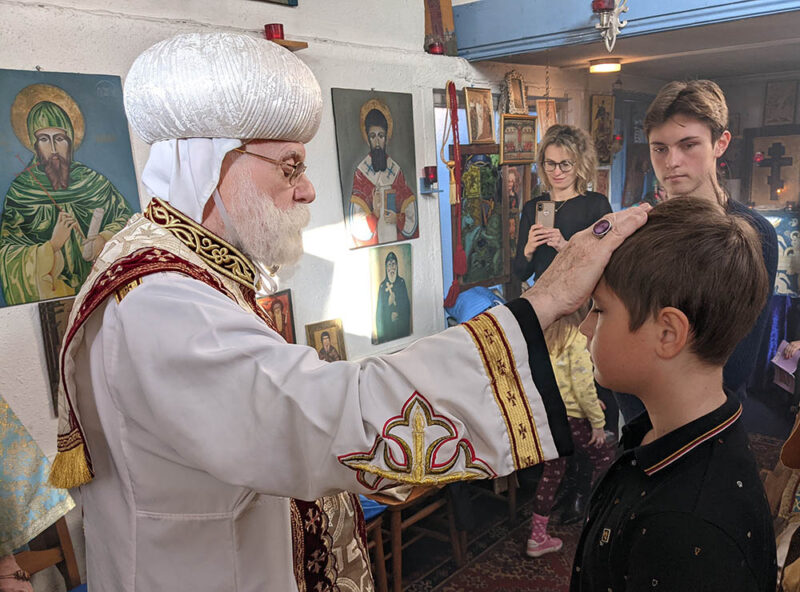 Posted on: Sunday, 7th November, 2021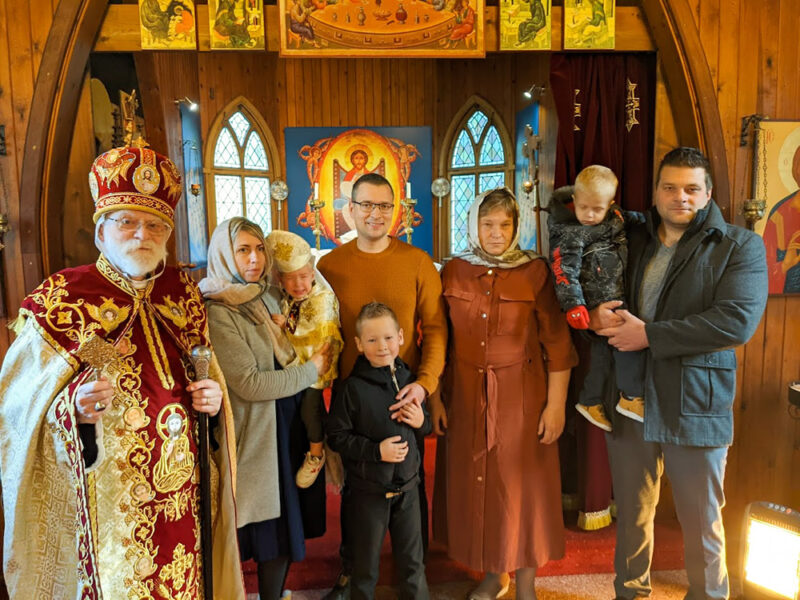 Following his successful eye operation at Moorfield's Eye Hospital, Abba James has now resumed driving his car and on Sunday, 7th November, he drove Abba Seraphim to the Church of St. Mary & St. Felix at Babingley, Norfolk, where he assisted Abba Seraphim in performing the baptism & chrismation of Jason Cvetkovs, the two year old son of Vjaceslavs Cvetkovs & Liudmyla Tsvietkova of King's Lynn. The family were accompanied by several friends, of whom two became Jason's godparents. Also among them was Jason's elder brother, Ethan Cvetkovs, who had also been baptised & chrismated by Abba Seraphim at Babingley on 3 June 2018.
Following the baptismal service Abba Seraphim and Abba James celebrated the Divine Liturgy, at which Jason and his family with his godparents all received Holy Communion.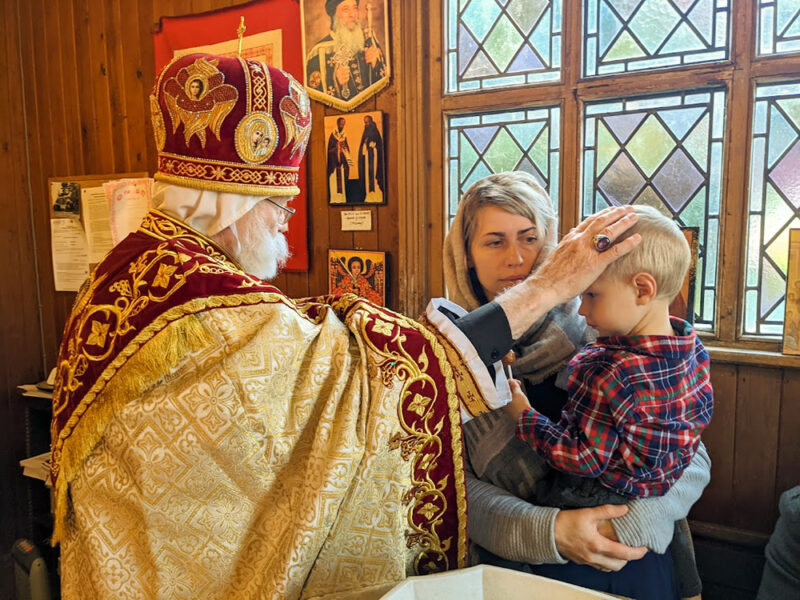 Posted on: Saturday, 16th October, 2021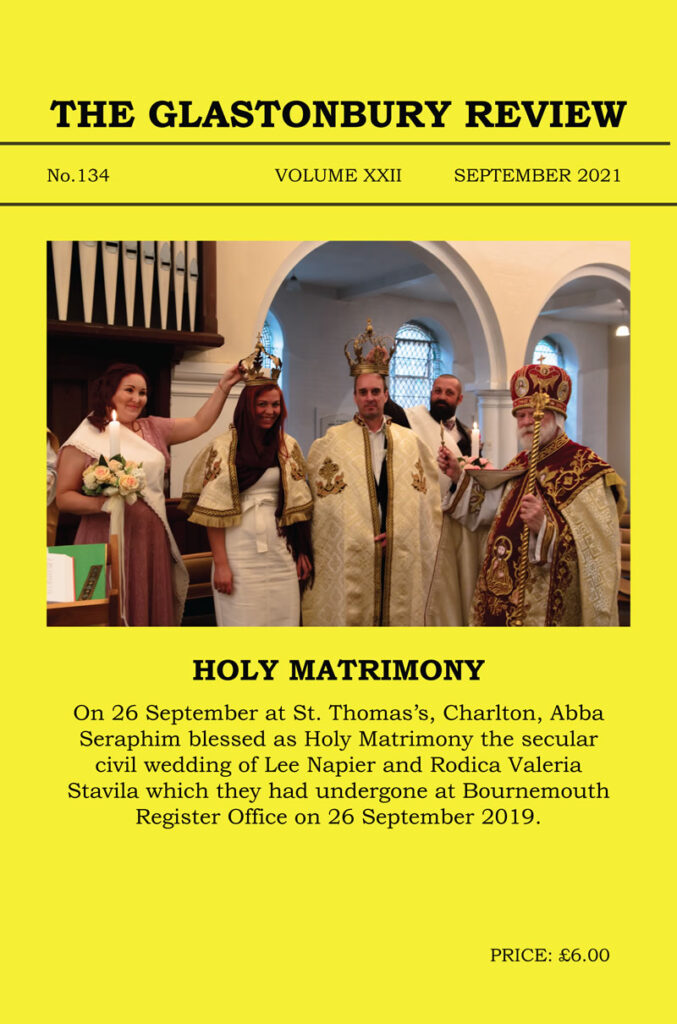 The latest edition of The Glastonbury Review No. 134 (September 2021) is now available from Lulu.com. It comprises ninety-five pages, which include news items concerning the church as well as the text of Abba Seraphim's lectures on "The Orthodox Church" given at St. Mary's Ordinariate Chapel at Wateringbury, Kent on 29 May this year and "Spencer Perceval: Britain's assassinated Premier" given to the Charlton Society on 26 October 2019. It also contains an article by Abba Seraphim "Using Traditional Liturgical Language". It also contains obituaries of the recently deceased British Orthodox clergy: Father Silas Spear and Deaconess Sarah Metcalf as well as Tasoni Demyana Masoud of the Coptic Orthodox Patriarchate and the Indian (Orthodox Catholicos of the East: Mor Baselios Marthoma Paulose II. 
Older copies of The Glastonbury Review can be found here.