Posted on: Wednesday, 8th January, 2014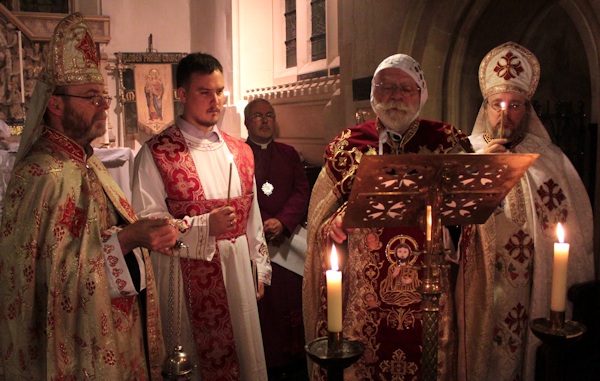 On the evening of January 6th a festal Liturgy in honour of the Feast of Theophany was celebrated by His Eminence Metropolitan Seraphim, supported by Father Simon Smyth and Father Peter Farrington, the priest responsible for the Orthodox Mission of St Andrew at Clewer, Windsor, together with Subdeacon Daniel Malyon and Reader Trevor Maskery. The service took place in the beautiful and ancient Church of St Andrew, parts of which date back to the Norman Conquest and which is always filled with an atmosphere of prayer accumulated over the last one thousand years.
The Orthodox Mission of St Andrew has been growing for the last 12 months, and the congregation at this Liturgy was the most numerous so far. It was an especial pleasure to welcome the Bishop of Reading, Andrew Proud, in whose jurisdiction the Church of St Andrew is found, as well as both the Revd. Louise Brown, former priest in charge of St Andrew's and whose hospitality allowed the mission community to begin worshipping at St Andrew's, and the Revd. Rosie Webb, recently taking up her ministry at St Andrew's as priest in charge. Other visitors also joined us, together with the regular members of the mission community of St Andrew.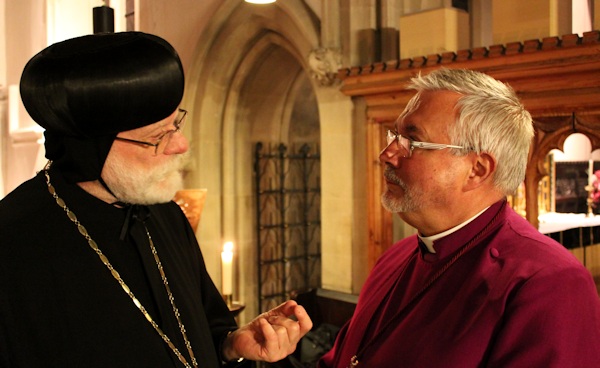 The congregation gathers in the choir of medieval St Andrew's, surrounded by graceful architecture in wood and stone, and the presence of many icons of the highest quality, created by Annie Shaw, a member of the mission community and a professional iconographer, only add to the creation of an atmosphere proper for our Orthodox liturgical worship. Indeed many of the prayers which were offered by the celebrant and congregation must have echoed within these walls for a millenia. On this occasion the congregation had so increased that it was necessary to spill out into the body of the church itself through the gates of the rood screen.
During the Liturgy His Eminence Metropolitan Seraphim blessed water for the Theophany and anointed the congregation. That which remained was eagerly collected in bottles and received by the congregation. Father Peter Farrington addressed the gathered worshippers in a homily which called on those present to commit themselves to prayer, study of the Scriptures and fasting in 2014.
After the completion of the Liturgy the congregation gathered in the Lodge at the edge of the churchyard and shared in a light buffet which included biscuits made according to the Ukrainian tradition by one of the worshippers.
The Orthodox Mission of St Andrew is presently celebrating the Liturgy one Saturday each month, and Evening Prayer one Monday evening each month.  The mission website is at http://www.orthodoxwindsor.co.uk