From 28 July-7 August, Shenouda Mamdouh, Abba Seraphim's Egyptian Secretary, visited England with his wife, Mary,  as the guests of the British Orthodox Church. Shenouda was here previously in 2000 and 2007 but this was Mary's first visit. During their stay they were largely based in Charlton, London. They had a busy schedule, which included visits to historic places and meetings with church friends.  On 29 July the Coptologist, Dr. Carol Downer and husband Deacon Richard Downer gave a welcome dinner party at their home in Redhill, Surrey,  at which were also present Abba Seraphim, Father John Whooley, Viscountess Coke, Mark Hassall and Trevor Maskery. On 30 July they visited the British Orthodox Church at Chatham and later Abba Seraphim took them to meet his mother, Joyce Edwards, who is in her ninety-seventh year, and they spent a lively time chatting with her.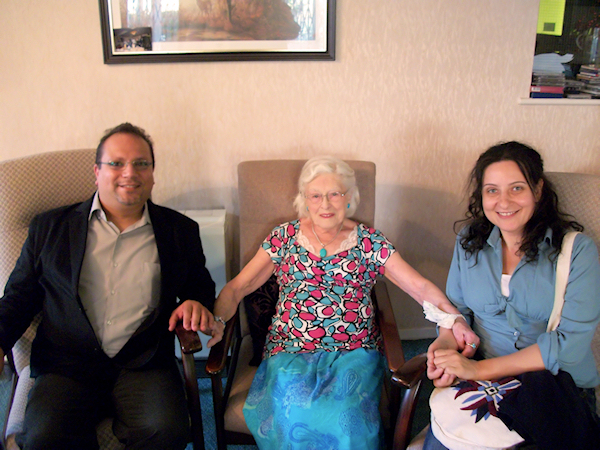 On 31 July Shenouda Mamdouh joined Father Simon and Sheila Smyth as ecumenical guests at a Pontifical Mass at Saint Nicholas Church, Worth, West Sussex.  The Right Rev'd Geoffrey Rowell, Anglican Bishop of Gibraltar in Europe presided.  Father Simon was seated in the sanctuary, an expression of the friendship and love, not only personal but also that exists between Bishop Geoffrey and our family of Churches, towards which he has long been a good friend.  Bishop Geoffrey is the Archbishop of Canterbury's representative to the Oriental Orthodox Churches and co-chairman of both the international Dialogue and the local Forum between the Anglican and Oriental Orthodox Churches. Following the Mass there was a reception in the bishop's  residence  which included a guided tour by Bishop Geoffrey of his  art collection and domestic chapel including an impressive collection of icons which included Armenian, Coptic, Ethiopian, Syrian, Greek, Russian and Romanian. Bishop Geoffrey asked Shenouda Mamdouh to convey his greetings to His Holiness Pope Shenouda whom he has met on numerous occasions over the years.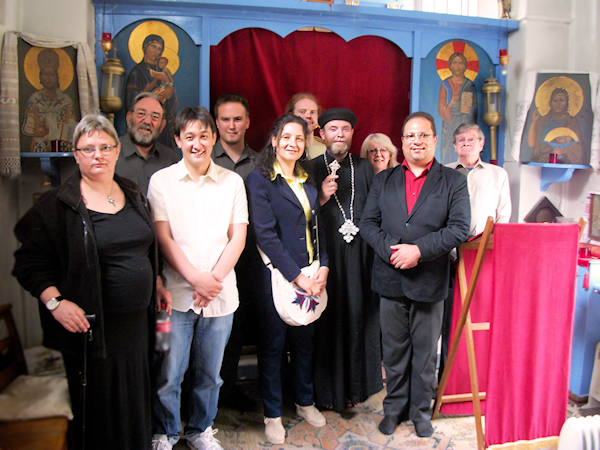 On Sunday 1 August Shenouda and Mary joined the British Orthodox congregation in the Church of Christ the Saviour, Bournemouth.  Following the Liturgy  Shenouda gave an informative talk on his personal experience of the ministry of Pope Shenouda, beginning with his baptism by His Holiness, through Sunday School and his educational studies in which the Pope always showed interest and onto his life as translator for His Holiness at ecumenical meetings.  He shared insightful knowledge into the Pope's years under house arrest at the Monastery of Saint Bishoy, in particular emphasising His Holiness' good humour and joy throughout that time.  Several of the points that Father Simon had made in his sermon, on the example from the Gospel for the day, of Levi who when called "left all, rose up, and followed" our Lord, were well illustrated from the life of Pope Shenouda who left all to become a monk, then a hermit and as bishop and then patriarch has always left his own will and desires in order to serve the people as a faithful shepherd.  A short time of questions and discussion followed Shenouda's talk.
The next day, before returning to London, Shenouda and Mary, together with Father Simon and Sheila, visited Hampton Court Palace.  When visiting the Chapel Royal the party removed shoes (to the surprise of some other visitors not familiar with this act of piety on entering a church to pray) and lit candles before a Greek icon of Christ Pantocrater.  Father Simon enquired of the verger concerning a prominent silver Ethiopian processional cross and learned that this was a gift to the chapel in the 1960s.  He also explained that the oval shape in the east wall has in fact never contained a picture as mistakenly thought by many visitors but was believed to represent an egg, symbolic of the resurrection, similar to our own tradition of using ostrich eggs.