Posted on: Saturday, 11th July, 2020
The news that Turkey's President, Recep Tayip Erdogan, has recently authorised the handing over of the former Orthodox Cathedral, Haghia Sophia ("The Divine Wisdom"), in Istanbul (Constantinople) to Turkey's Religious Affairs Presidency, is something to be deplored. The current building is the third Orthodox Cathedral on this site as its two predecessors were destroyed by fire during local riots and the present church was built by the Emperor Justinian between 532-537. Following the Ottoman conquest of Constantinople in 1453 the Cathedral, like many other Christian churches in lands conquered by Muslims, was converted into a mosque by Sultan Melmet II and renamed Aya Sofya Cami'i. It continued to serve as a mosque until 1932 after which in 1935 it was converted into a museum by the founder of the secular republic of Turkey, Mustafa Kemal Ataturk.
Although President Erdogan has denied wishing to impose Islamic values, by dishonestly saying he is committed to secularism, his action in this respect, as in many others, shows that he and the AK (Justice & Development) Party are actually strongly Islamacist. He is quoted as saying, "How dare these secularists deny us, pious Muslims, the liberty to pray at Hagia Sophia?" although for several years Muslim services have actually been conducted in the crypt of Haghia Sophia, despite the fact that the Sultan Ahmed Mosque – also known as the Blue Mosque – has stood adjacent to it for over four hundred years.  In responding to criticisms Erdogan falsely claims that they directly target Turkey's sovereign rights. "We are determined to continue to protect the rights of Muslims, our country's majority faith, as well as members of all other faiths and religions" However, the opportunity for Christian services ever to be held in the building has never been available, despite there still being a Greek Orthodox Christian population in the city. In 1955 the Greek community of Istanbul numbered 67,550, but following a Pogrom orchestrated by Turkish authorities against the Greek community in September 1955, their number was dramatically reduced to only 48,000 and today, the Greek community now numbers only about 2,000 people. The Stockholm Center for Freedom's 2018 "Human Rights Violations Report" highlighted the fact that Erdogan often spewed hate speeches against Christians, which "stigmatised millions of people in Turkey and around the world with his systematic and deliberate campaign of churning hostility against Christians."
Posted on: Sunday, 5th July, 2020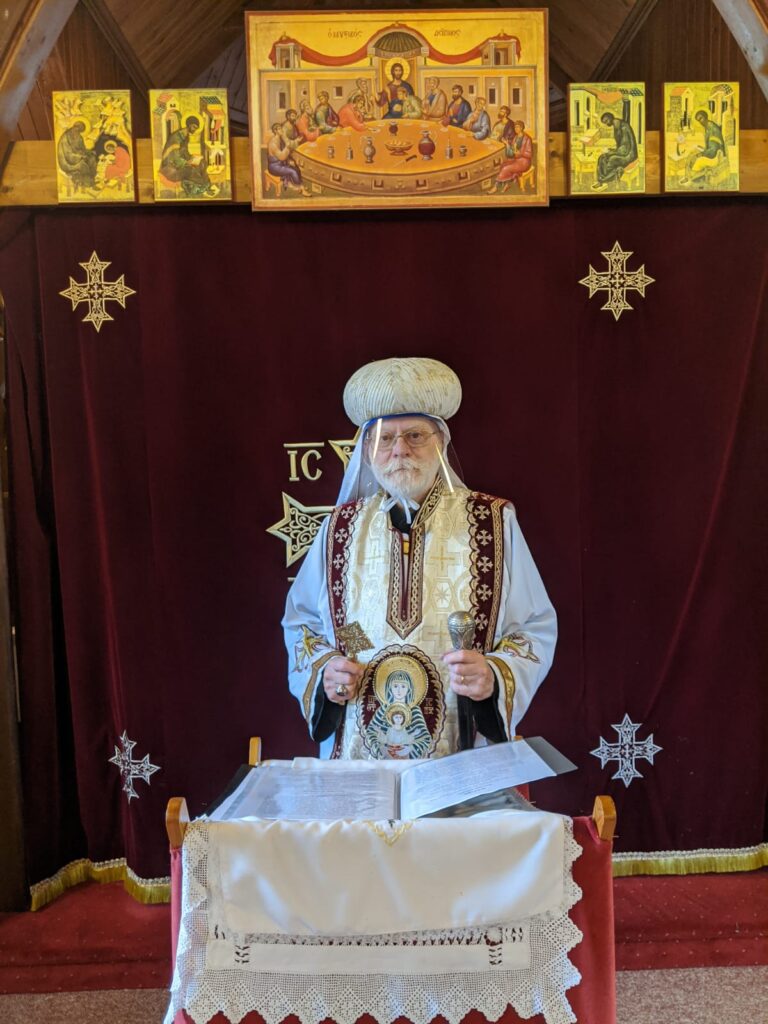 Following the government's advice, several British Orthodox churches re-opened for public worship on Sunday, 5 July. Numbers attending were lower than usual, as some worshippers are still remaining in lockdown, but hopefully as the threat of the virus continues to reduce more people will return to attending services in the weeks to follow.
On 5 July the Divine Liturgy was celebrated at St. Felix, Babingley, Norfolk, by Abba Seraphim and Abba James; Abba David celebrated at St. Mark & St. Hubert's Church in Cusworth Village, Doncaster, with quite a good sized congregation; whilst Hieromonk John Ives also celebrated the Liturgy at Christ the Saviour Church at Bournemouth. All services were conducted in the spirit of thanksgiving for the improvement in the nation's health, whilst also entreating divine support for those still infected and praying for the well-being of all nations as well as commemorating those who have departed as a result of the pandemic.
In accordance with the church's guidelines for safeguarding the health of worshippers, social distancing is encouraged during all services and safeguarding facilities are provided with face-masks and hand-sanitiser made available upon entering the church as well as guidance posters being displayed on entering all churches. Abba Seraphim is pictured here wearing a face shield visor along with his vestments.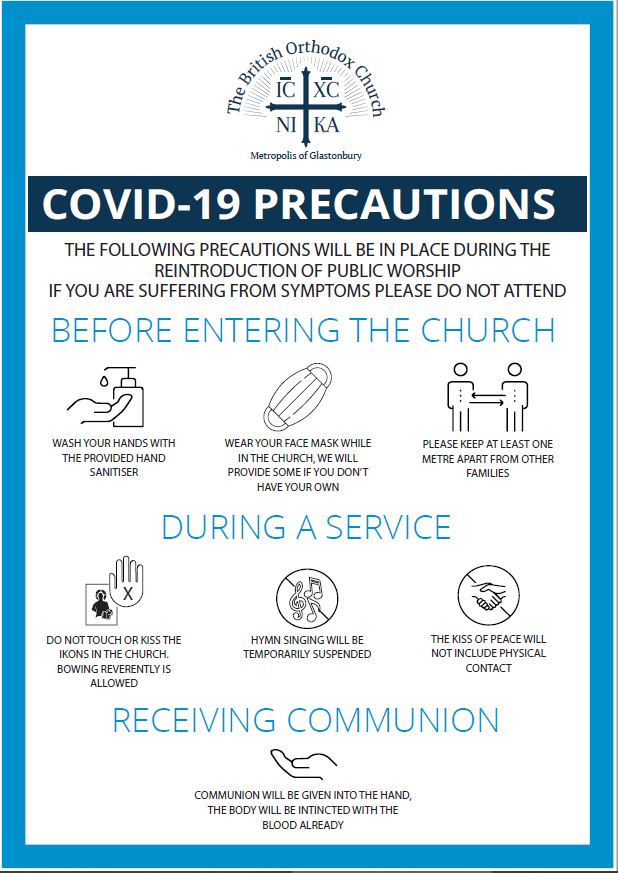 Posted on: Wednesday, 24th June, 2020
The government has recognised that "Places of worship play an important rôle in providing spiritual leadership for many individuals, and in bringing communities and generations together" but in the early stages of the pandemic it recognised that their communal nature made them places that were particularly vulnerable to the spread of coronavirus (COVID-19).
On 13 June 2020 some places of worship were permitted to open merely for private prayer, but the Prime Minister has now announced that the government has agreed that from 4 July churches may re-open for public worship and for weddings with a recommended maximum of thirty people, provided that physical distancing is observed. More of the congregation can attend so long as the clergy and their assistants follow guidance on how to control the virus.
The way in which this will be done is by a thorough cleaning of the church before the resumption of services. Frequently used objects, surfaces or spaces, including for example doorways (with door-handles and door-knobs) between outside and inside spaces should be given particular attention when cleaning. Where possible, while the current weather is warm and summery, doors and windows should be opened during services to improve ventilation in the church.
At the entrance to each church there should be made available hand-sanitiser and/or water and paper towels to enable worshippers to cleanse their hands, as well as face-masks, which although not essential, may be worn during the service but will be removed before receiving Holy Communion.
Adherence to social distancing between individuals and households of 2 metres (3 steps) is recommended, although the newly introduced "one metre plus" rule is now the required minimum and also queue management is important so that when people approach to receive Holy Communion they should keep a safe distance from each other.
Suggestions have been made that hymn-singing may prove unsafe, so additional hymns during the service will be temporarily suspended, although liturgical responses may still be made even whilst wearing a face-mask; whilst singing the O Monogenes (during 'The Little Entrance') and The Cherubic Hymn (during 'The Great Entrance') as well as the recitation of The Creed should not take the form of an intense and noxious discharge, but of a modest and moderate response.
The "Guidance Notes for British Orthodox Churches on Upholding Health issues during the Current Covid-19 Pandemic" which was issued on 13 March, and dealt with topics such as 'Touching & Kissing', 'Before and after the Divine Liturgy', 'Hand Washing' and 'Holy Communion' is still available in the News & Events section of the British Orthodox Church website and are is still applicable.
Posted on: Saturday, 6th June, 2020
Posted on: Thursday, 28th May, 2020
Abba Seraphim sends greetings to all the faithful for today's Feast of the Lord's Glorious Ascension into the Heavens and reminds them of the blessings we receive from celebrating this day.
Today's liturgical lections upon which we should meditate are: Mark XVI: 12-20; 1 Timothy III: 13-16; 1 Peter III: 15-22; Acts I: 1-14 & Luke XXIV: 36-53.
Today we commemorate the glorious ascension of our Lord and Saviour Jesus Christ, the account of which we have in the Acts of the Apostles as well as St. Mark and St. Luke's Gospel, all of which are read in today's Lectionary. We must not, however, assume that these relatively brief accounts are intended to minimise its importance, because other scriptural references to the Lord's Ascension provide us with a clearer understanding of its great significance in God's plan of creation and redemption. The fathers of Nicaea who drew up the Creed were conscious of the testimony of St. John's Gospel where our Lord declares, "I am the living bread which came down from heaven" (John VI: 51) and also his question to the disciples at Capernaum who found his statements about eating his flesh and drinking his blood hard sayings, "What and if ye shall see the Son of man ascend up where he was before?" These make it clear that his proper place is in the heavens and that the ascension was not a new dignity bestowed upon Him but showed Him for what he had always been, the eternal Son. He did not bring His humanity down from heaven, but took it on earth, so that it now was exalted for the first time. St. Cyril the Great makes this clear, "When we affirm that our Lord Jesus Christ is from heaven and from above, we do not mean in affirming this that his holy flesh was brought down from above or from heaven, but we rather follow the inspired Paul, who declared very clearly, 'The first man was of the earth, earthy; the second man is from heaven.'
You will recall our Lord's encounter with Mary Magdalene in the garden on the Resurrection morning, when He tells her, "Touch me not; for I am not yet ascended to my Father: but I go to my brethren and say unto them, I ascend unto my Father, and your Father; and to my God and your God." (John XX: 17) St. Augustine of Hippo puzzles over this, reminding us that in St. Matthew's account they "held him by the feet and worshipped him" (Matthew XXVIII: 9) and invited the Apostle Thomas to feel the wounds of His passion. He suggests therefore that the Lord's rebuke of the Magdalen was because she still conceived of him simply as a man.
St. Ambrose of Milan commenting on our Lord's statement, "I ascend to your Father, my God and your God," emphasises the distinction here, pointing out that our nature has nothing in common with that of Christ, except as regard its humanity,
"To him he was Father by an essential act of procreation, to us by voluntary adoption; to him by nature, to us through grace; God to him in the unity of the mystery, to us in celestial power."
St. Paul the Apostle in his epistle to the Philippians emphasises this when he writes that Christ, "being in the form of God, thought it not robbery to be equal with God." (Phil. II: 6) The Authorised version "in the form" suggests mere appearance, whereas the Greek en morphe is probably best conveyed by the New International version, "Who, being in very nature." John Wesley's notes here amplify this, "Who being in the essential form – The incommunicable nature." The Dublin hymnographer, Thomas Kelly, emphasises the exaltation of Christ by contrasting his Ascension with his Passion,
"The head that once was crowned with thorns
Is crowned with glory now:
A royal diadem adorns
The mighty Victor's brow."
However, we must be careful here to guard against the impious heresy of the Arians which taught that His exaltation was conferred on him as a reward for virtue or sign of God's favour, with his becoming son by adoption only. St. Athanasius the Apostolic warns us that if we speak in this way about our Saviour, "He will be shown to be neither true, nor God, nor Son like the Father, and to have God as the Father not of his essential being but only of the favour bestowed on him; thus he will resemble all the rest in having God as the creator of his essential being."
Kelly's hymn correctly emphasises that this is not a favour bestowed,
"The highest place that heaven affords
Is his, is his by right,
The King of kings and Lord of lords,
And heaven's eternal Light."
Both St. Athanasius and St. Cyril the Great draw our attention to the Kenosis, where – as the Apostle Paul explains, our Lord Jesus Christ, God the Word "emptied himself", taking the form of a slave and playing his part as Son of man while remaining God as he was, since he is by nature unchangeable and immutable. In doing so he humbled himself and became obedient unto death, even the death of the cross" (Phil. II: 7-8). What was the purpose of this "emptying" ? St. Athanasius makes it clear,
"For just as Christ, as man, dies and was exalted, so as man he is said to receive what he always possessed as God, so that such a favour might also come as a gift to us. For the Word was not diminished by taking a body …. But rather imparted divinity to that which he put on and made this all the more a favour to the human race."
Although there are scriptural examples of bodily assumption, the Prophet Elijah being taken up to heaven riding on a fiery chariot (2 Kings II: 11-13) and references to the Archangel Michael disputing with the devil about the body of Moses (Jude 9) and Enoch's translation (Genesis V: 24 and Hebrews XI: 5); there are important difference between these and our Lord's ascension. Enoch, Moses Elijah, and the Virgin St. Mary were creatures, and could not ascend in their own power, whereas the Lord Jesus is God and omnipotent in His Divine Nature. The manner of His ascension was a real motion of His human nature and was by change of place, from earth to heaven. It was sudden, swift, and glorious, in a triumphant manner and accompanied by a bright cloud – the symbol of the Divine presence – while the angels announced that He will come again "in like manner as ye have seen him go into heaven."
At the incarnation, God – by whom all things were made – became one with us through taking flesh and dwelling among us; uniting Himself for ever to His creation. As the humanity of Christ is inseparable from His divinity so, at His ascension, He carried our humanity into the heavens. Even as the baby Who was born in that stable was God and the man Who died on the cross was God, so is the God Who is enthroned in highest heaven a man. God redeems us in our entirety, not just our souls. In His divine Person, the Son was always seated on the right hand of the Father, being consubstantial with Him, but the lifting up of our humanity at His ascension is man's first entry into that divine glorification for which he was originally created. Bishop Christopher Wordsworth's hymn captures this truth,
"Thou hast raised our human nature
In the clouds to God's right hand;
There we sit in heavenly places,
There with thee in glory stand,
Jesus reigns, adored by Angels;
Man with God is on the throne;
Mighty Lord, in thine Ascension
We by faith behold our own."