Posted on: Wednesday, 9th August, 2017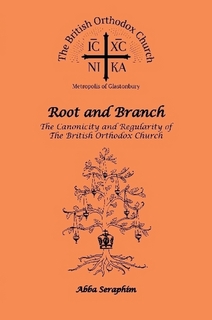 The British Orthodox Press has just republished Abba Seraphim's "Root and Branch. The Canonicity and Regularity of The British Orthodox Church". This was first published in 1992 and argued the basis for the independence of the BOC. It was highly acclaimed at the time, but was withdrawn in 1994 following the union of the BOC with the Patriarchate of Alexandria. Now that the BOC is once again independent, it has been reissued and updated, with some rare historical photographs, which were not in the first edition.
The first chapter examines the early church's concept of the "local church", whilst the second examines the historical development of Orthodoxy & the British Isles. Citing numerous authorities, subsequent chapters review issues of Succession & Continuity; the Syriac missions of Bishops Julius Ferrette and Timotheos Vilatte as well as the outreach of other Eastern and Orthodox churches. Abba Seraphim also recounts the Struggle for Orthodox Mission, citing the ministries of Father Stephen Hatherly, Louis Winnaert, Bishop Jean Kovalevsky, Reuban Spartas, Archbishop Aftimeos Ofiesh, Alexander Tyler Turner and the Evangelical Orthodox Church. His final chapter recounts details of the BOC's union with the Alexandrian Patriarchate.
Copies of this book can be obtained online from LULU by clicking this link.