Posted on: Saturday, 3rd October, 2020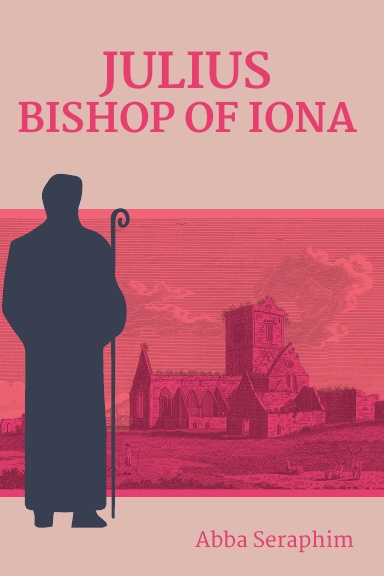 In 1971, almost half a century ago, whilst still a priest, Abba Seraphim published his first major book on Julius, Bishop of Iona, which was "An investigation of the claims of Jules Ferrette (1828-1904)". His cousin and predecessor, Metropolitan Georgius referred to the book as having been written with a "thoroughness and industry which does him credit" and stated, "Father Seraphim's book is a 'must' for all interested in the establishment of Western Orthodoxy, and his painstaking scholarship cannot be too highly commended. "
Although his original research led to the discovery of a large collection of letters written by Bishop Julius to Père Hyacinthe Loyson during 1896-1902, from which he made copious references, in this second revised edition these having been translated into English, are now published in full. In the years following its publication, Abba Seraphim continued his research and in 1980 he published in the Glastonbury Bulletin, after a lapse of 114 years, his discovery of Foreign Office correspondence with the Archbishop of York which threw new light on Ferrette's consecration. In 2006 & 2017 he also wrote about Bishop Julius in his Flesh of our Brethren, an historical examination of Western episcopal successions originating from the Syrian Orthodox Patriarchate of Antioch. In his preface to this new edition Abba Seraphim also recounts his personal contacts with modern Syrian Orthodoxy. The first edition – which although not now generally available – is still referred to online as a significant historical resource, comprised 64 pages, whereas  this new edition is now six times longer.
https://www.lulu.com/en/en/shop/abba-seraphim/julius-bishop-of-iona/hardcover/product-6j8npp.html
Posted on: Friday, 7th August, 2020
The terrible explosion which took place in Beirut, the capital of Lebanon, on Tuesday this week has stimulated fraternal concern for the people who suffered such a major tragedy. Not only were there a large number of victims who lost their lives but also a considerable number of people have undergone serious injuries and their homes have been destroyed, causing them to face serious health and employment issues at a time when the world is already struggling with the coronovirus pandemic.
Abba Seraphim has encouraged clergy and faithful of the British Orthodox Church to uphold the people of Beirut in their prayers. More than 40% of the population of the Lebanon are Christians and include among them both Eastern and Oriental (Armenian, Syrian & Coptic) Orthodox faithful, as well as a number of Eastern Rite Catholics (Maronites, Melkites and Chaldeans). The Red Cross Beirut Emergency Appeal is a charity well deserving of support and the message of condolence sent by our Sovereign Lady Queen Elizabeth, as well as the United Kingdom's readiness to send medical experts and humanitarian aid to Lebanon following the deadly explosion in Beirut as well as a five million pound aid package, are to be highly commended. Equally the personal visit by the French President, Emmanuel Macron, actively demonstrating concern for the city's inhabitants, is to be extolled, as is his promise to sponsor a conference of European, American, Middle Eastern and other donors to raise money for food, medicine, housing and other urgent aid.
Posted on: Saturday, 11th July, 2020
The news that Turkey's President, Recep Tayip Erdogan, has recently authorised the handing over of the former Orthodox Cathedral, Haghia Sophia ("The Divine Wisdom"), in Istanbul (Constantinople) to Turkey's Religious Affairs Presidency, is something to be deplored. The current building is the third Orthodox Cathedral on this site as its two predecessors were destroyed by fire during local riots and the present church was built by the Emperor Justinian between 532-537. Following the Ottoman conquest of Constantinople in 1453 the Cathedral, like many other Christian churches in lands conquered by Muslims, was converted into a mosque by Sultan Melmet II and renamed Aya Sofya Cami'i. It continued to serve as a mosque until 1932 after which in 1935 it was converted into a museum by the founder of the secular republic of Turkey, Mustafa Kemal Ataturk.
Although President Erdogan has denied wishing to impose Islamic values, by dishonestly saying he is committed to secularism, his action in this respect, as in many others, shows that he and the AK (Justice & Development) Party are actually strongly Islamacist. He is quoted as saying, "How dare these secularists deny us, pious Muslims, the liberty to pray at Hagia Sophia?" although for several years Muslim services have actually been conducted in the crypt of Haghia Sophia, despite the fact that the Sultan Ahmed Mosque – also known as the Blue Mosque – has stood adjacent to it for over four hundred years.  In responding to criticisms Erdogan falsely claims that they directly target Turkey's sovereign rights. "We are determined to continue to protect the rights of Muslims, our country's majority faith, as well as members of all other faiths and religions" However, the opportunity for Christian services ever to be held in the building has never been available, despite there still being a Greek Orthodox Christian population in the city. In 1955 the Greek community of Istanbul numbered 67,550, but following a Pogrom orchestrated by Turkish authorities against the Greek community in September 1955, their number was dramatically reduced to only 48,000 and today, the Greek community now numbers only about 2,000 people. The Stockholm Center for Freedom's 2018 "Human Rights Violations Report" highlighted the fact that Erdogan often spewed hate speeches against Christians, which "stigmatised millions of people in Turkey and around the world with his systematic and deliberate campaign of churning hostility against Christians."
Posted on: Sunday, 5th July, 2020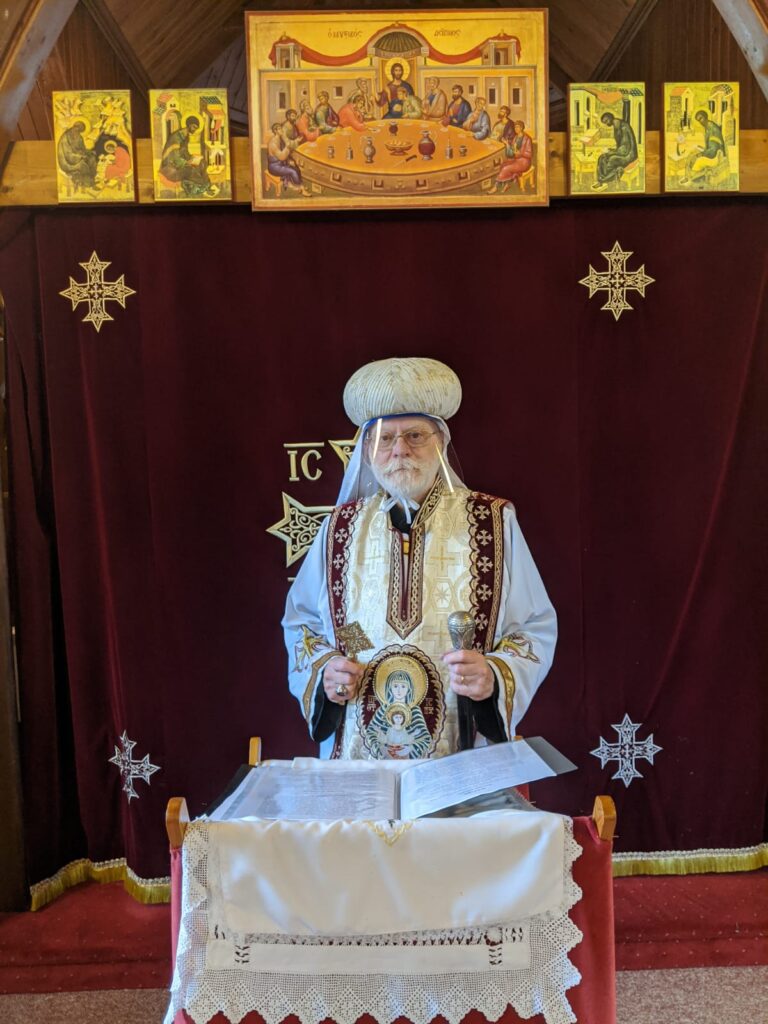 Following the government's advice, several British Orthodox churches re-opened for public worship on Sunday, 5 July. Numbers attending were lower than usual, as some worshippers are still remaining in lockdown, but hopefully as the threat of the virus continues to reduce more people will return to attending services in the weeks to follow.
On 5 July the Divine Liturgy was celebrated at St. Felix, Babingley, Norfolk, by Abba Seraphim and Abba James; Abba David celebrated at St. Mark & St. Hubert's Church in Cusworth Village, Doncaster, with quite a good sized congregation; whilst Hieromonk John Ives also celebrated the Liturgy at Christ the Saviour Church at Bournemouth. All services were conducted in the spirit of thanksgiving for the improvement in the nation's health, whilst also entreating divine support for those still infected and praying for the well-being of all nations as well as commemorating those who have departed as a result of the pandemic.
In accordance with the church's guidelines for safeguarding the health of worshippers, social distancing is encouraged during all services and safeguarding facilities are provided with face-masks and hand-sanitiser made available upon entering the church as well as guidance posters being displayed on entering all churches. Abba Seraphim is pictured here wearing a face shield visor along with his vestments.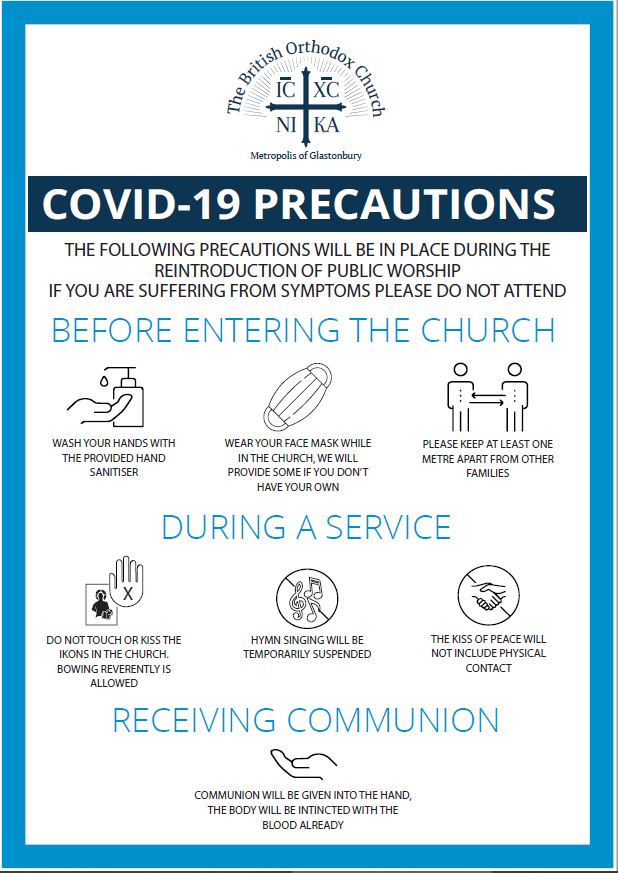 Posted on: Wednesday, 24th June, 2020
The government has recognised that "Places of worship play an important rôle in providing spiritual leadership for many individuals, and in bringing communities and generations together" but in the early stages of the pandemic it recognised that their communal nature made them places that were particularly vulnerable to the spread of coronavirus (COVID-19).
On 13 June 2020 some places of worship were permitted to open merely for private prayer, but the Prime Minister has now announced that the government has agreed that from 4 July churches may re-open for public worship and for weddings with a recommended maximum of thirty people, provided that physical distancing is observed. More of the congregation can attend so long as the clergy and their assistants follow guidance on how to control the virus.
The way in which this will be done is by a thorough cleaning of the church before the resumption of services. Frequently used objects, surfaces or spaces, including for example doorways (with door-handles and door-knobs) between outside and inside spaces should be given particular attention when cleaning. Where possible, while the current weather is warm and summery, doors and windows should be opened during services to improve ventilation in the church.
At the entrance to each church there should be made available hand-sanitiser and/or water and paper towels to enable worshippers to cleanse their hands, as well as face-masks, which although not essential, may be worn during the service but will be removed before receiving Holy Communion.
Adherence to social distancing between individuals and households of 2 metres (3 steps) is recommended, although the newly introduced "one metre plus" rule is now the required minimum and also queue management is important so that when people approach to receive Holy Communion they should keep a safe distance from each other.
Suggestions have been made that hymn-singing may prove unsafe, so additional hymns during the service will be temporarily suspended, although liturgical responses may still be made even whilst wearing a face-mask; whilst singing the O Monogenes (during 'The Little Entrance') and The Cherubic Hymn (during 'The Great Entrance') as well as the recitation of The Creed should not take the form of an intense and noxious discharge, but of a modest and moderate response.
The "Guidance Notes for British Orthodox Churches on Upholding Health issues during the Current Covid-19 Pandemic" which was issued on 13 March, and dealt with topics such as 'Touching & Kissing', 'Before and after the Divine Liturgy', 'Hand Washing' and 'Holy Communion' is still available in the News & Events section of the British Orthodox Church website and are is still applicable.