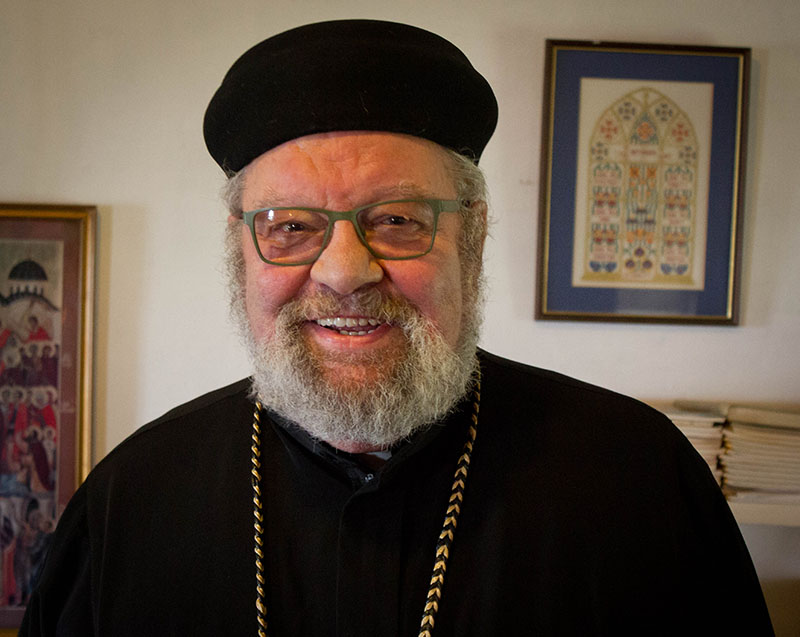 On 7 August the Synod of the British Orthodox Church elected Father David Seeds to the Sacred Order of the Episcopate to serve as Auxiliary Bishop to Metropolitan Seraphim. During a session of the Supreme Ecclesiastical Court of the British Orthodox Church convened at Charlton on 16 September, following publication of the details of Father David's election at Alfreton in Derbyshire and at Cusworth in Yorkshire, and having received his assent to his election, Abba Seraphim duly signed the Apostolic Mandate. This authorised the consecration and set the date and place for the ceremony as Sunday, 29 October at St. Mark & St. Hubert's Church at Cusworth, Doncaster.
Father David is to be consecrated as an Auxilary Bishop with the titular see of Priddy, a title last held by the late Bishop Ignatius-Peter Smethurst (1921-1993), who also served at the Cusworth Church for many years. Priddy is a village in the Mendip Hills near Wookey Hole in Somerset, and some 11 miles from Glastonbury Abbey. Lead ingots dating from the Roman occupation have been found in the neighbourhood and the ruins of St Cuthbert's Leadworks remind us that it was an ancient mining village for generations. There is a local saying, "As sure as our Lord was at Priddy", which derives from the Somerset tradition that our Lord in his youth visited the area whilst accompanying his great-uncle, St. Joseph of Arimathea, on one of his trading voyages to Britain.
Father David Seeds was born at Codnor, Derbyshire, on 7 October 1939 and was educated at Swanwick Grammar School. He graduated from Manchester University with a B.Sc. in 1960 and from the University of Birmingham with a post-graduate Certificate of Education. He studied at Linacre College, Oxford University and Ripon Hall Theological College, where he graduated with a B.A. in Theology (1967) and was later awarded an M.A. (1987). He taught for a number of years in boys' secondary schools and also served as Assistant Curate at St. Cyprian's, Frecheville, Sheffield 1967-1970, having been ordained deacon (1967) and priest (1968) in the Church of England. From 1972-1976 he was Religious Education Advisor to the Bishop of Derby; served as Warden of a hall of residence at Bishop Lonsdale College, Derby and Priest in charge of Christ Church, Belper and Holy Trinity, Milford. His last appointments were as Vicar of St. John's, Mickleover, Derby 1982-1987 and as Vicar of Alfreton 1987-1995. He left the Church of England over the ordination of women priests and was received into the British Orthodox Church, being ordained to all the orders of the ministry, concluding with ordination to the Sacred Priesthood at Cusworth on 22 December 1996. Father David has been the much-loved parish priest at Cusworth for over two decades. He was ordained as Hegoumenos on 5 July 2009. Father David is a celibate priest and will make his monastic profession on the eve of his consecration.
Commenting on the forthcoming consecration, Abba Seraphim remarked that this was a significant historical event in the history of the British Orthodox Church, as the last occasion when a Bishop had been consecrated for the British church was over forty years ago, when he and the late Andrew Bateson were consecrated as auxiliaries to Metropolitan Georgius. Although he had performed and participated in the consecration of other bishops, these were all for service in churches abroad and not for the British Orthodox Church. Indeed, since the death in 1993 of Bishop Ignatius Peter, Abba Seraphim has been the sole British Orthodox Bishop. The consecration of Father David will be performed solus, without co-consecrators, as there are currently no other bishops in communion with the British Orthodox Church and although Abba Seraphim has fraternal relations with a number of hierarchs of other traditions, he feels that only Orthodox bishops should be invited to participate. The tradition of using co-consecrators expresses the spirit of collegiality in the universal church but there are many occasions when solus consecrations have been performed out of necessity, not least the dozens of consecrations (many without co-consecrators) performed by St. Jacob Baradaeus, Bishop of Edessa (543-578) in order to preserve the apostolic succession for the Oriental Orthodox churches.