Posted on: Saturday, 13th June, 2015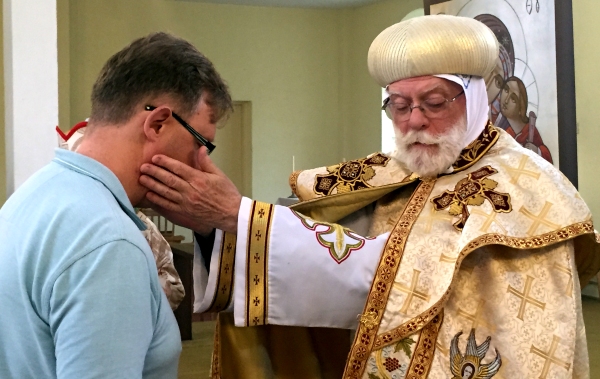 On 13 June, during the Divine Liturgy at St. George-in-the-East at Shadwell, Abba Seraphim ordained Philip Turner of Burslem as a Reader to serve the BOC Mission at Stoke-on-Trent. Philip, who has a B.Sc in Environmental Science is employed as a Community Support Worker in his home town and was in the first group of converts to join the Orthodox Mission. He will now lead the community in prayer in the absence of a priest. In his homily, Abba Seraphim spoke about the ministries of the church as part of the Ascension gifts of Christ. He noted that it was clear from his writings that the Apostle St. Paul saw these ministries as protecting the church from error, because if we are built up as the body of Christ we will no longer be children, "tossed to and fro and carried about with every wind of doctrine, by the cunning of men by their craftiness in deceitful wiles," but rather, speaking the truth in love, we are to grow up in every way to him who is the head, into Christ "from whom the whole body, joined and knit together by every joint with which it is supplied, when each party is working properly, makes bodily growth and upbuilds itself in love." This image of the joints of the body is organic, just as the church is intended to be. We need to discard the image of an organisation – like some modern international corporation – with its tiered hierarchical structure and its levels of managers reaching to the top. Abba Seraphim noted that although the church possesses an hierarchy, it is one of interdependance not subordination.
He also reminded the congregation that church history from apostolic times speaks of two Philips: Philip, one of the twelve apostles, who was martyred alongside St. Bartholomew; and Philip the Deacon and Evangelist, one of the seven chosen alongside St. Stephen, who converted the Ethiopian eunach by expounding the Scriptures to him. He prayed that Philip the Evangelist would be the new Reader's patron, so that rather than merely being a lover of horses – as the name originally meant – he would be characterised as a lover of mankind – phil-anthropos – and may be faithful in his ministry, bearing Christ to all whom he meets, so that he might receive God's mercy along with all those who have pleased God from the beginning.
Among the clergy assisting at the Liturgy was Father Shenouda Haile, Priest of the free Eritrean Orthodox Church in London, who brought with him some members of his community. There have been warm fraternal relations between the British and Eritrean Orthodox communities dating back to Abba Seraphim's ordination as a Metropolitan in Cairo in 1994 at the same service in which the late Pope Shenouda ordained the future Patriarch Antonios to the episcopate.