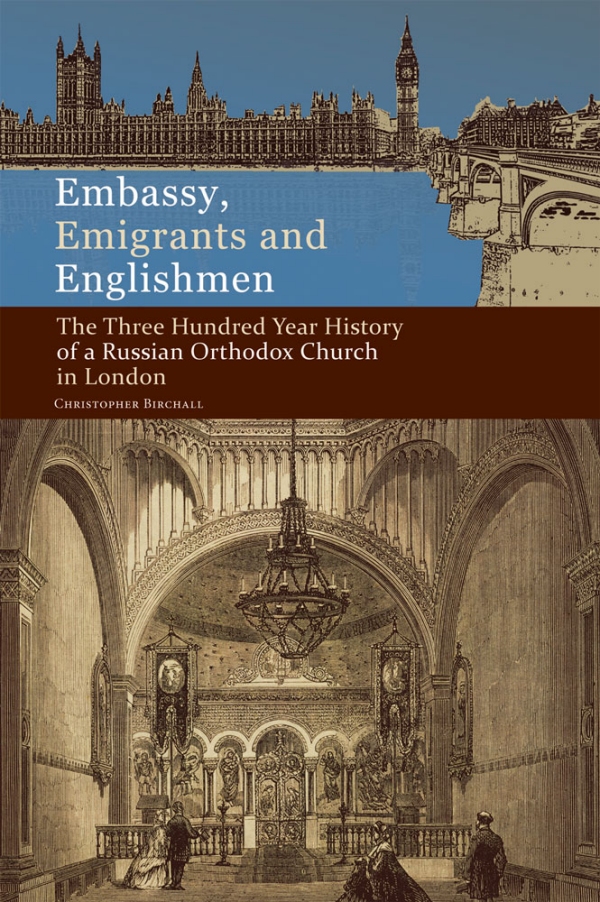 To mark the publication of Embassy, Emigrants, and Englishmen. The three Hundred Year History of a Russian Orthodox Church in London, a reception was held on the evening of Tuesday, 4 November, 2014. The publishers of the book, Holy Trinity Monastery, Jordanville, USA, and the Cathedral parish of the London Russian Orthodox Church Abroad hosted the reception.
The Book Launch was a unique occasion, being held in the former Russian Imperial Embassy Chapel, dedicated to the Dormition of the Most Holy Mother of God, in Welbeck Street, London. The occasion was marked by the prayerful chanting of 'Heavenly King' at the commencement, and by the chanting of 'It is meet and right' at the conclusion – almost certainly the first time Russian Orthodox chanting had been heard in the Chapel since its closure in 1923.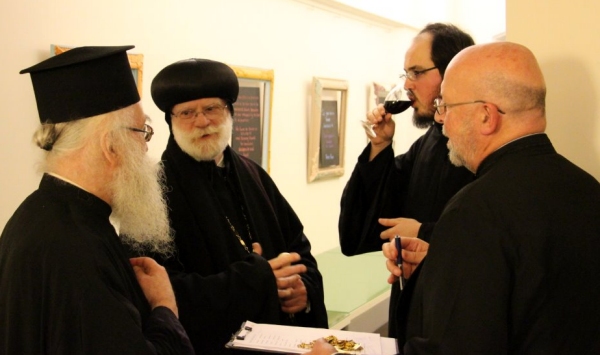 Speakers at the reception included His Eminence, Archbishop Mark of Berlin, Germany and Great Britain; His Eminence, Metropolitan Kallistos of Diokleia; Reader Nicholas Chapman, Managing Director of HTM Publications; Deacon Peter Markevitch, Marketing Manager of HTM Publications; and Reader Nicolas Mabin of the London Cathedral parish. Unfortunately, the author of the book, Protodeacon Christopher Birchall, who now lives in Vancouver, Canada, was unable to attend the reception due to ill health.
Honoured guests included: Archpriest Maxim Nikolsky, representing His Eminence, Archbishop Elisey of Sourozh (Moscow Patriarchate); Deacon Meliton Oakes, representing His Eminence Archbishop Gregory of Thyateira; Archpriest Thomas Hardy, Archpriest Peter Baulk, Archpriest Andrew Philips, and Priest Vitaly Serapinas (ROCOR); Archpriest Stephen Platt for the Fellowship of Saint Alban and Saint Sergius; the Most Reverend Metropolitan Seraphim (British Orthodox Church: Coptic Patriarchate); the Right Reverend Bishop Richard Chartres of London (Church of England); Archpriest John Salter (Melkite Greek Catholic Church); the Revd. Dr William Taylor (Anglican & Eastern Churches Association); the Revd. Father Mark Woodruff (Society of Saint John Chrysostom); Count Nikolai Tolstoy-Miloslavsky; Count Andrei Tolstoy-Miloslavsky; Counsellor Artem Kozhin (Embassy of the Russian Federation to the United Kingdom); and Richard Bowden of the Howard de Walden Estate.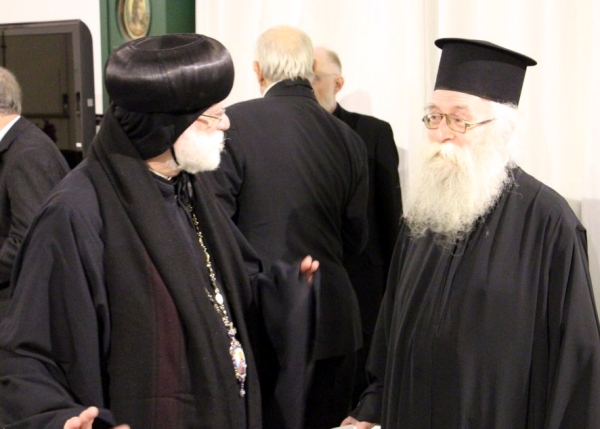 Abba Seraphim, who had last visited the former chapel some 45 years ago when it was owned by the Institute of Radiology, expressed the view that it  was utterly appropriate to launch this excellent book here. "Protodeacon Christopher has written a brilliant book, the very model of how such histories should be written and we owe him a great debt for having persevered over many years to bring it to fruition."