Posted on: Monday, 13th January, 2014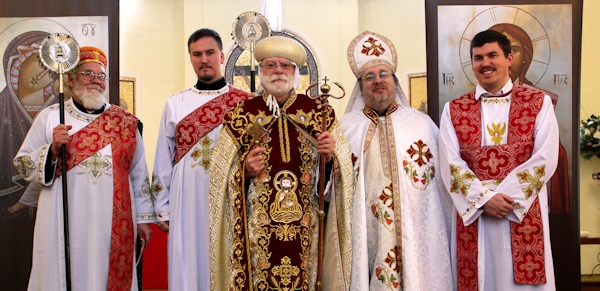 On 11 January, during the celebration of The Divine Liturgy at Saint-George-in-the-East, Shadwell, where the British Orthodox London Mission of SS.George & Paul the Hermit worships, Abba Seraphim performed two ordinations. Trevor, who serves as Abba Seraphim's PA, who has been a Reader since 2012, was advanced to the subdiaconate; whilst Daniel, who has served as a Reader and Subdeacon since February 2011 was ordained to the order of the diaconate. Deacon Daniel, who is currently completing his master's degree in Orthodox Theology at the University of Winchester, also serves on the Council of Oriental Orthodox Churches in the UK. It was a great joy that Deacon Christopher Barnes travelled down from the Church in Babingley to serve as deacon of the liturgy and to perform the role of acting Archdeacon.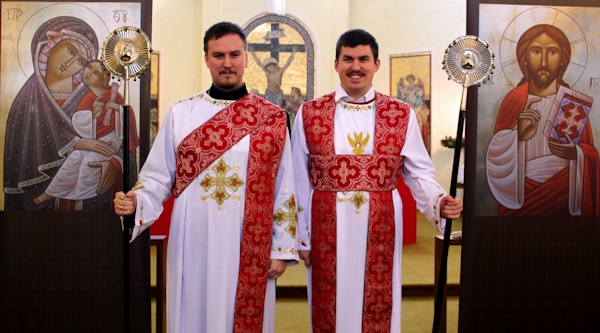 Following the ordination in London the two new ordinands and Deacon Daniel's wife, Janice, travelled down to Bournemouth to visit the congregation there. The next morning, during his homily in the Divine Liturgy, Abba Seraphim complained that his duties had kept him away for too many months, but he was glad to return to share fellowship with the congregation there, and to welcome church members from the other South Coast Mission parishes of Portsmouth and Southampton. It was also a pleasure to return with the newly ordained Deacon Daniel, who had begun his ministry in the Portsmouth and Bournemouth congregations and had met his future wife from among the members of the Bournemouth parish. The day was characterised by warm informality as Abba Seraphim addressed the congregation on a number of issues, some of the members having been gathered almost four decades earlier, when he had immediate pastoral charge of the Bournemouth parish. Following lunch Abba Seraphim took the two new ordinands to the Wimborne Road Cemetery to pray at the grave of the late Archdeacon James Goddard (died 1993).