Posted on: Thursday, 12th September, 2013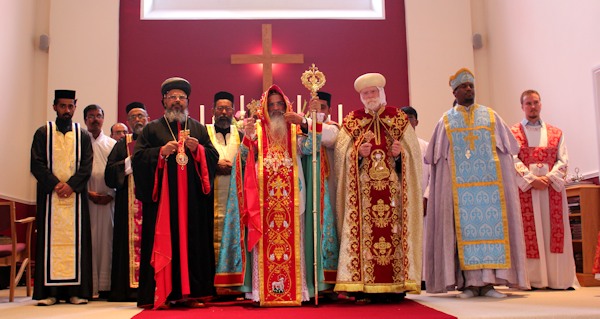 The recent visit of His Holiness Mar Basilius Mar Thoma Paulose II, Catholicos of the East, to England, was not only a great blessing for the Indian (Malankara) Orthodox Church in the United Kingdom but also a significant ecumenical event. His visit marked a number of historic anniversaries: 80 years since the first celebration of the Malankara Orthodox Syrian Qurbana in the Chapel of King's College, London; 75 years since  H.H.The Catholicos, Mar Baselios Geeverghese II visited the UK in 1937; 60 years since the Malayalee migration to the UK and 40 years since the formation of the St. Gregorios Congregation in London.
Abba Seraphim, accompanied by Subdeacon Daniel Malyon and Reader Trevor Maskery, attended the Divine Liturgy celebrated by the Catholicos at St. Gregorios Indian Orthodox Church in Brockley on Sunday, 8 September, and assisted in the liturgical celebration and the parochial speeches and festivities which followed.
On Monday, 9 September a Banquet of some 90 guests was held to honour the Catholicos at Lambeth Palace. In the absence of the Archbishop of Canterbury, the Bishops of Gibraltar in Europe (The Right Rev. Geoffrey Rowell) and Southwark (The Right Rev. Christopher Chessum) acted as hosts. Representatives of all the major churches were present as well as many leading members of the Malayalee community in the UK and friends of the Indian Orthodox Church.  The British Orthodox Church was represented by Abba Seraphim, Father Peter Farrington and Father & Mrs. Simon Smyth.