Posted on: Tuesday, 4th September, 2012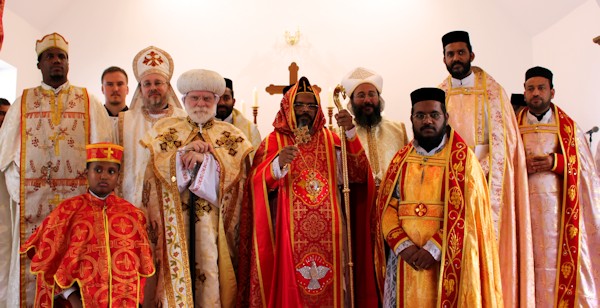 31 August and 1 September were significant dates in the history of the Oriental Orthodox churches in the United Kingdom, as His Grace Dr. Mathews Mar Timotheos, Bishop of the Indian Orthodox Diocese of Europe & Africa, consecrated the second Indian Orthodox Church in the United Kingdom. The new church, dedicated to Saint Thomas, which is to serve the growing Indian  Orthodox community in North London – now estimated at some 130 families, is situated just north of the M25 at St. Agnells Lane, Hemel Hemstead, HP2 7AY.  The building is a redundant Church which had fallen into disrepair but had undergone extensive renovation, including the construction of a new Western entrance in the style of Malankara churches.
On the Eve of the consecration, Mar Timotheos laid the foundation stone for the altar, which was then solemnly consecrated the next morning.  A large congregation attended as well as a number of ecumenical visitors. From the British Orthodox Church, Abba Seraphim, Father Peter Farrington and subdeacon Daniel Malyon assisted in the sanctuary, whilst Father Mina from St. Mary & Archangel Michael Church at Golders Green, represented H.G. Bishop Angaelos and Father Haile Meskel Samuels represented the Ethiopian Orthodox Church.
Father George Joy, the parish priest, and his congregation provided a warm welcome and added to the general celebratory nature of the occasion.