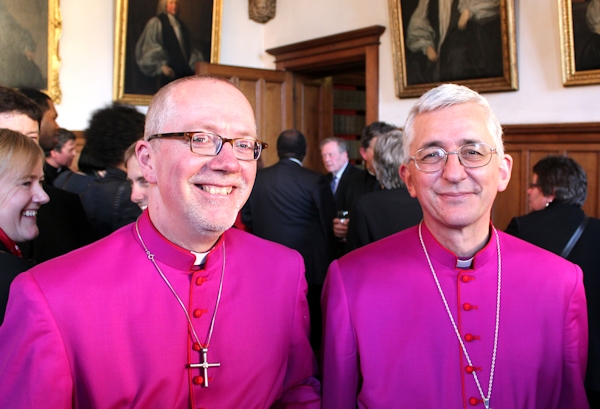 As a result of Abba Seraphim's absence in Egypt following the sudden death of H.H. Pope Shenouda, he was obliged to cancel a number of important engagements. One of these was the consecration of two new suffragen bishops for the Anglican Diocese of Southwark, which took place at Southwark Cathedral on 21 March. He was represented, however, by his Secretary, who conveyed greetings on Abba Seraphim's behalf to the new bishops as well as the Archbishop of Canterbury and Bishop of Southwark.
The new bishops, The Right Rev'd Dr Michael Ipgrave, Bishop of Woolwich, and The Right Rev'd Jonathan Clark, Bishop of Croydon, were consecrated in Southwark Cathedral, in the presence of a large congregation. The Archbishop of Canterbury, who was principal consecrator, movingly spoke of the death of H.H. Pope Shenouda, and offered condolences to His Grace Bishop Angaelos, who also had been unable to attend.
In his sermon, The Very Reverend Andrew Nunn, Dean of Southwark gave an entertaining view on the sights of Croydon, followed by speaking about the importance of reaching out to the community and enticing the secular society back into churches and linked this with the newly unveiled "Die Harder" statue of our Lord on the cross, constructed out of wire coat hangers.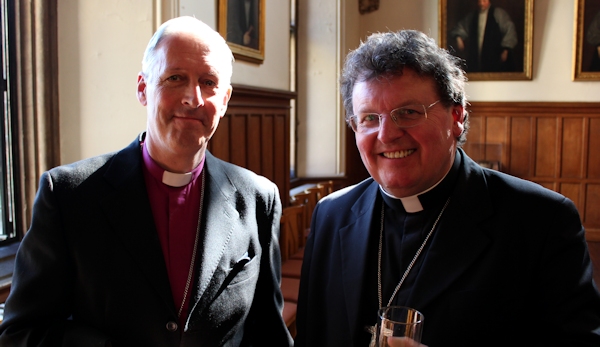 At the reception, which followed at Lambeth Palace, Mr. Maskery observed to the new bishops that as the British Orthodox Church's secretariat is based in Charlton in south-east London, we felt it was important to welcome both Bishops to their new sees and hopefully begin a close working relationship with them, just as we have shared the same with the Bishop of Southwark during his previous ministry as Bishop of Woolwich and continue to do so.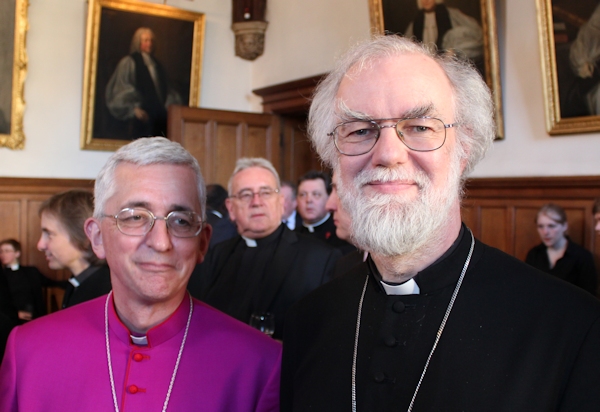 The Archbishop of Canterbury discussed with Mr Maskery the departure of the Pope and the future of the Coptic people. He held them in his prayers. The Bishop of Southwark expressed the same views and expressed his sorrow at the death of Pope Shenouda and said that he would be representing the Archbishop of Canterbury at this Saturday's Coptic Memorial Service to be held at St. George's Cathedral in  Stevenage.