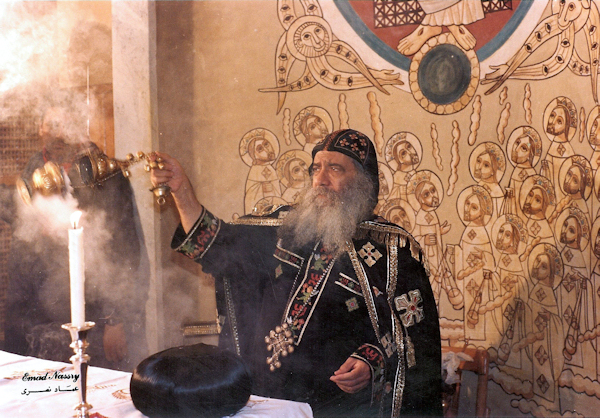 Although there has never been any doubt about the affection of the Copts for Pope Shenouda, the extraordinary manifestation of grief seems to have caught many by surprise. Tens of thousands of Copts have flooded to the Papal compound at Amba Rueiss in Abbeseya and are queuing for hours to catch a last glimpse of their "Baba" seated on his throne. The genuine grief, however, is widespread and not just restricted to Copts. As I was leaving the plane on Sunday morning, a Muslim stewardess beckoned me forward to meet the captain so they could both express to me their condolences. The same happened at Passport Control where the officer, although not a Christian, expressed his sorrow at the loss of "our Pope". Yesterday at the Patriarchate, when I entered the grand salon so often used for receptions and banquets, I noticed my brother bishops sitting quietly waiting for our scheduled Synod meeting. The atmosphere was subdued and calm and there was a profound sense of bereavement. I was always struck by how the Patriarchate, which was always a bustling, expectant place when His Holiness was in residence, fell strangely silent the moment he left the building. Now it was busy, but it seemed empty, although reminders of its late occupant were everywhere to be seen. Chatting to individual bishops provided many insightful personal reflections of the Pope and caught the generally reflective mood of the gathering. Among these were the ordinary staff of the Patriarchate, many of whom had served the Pope for years. His personal servant, Wadee (who had served his predecessor, Pope Kyrillos VI), although frail and still using a crutch whilst recovering from surgery for a hip replacement, was still weaving among the bishops offering tea on a silver tray.
We entered the Cathedral to pay our respects to His Holiness. Temporary barriers were erected to conduct the crowd round the Cathedral in an orderly way, but it was such a heaving mass that it was proving difficult to control. The boy scouts were acting as stewards, but they were clearly overwhelmed. As always there was a huge amount of respect at the sight of the clergy but the boisterous show of affection was sometimes at risk of knocking clergy over as worshippers tugged to kiss a hand or touch a cross. The sight of His Holiness seated on the Throne of Saint Mark, vested in his pontifical vestments, was a familiar one, and in the sleep of death he looked calm and peaceful, but it stirred deep emotions in all who approached. Standing quietly besides the throne, deep in thought, his face strained with grief, was the Pope's faithful driver, Yehya, watching over his master wth the same care and concern he has shown for many years. Bishops and priests, dressed simply in their white tonias, took turns to stand guard beside the throne, while the sea of people, in great waves of emotion, swept up to the brass railings at the entrance to the khorus, or deacons' choir area.
On leaving the Synod yesterday it took us over an hour to get back to where we had parked our car. The crowd was vast and filled every inch of the street, but good natured. As we struggled forward, Coptic youth encircled us in a protective ring with linked hands, the leading one pushing his way forward, though facing backwards, and in this strange manner we made our journey home. We later heard reports that three people had died in the crowd, but the cause was attributed to heat stroke rather than violence. Once returned to our car, we crawled at a snail's pace to get away from the crowded streets. At one point we passed closely a group of nuns from St. George's Convent and were able to greet Mother Koria on her way to the Cathedral. This morning I spoke on the phone with the Anglican Bishop Mounir, who anxious to pay his respects to Pope Shenouda, admitted that although he had set out for the Cathedral yesterday he had been obliged to turn back by the huge throng blocking his way. The bishop's taxi driver tearfully spoke of his love for the Pope.
That same evening we went to visit Miss Effa, a frail ninety-three year old, who was one of the first deaconesses ordained by Pope Shenouda when he restored that ancient ministry. She had known him as a Sunday school teacher, before entering the monastery, and they remained firm friends all his life. She still cherishes letters he wrote her from the monastery. When she was quite ill a few years back the Pope had personally visited her at home to check on her well-being. Now cared for by deaconesses in her own ground floor apartment, with ther rest of her house given over to accommodate Coptic girls studying in Cairo, she had taken the news of the Pope's death badly, but we were able to comfort her.
The visit yesterday to the Patriarchate of Field-Marshall Tantawi. the head of the Supreme Council of the Armed Forces, the effective Head of State, was an historic moment in church-state relations. Received by Metropolitan Bakhomious and other senior bishops, he had come to offer condolences after having already spoken about Pope Shenouda with deep respect and granted a three day holiday to Christians for them to mourn him. The Field-Marshall now offered to provide a military plane to transport His Holiness' coffin to St. Bishoy's monastery after the funeral ceremony in Cairo. Also hugely significant was the request by the church for government support in regulating the crowds and the entry into the Papal compound of soldiers is previously unknown.  The presence of young soldiers in their red berets, lining the entry to the khorus, brought much needed calm and order to the Cathedral and possibly represents a gesture intended to redress the appalling tragedy of Maspero.
Being with Copts with Coptic TV channels broadcasting news and archives about His Holiness non-stop, it might appear that one has a very Coptocentric view. However, even the non-Coptic Egyptian Television has announced for the next three days it has replaced light entertainment with more appropriate programmes. The truth, however, is that the Pope's passing has genuinely touched the hearts of many Egyptians, whatever their religion. He is viewed as a great Egyptian, deeply patriotic (having served himself in the military) and with a profound sense of justice and truth. His personal integrity, great charm and incorrigible sense of humour (often mischievously directed at Upper Egyptians, of whom he was one) made him a deeply attractive personality; whilst his approachability and direct contact with people through his weekly public addresses brought him into direct contact with Egypt's teeming millions.
Abba Seraphim