Posted on: Monday, 23rd January, 2012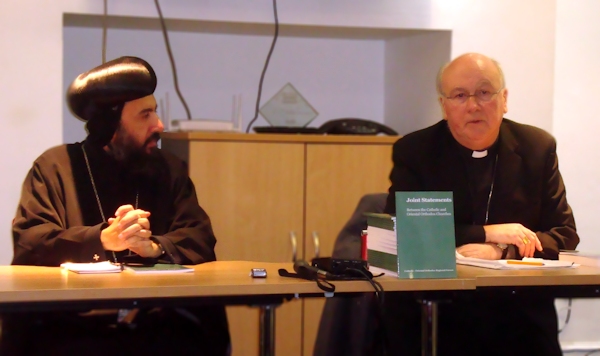 On 23 January, as part of the Week of Prayer for Christian Unity the Catholic-Oriental Orthodox Regional Forum launched its first publication, Joint Statements between the Catholic and Oriental Orthodox Churches. The event was marked by a press conference and reception at the headquarters of the Catholic Bishops' Conference of England & Wales at Eccleston Square, Westminster. It was introduced by the two co-chairs, His Grace Bishop Angaelos, President of the Council of Oriental Orthodox Churches in the UK and His Excellency Mgr. Kevin McDonald, Archbishop Emeritus of Southwark. Other members of the Forum attending were Abba Seraphim; His Grace Bishop Vahan Hovhannesian; Mgr. Bernard Longley, Archbishop of Birmingham; Mgr. Paul Hendriks, Auxilary Bishop of Southwark, and Father Peter Farrington (co-Secretary).
Archbishop Kevin described the various statements as "rather a well-kept secret" especially as some of the most remarkable achievements of the ecumenical movement have been precisely with the Oriental Orthodox Churches. The Joint Declarations made by both Pope Paul VI and Pope John Paul II with the heads of the Coptic and Syriac Orthodox Churches were "real milestones." Bishop Angaelos spoke of the real bonds of friendship which had been established within the Forum since its establishment in 2007 and of the very clear aims and objectives which continue to animate it.