Posted on: Saturday, 22nd May, 2010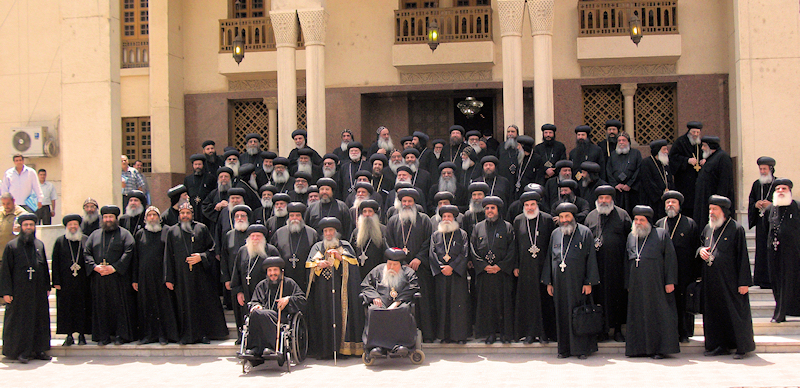 H.Pope Shenouda III presided over the annual meeting of the Holy Synod of the Coptic Orthodox Church on the Eve of Pentecost, Saturday, 22 May 2010 with eighty-seven members personally present.
The Synod meets in the Church of St. Antony on the second floor of the Papal Residence at Anba Rueis in Abbesaya, Cairo. From the United Kingdom the bishops attending were Metropolitan Seraphim, Bishop Antony and Bishop Angaelos. The meeting lasted from 10 a.m. to 2 pm and discussed the reports of the synodal sub committees for pastoral care, monasticism, the church rites, diocesan affairs and ecumenism. At the conclusion H.H. Pope Shenouda posed for a group photograph with the Synod members before entertaining them to lunch at the Patriarchate.
In the later afternoon Abba Seraphim, accompanied by Shenouda Mandouh and his wife, Mary, visited the Convent of Prince Theodore (Amir Tadros) in Haret-ar-Rum, where they were received by the Abbess, Tamev Adrosios, before returning to Heliopoils to dine with Mr. Mamdouh Abdou and his family.