Posted on: Friday, 27th April, 2012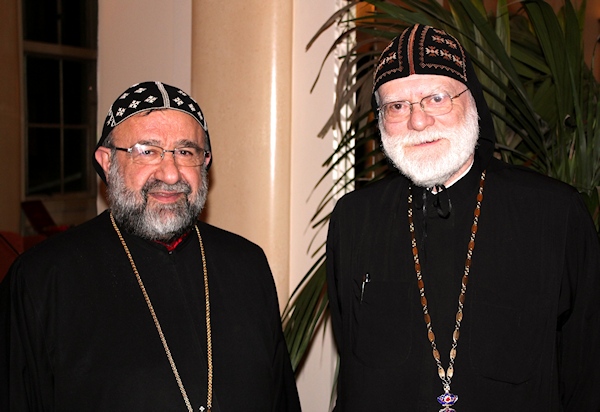 On 26 April, Mar Gregorios Yohanna Ibrahim, Syrian Orthodox Archbishop of Aleppo, dined with Abba Seraphim in London. Mar Gregorios had recently attended a meeting of politicians and other leaders in Liechtenstein to explore ways of resolving the problems in Syria. As a spokesman of the Syriac Orthodox Church who has long worked for good inter-communal relations, he is anxious to explore all peaceful options. Both hierarchs, who have been friends for a nmber of years, were able to share their insights into current political and religious developments in the Middle East as well as discussing issues of common interest, including research into church history.
Posted on: Tuesday, 10th January, 2012
The half yearly meeting of the Anglican-Oriental Orthodox Regional Forum took place at the Coptic Orthodox Church Centre at Stevenage on 10 January under the co-chairmanship of His Grace Bishop Angaelos and The Right Rev'd Dr. Geoffrey Rowell, Bishop of Gibraltar in Europe. Among other bishops attending were Their Eminences Metropolitan Seraphim (British Orthodox Church) and Archbishop Mar Athanasios (Syrian Orthodox Church) representing the Oriental Orthodox Churches and The Right Rev'd Andrew Proud, Bishop Suffragan of Reading representing the Anglican Church.
As usual the meeting was conducted in a positive spirit of fellowship and practical ways of ensuring closer co-operation between the two traditions explored. Bishop Proud, having previously served as Area Bishop for Ethiopia and the Horn of Africa, offered some insightful reflections on Orthodoxy and the Ethiopian Church, which were much appreciated by all present. In return Bishop Angaelos updated the forum on recent events in Egypt and Archbishop Athanasios did the same for Syria and Iraq.
Upcoming events
26 May 2013

Raising of Incense & Divine Liturgy: Doncaster

Raising of Incense – 9:45am
Divine Liturgy – 10:30am

Morning Prayer: Babingley

10.00am Morning Prayer

Raising of Incense & Divine Liturgy: Charlton

Raising of Incense 2.00 p.m.
Divine Liturgy 2.30 p.m.

2 June 2013

Raising of Incense & Divine Liturgy: Doncaster

Raising of Incense – 9:45am
Divine Liturgy – 10:30am

Raising of Incense & Divine Liturgy: Babingley

10.00 a.m. Morning Incense
11.30 a.m. Divine Liturgy
Archives

Recent Posts

Photo Gallery