Posted on: Saturday, 14th March, 2020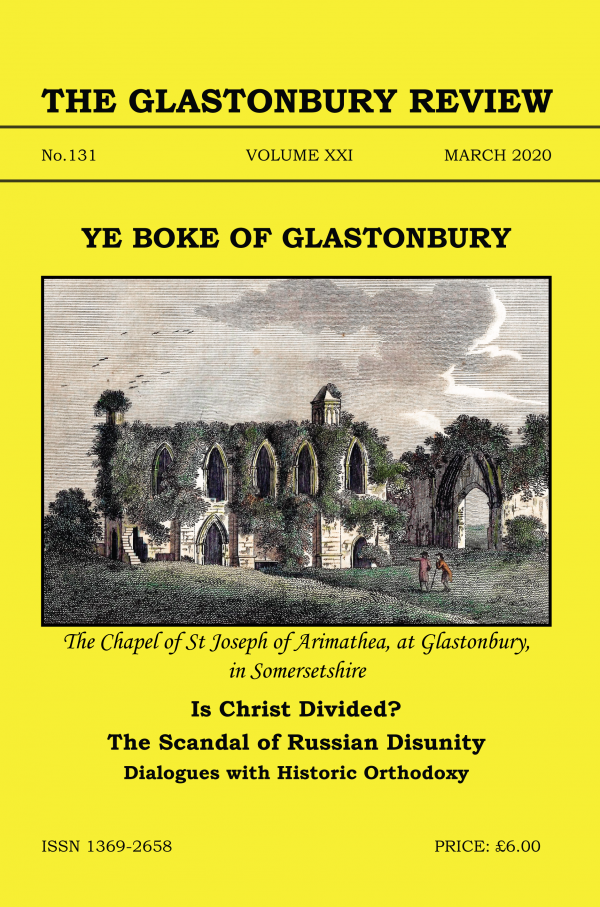 Issue No. 130 (March 2020) of the Glastonbury Review has just been published. This issue comprises 125 pages. The front cover reproduces a nineteenth century print of St. Joseph of Arimathea's Chapel at Glastonbury, whilst the back cover includes a modern photograph of St. Michael's Tor at Glastonbury, as this issue contains an article by Hieromonk John Ives on "St. Joseph of Arimathea in Oral Tradition" as well as the first of a series of previously unpublished articles by the late Mar Georgius, entitled "Ye Boke of Glastonbury". As the editorial refers to "Is Christ Divided? The Scandal of Russian Disunity" following the breach in communion with the Oecumenical Patriarchate owing to it having granting autocephaly to the Ukrainian Church, it also includes two articles "The Church of the Ukraine is an Accomplished Act" and "Simple Thoughts – Answers on The Ukrainian Issue" both by Hieromonk Niketas from the Athonite Monastery of the Pantokrator. As well as general news items, and the regular "Abba Seraphim's Question Box", other articles include one on "Pope Shenouda and the late President Mubarek", a report on the two kidnapped Orthodox Archbishops of Aleppo and a lengthy article on earlier "Dialogues with Historic Orthodoxy", detailing Archbishop Mathew's relations with the Greek Patriarchates of Antioch & Alexandria (1911-1912), Archbishop Frederic Harrington's approach to the Coptic Church (1936); Mar Georgius's contacts with the Russian Orthodox (1947-48) and also with the French Orthodox under Bishop Jean Kovalevsky (1969).
The 'Book Review' section includes George Alexander's "Malankara Nasrani Research Papers"; a new edition of Mar Georgius' 1960 history of the Nonjurors: "Blind Lanes and Alleys", as well as two recent books by Abba Seraphim "Restoring British Orthodoxy" dealing with his earlier ministry. This issue concludes with obituaries of the late Archbishop Gregorios of Thyateira and Bishop Sarapamoun, Abbot of St. Bishoy's Coptic monastery.
Copies can be obtained directly from www.Lulu.com
http://www.lulu.com/shop/abba-seraphim/the-glastonbury-review-no-131/paperback/product-24468384.html