Posted on: Saturday, 16th March, 2019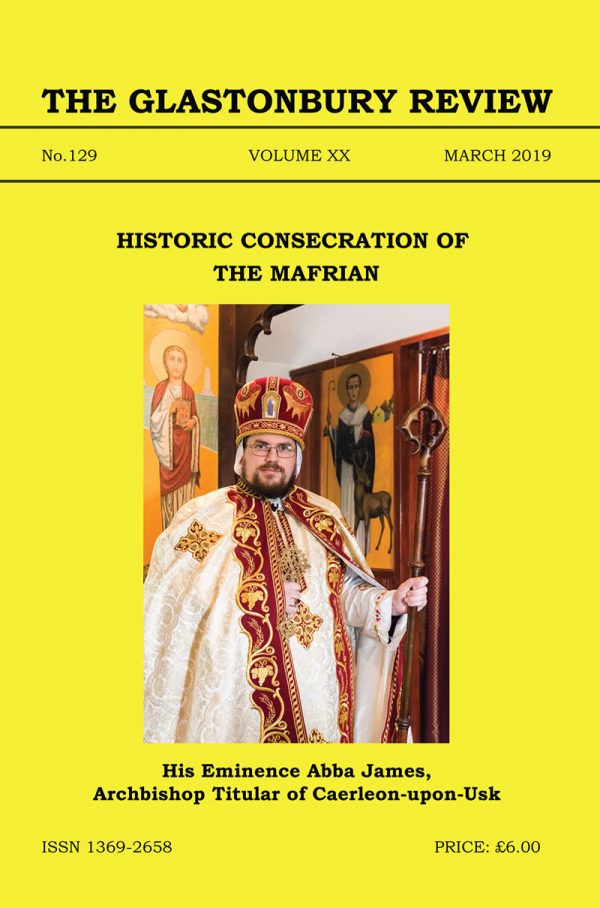 Issue No. 129 (March 2019) of the Glastonbury Review has just been published. This issue is 128 pages. The front and back covers carry pictures taken at the historic episcopal consecration of Abba James as the new Mafrian: the Perpetual Coadjutor of the Metropolis of Glastonbury, which is reported in detail in the "Here, There & Everywhere", along with key items of news since the last issue. The "Oriental Orthodox Church News" section contains an update detailed report of the trial of the two monks found guilty of the murder of Bishop Epiphanius, the Abbot of St. Makarius monastery with reviews of press comments suggesting that the murder might have been linked to contemporary church policies. As 2019 marks the fortieth anniversary of the death of Metropolitan Georgius and the succession of Abba Seraphim, an article Forty Years Ago records detailed church events at that time with some previously unpublished historic photographs; whilst an earlier article An Important Anniversary for British Orthodoxy written in 1997 by the late Father Gregory Tillett, offers an historical insight on recent past history.
Among the articles is a theological one by Abba Seraphim on Divine and Human. In the Likeness of Christ, whilst he has also written another The Letter Killeth, but the Spirit giveth Life addressing the issue of the misuse of canonicity and Phyletism with reference to contemporary church issues, such as the problems of the Russian Exarchate under the Oecumenical Patriarchate and the divisions caused by the recent grant of autokephaly to the Ukrainian Orthodox Church. There is also the text of one of Abba Seraphim's homilies on Luke XII: 1, "Beware the Leaven of the Pharisees, which is Hypocrisy."
The 'Book Review' section includes Abba Seraphim's latest book As Far as the East is from the West. Sidelights on Assyrian Church History and Martin Mosebach's tragic but informative account of the 21 Neo-Coptic martyrs murdered in Libya in 2015 by Isis. This issue concludes with lengthy obituaries of Archdeacon Mark Saunders of the Babingley Church; Vanessa Tinker, Principal of the Glastonbury School of Ikonographer and Father Gregory Tillett, of Sydney, Australia.
Copies can be obtained directly from www.Lulu.com
http://www.lulu.com/shop/abba-seraphim-editor/the-glastonbury-review-no-129/paperback/product-24011770.html