Posted on: Friday, 8th March, 2019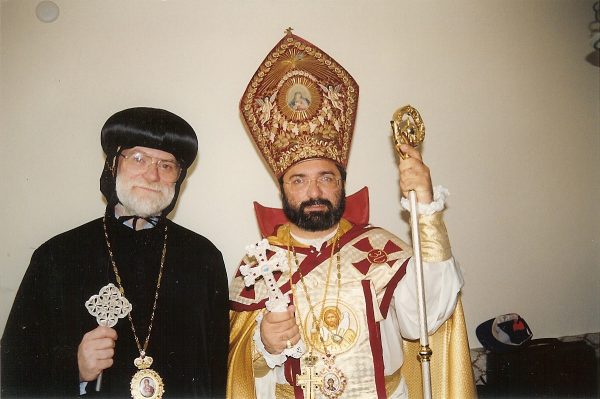 On 8 March 2019 Patriarch Mesrob II Mutafyan, Armenian Orthodox Patriarch of Constantinople, died at the age of 62.
Minas Mutafyan was born in Istanbul on 16 June 1956. He studied at Memphis University, USA. 1974-1979, during which time he was ordained deacon in 1977 and as priest on 13 May 1979. He studied at the Patriarchal Seminary & Hebrew University at Jerusalem: 1979-1981, before returning to Turkey, where he served as parish priest for Kinali 1982-1986, and was elevated as vardapet in 1983 and Dzairaguin vardapet in 1986. He was a protégé of Shnork I Kaloustian (1913-1990), the 82nd Armenian Patriarch of Constantinople. On 21 September 1986 he was consecrated to the episcopate at Etchmiadzin and served as Chancellor of the Patriarchate as well as Coordinator of Ecumenical Relations. In 1993 he was created Archbishop of the Princes Islands by Patriarch Karekin Kazanjian (1927-1998) and because of Patriarch Karekin's failing health he soon acted as Vicar-General and locum tenens until his own election as Patriarch on 14 October 1998.
Abba Seraphim first met Archbishop Mesrob in April 1997 when he attended a reception at the Armenian Patriarchate in Kumkapi to welcome Patriarch Karekin II back on his return from attending the Holy Synod in Etchmiadzin and they soon became firm friends, which led to Abba Seraphim becoming a frequent visitor to Istanbul, accompanying the Armenian clergy on local pilgrimages and other special events, during which he got to know the local clergy very well as well as Patriarch Mesrob's mother. Abba Seraphim attended and participated in Patriarch Mesrob's enthronement in October 1998. For some period his advice was also sought on improving English texts of key press releases and translations of other important documents.
Patriarch Mesrob was not only a highly educated theologian, with a keen sense of church history -which he shared with Abba Seraphim – but he was a dynamic and deeply pastoral church leader and there was great hope that the Armenian Church as a whole would benefit from his leadership, especially as he worked closely and constructively with the Catholicoi of Etchmiadzin and Cilicia, with his brother Patriarch of Jerusalem, the Anglophile Torkom Manoogian, and with the Oecumenical Patriarch.
In 2008, however, he became unwell – which was frustrating for someone so full of energy and vision. He was eventually diagnosed with fronto-temporal dementia (Pick's disease) and within only a few weeks his condition rapidly deteriorated, so that for the past decade he has been in a totally comatose condition. Out of respect and deep affection the British Orthodox Church has kept him in their prayers and Abba Seraphim has now directed that the full traditional forty days of mourning should be observed.
On Sunday, 10 March Abba Seraphim and Abba James led memorial prayers for Patriarch Mesrob at the Church in Chatham.
Patriarch Mesrob: Memory Eternal !