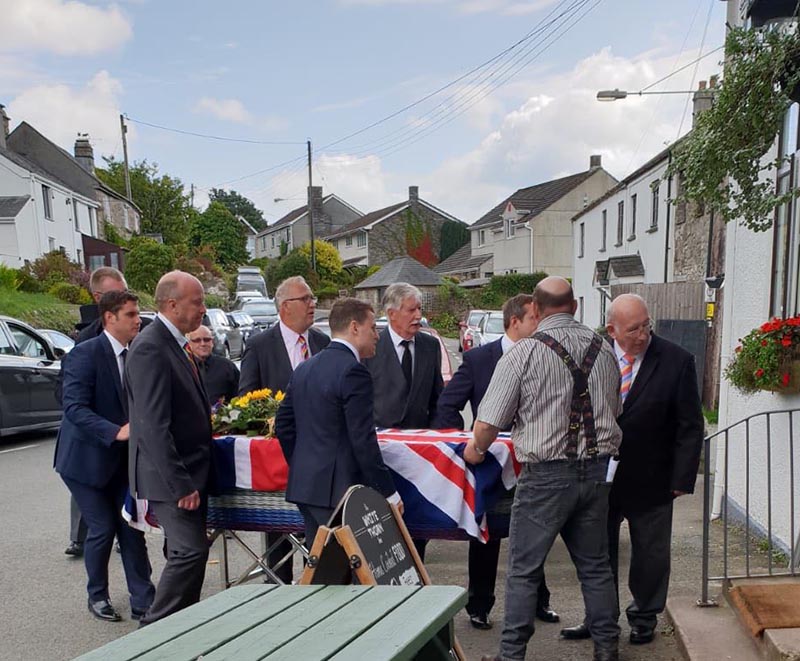 On 24 August, Abba Seraphim attended the funeral of Deacon John Stuart, which took place at St. Edward, King & Martyr, Church at Shaugh Prior, the next village, to John's home at Wotter on Dartmoor. There were intermittent rain showers throughout the day, but it remained dry for the funeral. As Deacon John's later ministry was largely to support his local Anglican clergy in their pastoral ministry, his family felt it was appropriate for his funeral to take place at one of the churches where he ministered. The principal officiant was The Rev. Captain Denis Robinson, CCF (Combined Cadet Force), formerly Chaplain of Gordon's School at Woking, who shared Deacon John's military background.
Upon arrival at Shaugh Prior, Abba Seraphim was warmly greeted by John's widow, Amelie-Elizabeth. The ancient parish church was packed with family, friends and neighbours, which showed clearly that John was a much loved and respected member of the local community, where he was affectionately known as 'Big John' because of his standing 6 foot 6 inches tall.
John's eco-friendly Willow Wicker coffin was borne into the church led by a piper, playing "Flowers of the Forest", and the congregation sang the hymn, "Abide with Me" by Henry Francis Lyte, who wrote it in 1847 while he lay dying from tuberculosis. After the reading of Philip Larkin's poem, "Aubade", Professor Linda Wear of the University of Plymouth, one of Deacon John's oldest friends, offered a number of personal recollections; followed by a spirited reading of Numbers XXII about Balaam's ass by Father Freddy Denman, former Vicar of Sparkwell & priest-in-charge of Cornwood, who had also been present at Deacon John's Ordination at Abba Seraphim's hands in 2001.
After this, Father Denis Robinson preached on Deacon John's commitment to Orthodoxy and the Christian Hope of the Resurrection and spoke on the church's tradition of intercession for the faithful departed. During the service Abba Seraphim also privately recited "Prayers for the Mourning of Deacons" including the Absolution of the Son and the final Burial Prayer, over Deacon John's coffin. The service concluded with the spirited singing of Blake's "Jerusalem", appropriate for the tradition of British Orthodoxy and the rôle of Glastonbury and the West Country in our Christian heritage. Deacon John was later laid to rest at Lee Moor Cemetery at South Hams, a village on the other side of his home at Wotter.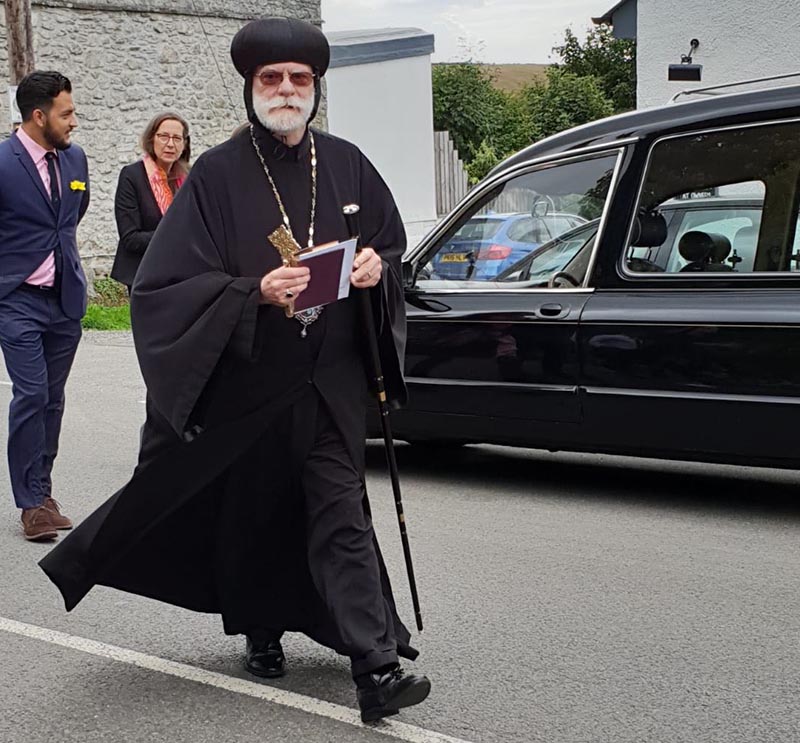 Commenting on the funeral service, Abba Seraphim said that he found it "profoundly moving" and expressive of the great love and respect in which Deacon John was held by all who knew him. Although the service was not a traditional Orthodox one, there was a strong witness to belief in the resurrection and trust in a merciful and steadfast Saviour. Deacon John's unselfish and committed ministry of service to those with whom he came into contact ensured that many would continue to pray for him and that, having entered paradise he would now enjoy eternal life in the bosom of his loving Creator. Memory Eternal !