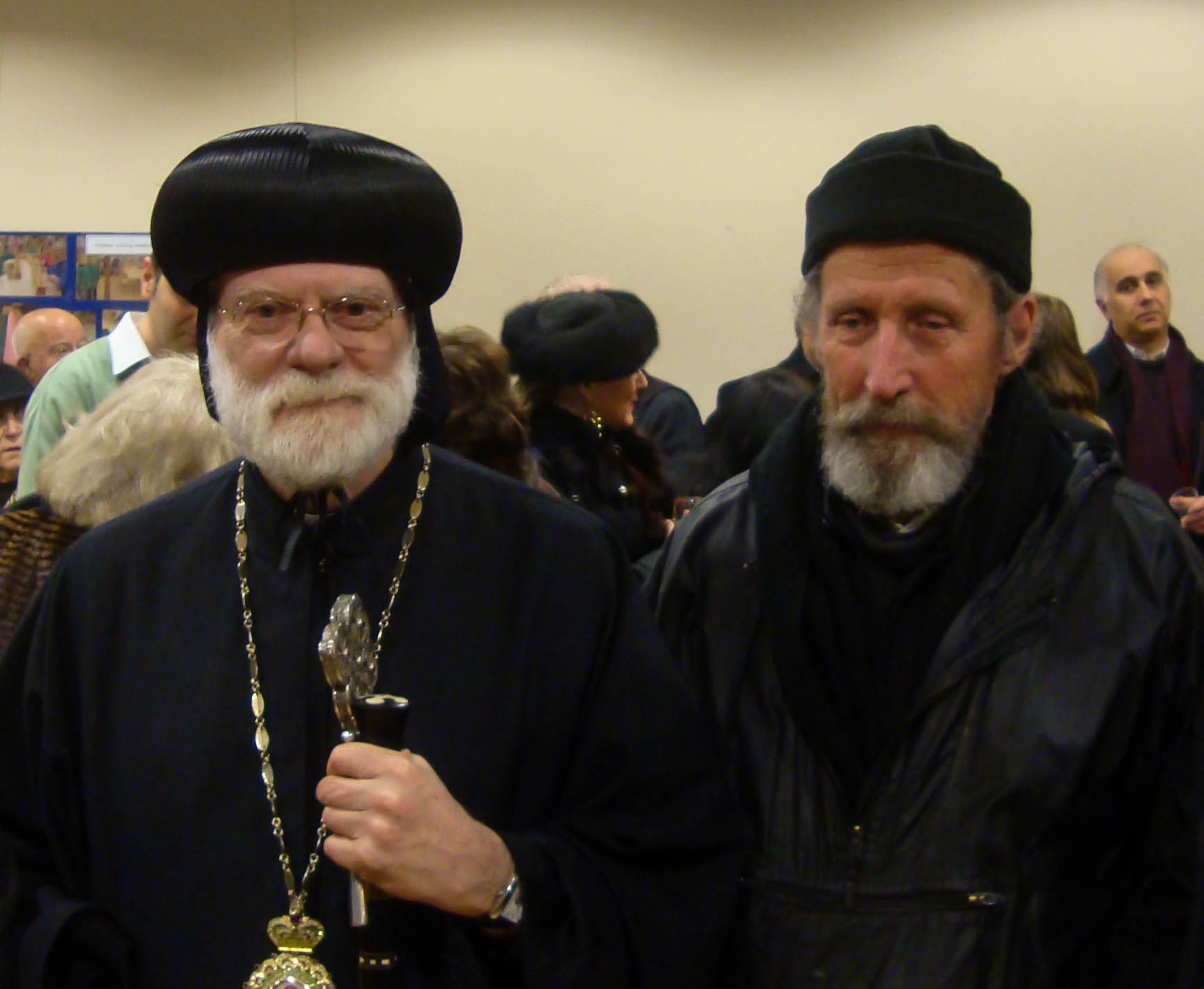 It is with great sadness we learned of the death of Father Theodore de Quincey on 22 May, aged 77 years.
Alan de Quincey was born at Nowa Sol in Silesia (now Poland) on 28 November 1940, but was educated in England and spent his youth in Sussex. He discovered Orthodoxy through his early interest in monasticism. On leaving school he entered the novitiate at Prinknash Abbey, but left after six months and found employment at the Catholic bookshop, Ducketts in the Strand. After a few years he left Britain for Belgium, where he spent a year at Chevetogne Abbey, a community committed to Christian unity and celebrating both Eastern & Western rites, which enabled him to become familiar with the Byzantine rite in a Benedictine setting. From there, in 1963 he travelled to the Levant and, after visiting the Holy Places, he went to Mount Lebanon where he met the Melkite Patriarch, Maximos IV Sayegh (1878-1967), and the Roumanian Orthodox Archimandrite Andre Scrima (1925-2000); who recommended that he might enter the Antiochian Orthodox Monastery of Saint George, Deir el-Harf, set in the midst of a pine forest that covers Ras el-Matn Mountain in Lebanon and situated on an open hill at 1050m, the monastery overlooks the Mediterranean Sea as well as the Mountains and is only 33km from Beirut.
It was during his sojourn at Deir el-Harf that he was received into the Greek Orthodox Church. He received a grant from the Greek government to read theology at Athens University, but after two years he decided to abandon his studies, return to the West and join a new Western Orthodox monastic foundation in France. This venture, centred in a former Cistercian Abbey, was short-lived and he left with his spiritual father, Hieromonk Gabriel Bultman. After several years of peregrinations, he settled down for six years in the Alps of Provence to lead a solitary life. This culminated in a spiritual crisis which led him to question and reconsider the nature of his spiritual life and it was shortly after this turning point in 1976 that he met his future wife, Marie Françoise Crebassol, whom he married in London in 1983 and who was to become the mother of their daughter, Mélanie.
He also later met Père Eliyas Leroy who was serving as a priest of the French Orthodox Church (ECOF), which at that time was part of the Roumanian Orthodox Patriarchate but who shortly afterwards transferred to Eglise Orthodoxe Copte Francaise under Metropolitan Marcos of Toulon and Bishop (now Metropolitan) Athanasios in Marseilles. Through his friendship with Archimandrite Barnabas (Burton) he learned of the union of the British Orthodox Church with the Coptic Orthodox Patriarchate, which delighted him because he had long been drawn to the spirituality and theology of the Alexandrian tradition. In 1994 he first met Abba Seraphim and the following year was received into the British Orthodox Church. Although living at that time in Le Pouget, a commune in the Hérault department in the Occitanie region in southern France, he was a frequent traveller to London to visit his elderly mother, who lived in Holland Park, as well as his daughter who, having studied literature at Montpellier University, moved to London to study sculpture at the Slade School of Fine Art. During these visits he attended the churches at Charlton and Chatham and frequently accompanied Abba Seraphim to services, conferences and ecumenical gatherings in London and other parts of the country. He was ordained a deacon by Metropolitan Marcos on 15 August 2007 at le Revest-les-Eaux, with the understanding that he could serve both the churches in France and in Britain. He was later ordained priest in 2016. The death of his mother in December 2011 meant that his visits to the UK became less frequent, although he last lunched with Abba Seraphim at Charlton in February 2017, whilst on a visit to meet his new grandchild.
In his later years he also put his historical and cultural knowledge to good use and served as a guide touristique et traducteur at the Le Pouget dolmen (also called Gallardet), some 4,500 years old and one of the largest prehistoric funerary monuments in the region, and certainly one of the most beautiful.
Father Theodore was a widely read and knowledgeable priest with a deep personal understanding and experience of Christian spirituality; yet he possessed a humble and approachable spirit which endeared him to all whom he met. Although cosmopolitan in his own background and experience he exuded a quintessential old-fashioned English charm. He was much loved and always welcomed when he came to serve in British Orthodox churches. Memory Eternal !
Abba Seraphim will commemorate Father Theodore in Memorial prayers which will be said after the Liturgy at Charlton on Pentecost Sunday, 27 May and on the 40th Day after his repose, which will prayed at Babingley on Sunday, 1 July.