Posted on: Tuesday, 15th August, 2017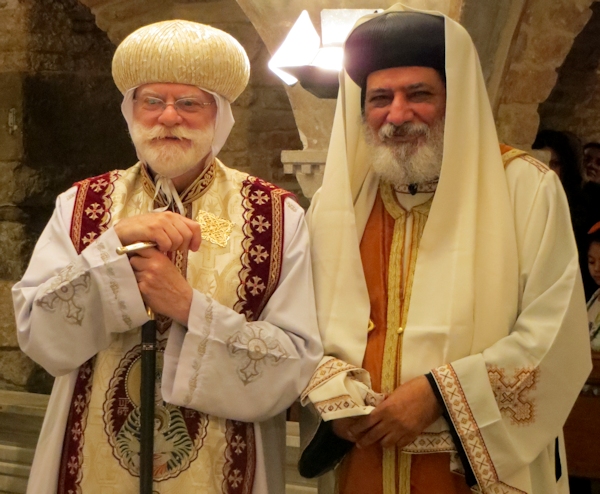 It was with great sadness that Abba Seraphim learned of the death on 14 August of His Eminence Metropolitan Kyrillos of Milan, at the age of 65 years.
Halim Nashed Athanasius was born in Sohag in Upper Egypt on 15 October 1952. He studied Mechanical Engineering at the University of Minya, from which he graduated in 1977. Born in a devout Coptic family (where his brother also became a monk and was consecrated to the episcopate), he undertook voluntary service for the church in Minya Province and came under the influence of Metropolitan Arsanius of Minya, who used him for ministry to the Youth. In 1979 he entered the monastery of the Holy Virgin, al Baramous, in the Wadi El Natrun, which was founded by St. Macarius the Great in around 335. He made his monastic profession as Kyrillos el-Baramousi. He was ordained as a priest in February 1980 and in June 1986 he was consecrated as a General Bishop by the late Pope Shenouda III to assist in Minya diocese. In 1990 he was transferred to Milan to supervise the Coptic community there and the new monastery of St. Shenouda the Archimandrite at Mettone, outside Milan. In June 1990 he was enthroned as Bishop of Milan, at which Abba Seraphim assisted and established friendly relations between the British Orthodox Church and the Diocese of Milan. Following the death of Pope Shenouda, Bishop Kyrillos was nominated as a papal candidate, but withdrew before the election. One of the first appointments made by H.H. Pope Tawadros II following his enthronement as Pope & Patriarch of Alexandria was, on 28 December 2012, to appoint Bishop Kyrillos to the newly created position of Papal Deputy for Europe. Following that, relations between the British Orthodox Church and the Milan diocese became stronger and there were frequent exchanges of clergy, culminating in the visit to London of Bishop Kyrillos in July 2014 for the service of Thanksgiving for twenty years of union with the Patriarchate. On 28 February 2016 Bishop Kyrillos was ordained a Metropolitan.
Abba Seraphim spoke movingly of the kindness and goodness of Abba Kyrillos, which endeared him to everyone. "His simple monastic spirit and gentle love for all those he encountered were his chief characteristics. The respect and affection in which he was held extended well beyond his own community, where his own flock greatly loved him. He was revered throughout the Coptic Church worldwide, but also with Christians of all traditions, who responded to his humble courtesy and open-hearted generosity with great readiness. He was a true friend of the British Orthodox and prayers for his repose will be held in all our churches for the next 40 days.
Metropolitan Kyrillos: Memory Eternal !