Posted on: Monday, 31st August, 2015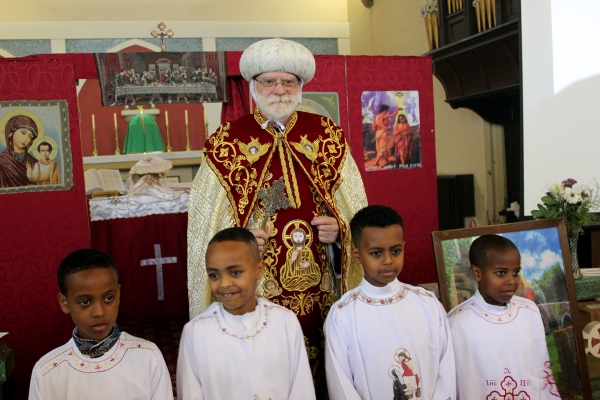 On 29 August Abba Seraphim visited Saint Mary Eritrean Orthodox Tewahdo Church, which currently worships in Saint Charles Borremeo Catholic Church in Attercliffe, Sheffield, to share with them the celebration of the Feast of the Assumption of St. Mary, according to their calendar. Assisting him at the Liturgy were Father Yonas Tesheme, the parish priest, as well as Father Habtom Ftuwi from the Eritrean community in Manchester and Father Phanuel from Fribourg in Switzerland. During the liturgy Abba Seraphim ordained four of the congregation to the rank of Epsaltos: Nahom Mussie, Habtom Kibron, Ebenezer Woldu and Msgna Gebrhiwot. Following the liturgy they were joined by clergy from local churches who came to enjoy the traditional celebrations and the award of certificates to high-achieving Sunday School pupils.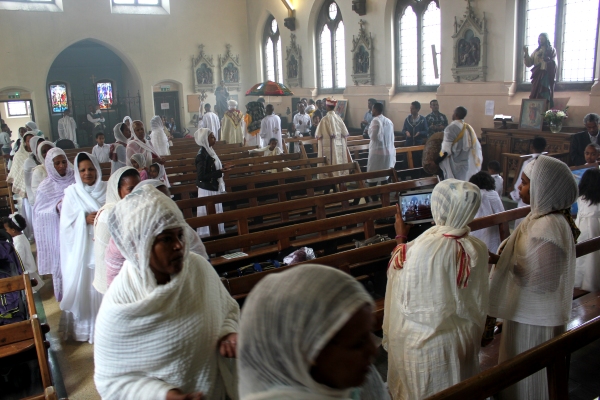 The next day, Sunday, 30 August, being the new ecclesiastical year for the British Orthodox Church, Abba Seraphim celebrated the Divine Liturgy at St. Mark & St. Hubert's Church at Cusworth, near Doncaster, assisted by Father David Seeds, the parish priest, and Archdeacon Alexander Astill. They were joined by the three Eritrean priests and a number of the members of the Manchester church. After the Liturgy they performed traditional church dances in the Cusworth churchyard, to the delight of passing villagers.