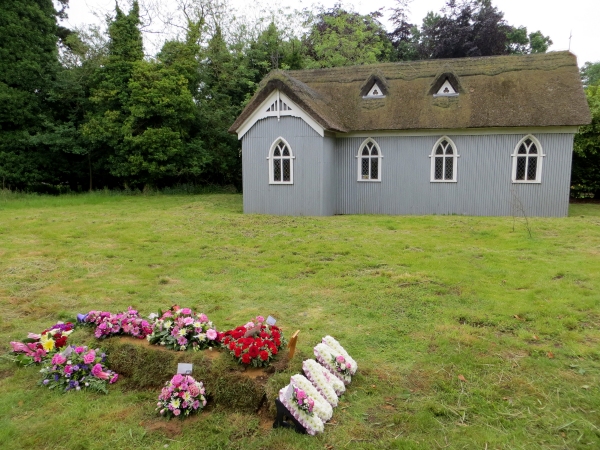 The funeral of Sybil Saunders (1927-2015) took place at the Orthodox Church of St. Mary & St. Felix at Babingley on 5 June in the presence of a large congregation of family, friends and church members. Abba Seraphim officiated, assisted by Deacon Christopher Barnes and Subdeacons Roger-Kenneth Player and Trevor-James Maskery. The weather in Norfolk was warm and sunny with thundery showers, which held off until after the burial. During the service two poems were also read, which had been written by Sybil's grandchildren and great-grandchildren.
In his address, Abba Seraphim, commenting on the sentiments of these poems, observed that we were already cherishing the precious memories on which our relationship with Sybil was founded. "They are especially poignant in these days following her repose, but they will remain strong and not fade as the years pass because she has an assured place in our hearts and for her family she will always be of the greatest significance. The power of love is profound, strong and enduring and it comes from God. In her life Sybil played many parts: daughter, wife, grandmother, friend, neighbour and in whatever way we knew her, her character was the same: calm, considerate, kind, dignified, self-effacing, stoical, loyal." He quoted from the description of the god-fearing women in the Book of Proverbs (XXXI: 10-31), which applied so well to Sybil.
Her almost seventy years of marriage to Deacon Mark was a truly blessed partnership of sharing and commitment through good times and bad. "Two different personalities but a wonderful complementarity, each bringing together their gifts for the enriching of the other and the overflowing of their love with family, friends and church. One of the family described them to me as a 'double act,' for truly in their love for each other they became one, yet it was not for the selfish satisfaction of either, but to be shared. To her descendants, her 4 children, 6 grandchildren and 9 great-grand children, she left a model of family life: happy, loving, committed and caring in which she nurtured each generation, passing to them her values as surely as she passed on her genetic legacy. From her days in the Land army Sybil learned to work with cows and had a real affinity with animals, especially dogs. Home cooked food, surrounded by children and animals, yet all the time exuding an inner contentment; living her life for others and deriving true pleasure from giving, not taking. These are all rare and cherished values which Sybil had in full and why we are here today to honour her memory and to solemnly take our leave."
However, Abba Seraphim emphasised that this is not the end. "Funerals are solemn occasions in which we share a sadness because of our parting from someone we love but they do not mark a total severance – the curtains are drawn, the door is shut, but for Christians the hope of a future life together, the renewal of profound relationships and a glorious, brighter future, allows us to temper our sadness with hope. The Scriptures speak of the fact that God created man out of nothingness and breathed into him a living soul. In the Old Testament we see our forefathers struggling to come to terms with mortality and the inevitability of death, speaking of going into the darkness, of lives being like water spilt on the ground which cannot be gathered up again, of going the way of all the earth, of the Valley of the Shadow of Death. Yet as God revealed himself more to His people and they became closer to Him, the mood gradually changes. David the Psalmist declared, God will redeem my soul from the power of the grave: for he shall receive me (Psalm XLIX: 15) and by the time of the Incarnation, The people which sat in darkness saw great light; and to them which sat in the region and shadow of death light is spring up (Matthew IV: 16). Confronted by the death of her brother Lazarus, Martha was able to declare, I know that he shall rise again in the resurrection at the last day. Martha made this declaration of faith to the Lord Jesus Christ, who answered her definitively, "I am the resurrection and the life: he that believeth in me, though he were dead, yet shall he live: and whosever liveth and believeth in me shall never die."
"Within days the Lord Jesus had demonstrated His power over Death: bruised and beaten unjustly, he suffered an agonising, cruel and painful passion and death – his disciples were scattered, terrified of suffering a similar fate – and to all worldly intent his ministry had ended in humiliation and defeat. On the third day, however, as He promised, he arose from the dead – not as a phantom but as flesh and blood – still bearing the scars of his passion – so that His disciples were also transformed by their encounter with the Risen Christ and the Church was born bearing witness to God's triumph over death."
Abba Seraphim concluded by noting that Sybil had died just at the end of the Glorious 50 days of celebration which follow Holy Pascha, when Orthodox still salute one another with the acclamation, "Christ is Risen" – not was risen, although it took place in history, but here and now because He is still the risen Lord and it is in His resurrection that we hope for our own conquest over death.
Following the service, Sybil's body was buried in the churchyard, being the first Orthodox burial since the church was first used for Orthodox worship.