Posted on: Friday, 21st March, 2014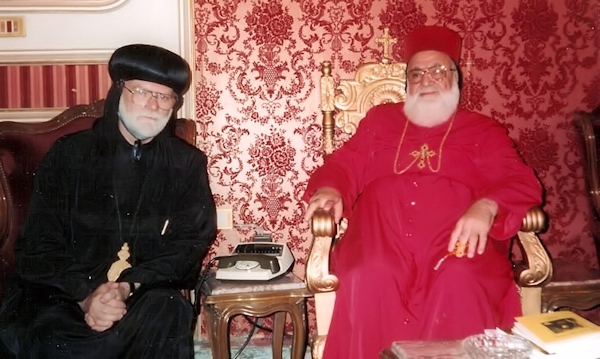 Having received the news of the death of His Holiness Patriarch Mar Ignatius Zakka, Abba Seraphim wrote to Archbishop Athanasius Touma, Patriarchal Vicar fore Britain of the Syriac Orthodox Church, to offer on behalf of the clergy and people of the British Orthodox Church, sincere condolences on his passing. In the tradition of the Coptic Patriarchate, the Patriarch of Antioch is commemorated at every service when prayers are offered for the Pope & Patriarch of Alexandria, and in recent months those prayers have been offered with deep intent.
In his letter Abba Seraphim wrote, "In all my personal meetings with him – in Damascus, Cairo or in London – I found him kind and gracious. Our hearts were greatly touched by his attendance both at the funeral of the late Pope Shenouda and the Enthronement of His Holiness Pope Tawadros II, even though he himself was in frail health. As his body began to fail, the strength and determination of his spirit was symbolised by the power and beauty of his voice, which remained strong.
The clergy and people of the British Orthodox Church are saddened that His Holiness ended his long and distinguished pontificate amidst such trials and tribulations for the Syriac people, especially in Iraq and Syria, as we know his heart was staunch in defending goodness and truth. We pray that he will rest in peace and awake to a joyful resurrection and trust in our Merciful Saviour to raise up a worthy successor to this great high priest".
During the 40 days of mourning prayers for the repose of Patriarch Zakka will be offered in all British Orthodox churches and missions. 
Memory Eternal!