Posted on: Sunday, 5th August, 2012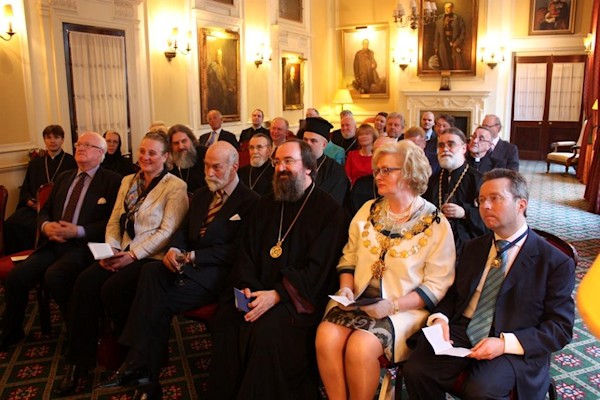 On 1 August Father Peter Farrington represented Abba Seraphim (who was out of the country at the time) at a Festive Reception to mark the fiftieth birthday of His Eminence Archbishop Elisey of Sourozh, the diocesan of the Russian Orthodox Church in Great Britain. This was held at The Cavalry & Guards Club in Piccadilly, London, and was hosted by the Trustees of the Diocese of Sourozh.
A Chopin Recital by Nelly Akopian-Tamarina, the distinguished Russian pianist, who studied at the Moscow Conservatoire under the legendary Alexander Boroisovich Goldenweise was followed by a celebratory dinner. Among the distinguished guests were H.R.H. Prince Michael of Kent, Archbishop Innokenty, the previous hierarch responsible for the Russian Orthodox Church in the British Isles, His Eminence Archbishop Gregorios of Thyateira and the Ambassadors of Belorussia and the Ukraine.
Father Peter offered congratulations to Archbishop Elisey on behalf of Abba Seraphim and the British Orthodox Church, and was especially pleased to be able to meet Father John Chapman, the Bishop of London's Chaplain for International Churches, and Father Benedict Ramsden of the Russian Orthodox Church.
Image source: http://www.sourozh.org/photogallery/01082012/