At the request of Alistair McKitterick, Tutor and Lecturer in Biblical and Theological Studies, Father Simon Smyth returned once again to Moorlands Bible College, on Wednesday 21st March, to give an illustrated lecture on iconography.  This was the fourth time he had lectured on this subject.  He was gratified to meet in reception a student who had now graduated with a First Class Honours degree present at last year's lecture and had clearly enjoyed it, explaining that his highest mark was for the Spirituality module which included iconography.
The lecture considered many aspects of iconography including the apparent prohibition on images in the Ten Commandments.  Father Simon explained that these verses in Exodus must be understood in the light and context of other Old Testament verses which showed that there were images of cherubim on the very Ark of the Covenant itself, on the veil or curtain of the Holy of Holies, on the doors, the walls, the furnishings and there were two huge cherubim in the sanctuary, then added that Orthodox Christians also love to see images or icons of angels when we worship and there was an audible intake of breath and a soft "Wow!" from one of the students at the next illustration, from the ceiling of an Ethiopian Church: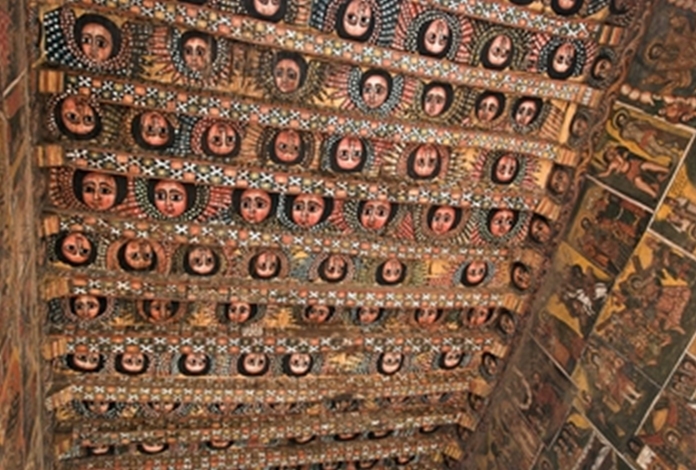 The lecture continued that Orthodox go further than the Old Testament worshippers, "we dare to depict not only the angels who worship God but even God Whom they worship…" and so began a consideration of Christology, that as God had become physical and material so physical or material icons declared and proclaimed the truth of the Incarnation.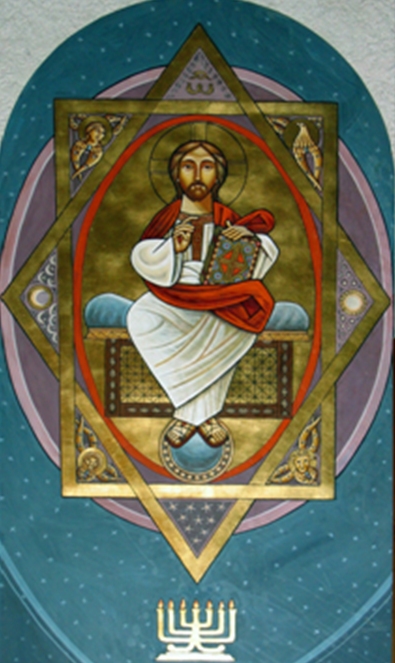 There was a detailed analysis of a modern Coptic icon of our Lord God and Saviour Jesus Christ, explaining the significance of the halo (sign of divinity), the cross within the halo (it is the Crucified One Who is God), the Alpha and Omega, the seven-branched candlestick, the sun, moon and stars, the four incorporeal creatures, His throne heaven, the earth His footstool – and the one finger raised in blessing, one finger with three joints symbolic of the Holy Trinity, One God yet Three Persons and also symbolic of the true Christology of our Oriental Orthodox Christian Faith in the One Nature of God the Word Incarnate.
Several students commented how helpful they had found the lecture, especially the emphasis on Christology being at the heart of our Orthodox Faith, how what we believe about Christ informs what we then believe about everything else.