Posted on: Thursday, 15th March, 2012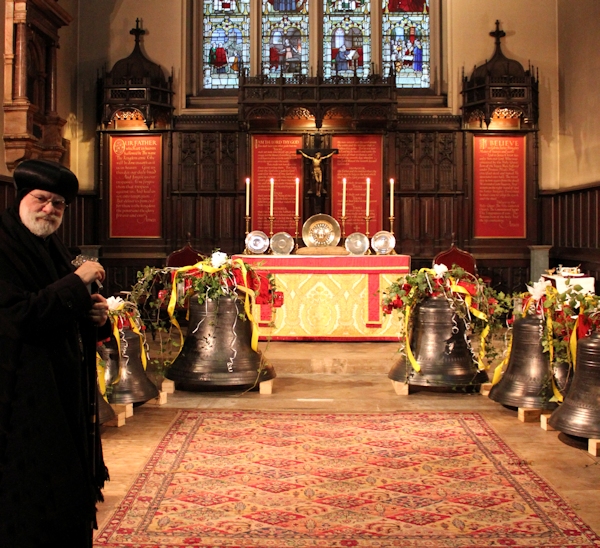 Abba Seraphim joined the congregation of the Guild Church of St. Dunstan's-in-the-West on 14 March for the service of The Solemn Consecration of the New Ring of Ten Bells, which was performed by the Lord Bishop of London (The Rt. Revd & Rt Hon Richard Chartres). Although the ceremony is quite a rarity, the Bishop of London admitted that this was the third set of bells he had consecrated in the City of London in recent years (St. Magnus the Martyr in 2009 & St. Michael's, Cornhill in 2011).
Although it took place within the Lenten season, the ceremony had a festive feel to it, with Psalm 150 sung in Grandsire Triples and a newly composed Festal Te Deum by Stuart Murray Turnbull.  The bells, decorated with white ribbons and trailing ivy, were displayed in the sanctuary as the bishop and clergy, in gold vestments processed into the church to the strains of J.M. Neale's "Christ in Made the Sure Foundation". Following the old Pontificale Romanum the bells were each sprinkled with Holy Water, before being named by their sponsors, anointed with Oil of Catechesius, consecrated with Chrism and solemnly censed. Not only were they censed on the outside but a long-handled chafing dish was used to incense the interiors. The bells will now be hung and it is intended that they will first ring on 5 June when H.M. The Queen enters the City of London on her way to St. Paul's Cathedral for the Service of Thanksgiving.
The service was followed by a reception generously hosted by Hoare's Bank in Fleet Street.
Apart from being one of the ecumenical guests, Abba Seraphim's had a number of reasons for his interest in the service: St. Dunstan was Abbot of Glastonbury; Abba Seraphim is a direct male descendant of the celebrated thirteenth century Kentish bellfounder, Stephen Norton; whilst another of his ancestors, Samuel Hugh Newman, was baptised in old St. Dunstan's on 25 October 1798.