Posted on: Monday, 5th March, 2012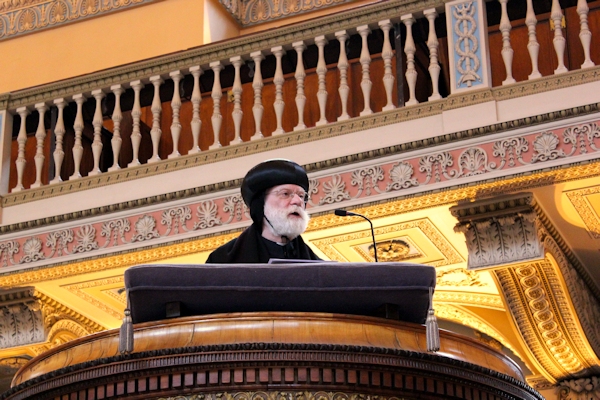 At the invitation of the Chaplain, The Rev'd Jeremy Frost, Abba Seraphim preached at the Choral Eucharist at the Old Royal Naval College Chapel at Greenwich. The College is now part of the University of Greenwich but the Chapel,  which was constructed by Thomas Ripley to the designs of Sir Christopher Wren, was the last major part of the Royal Hospital for Seamen to be built. Following a disastrous fire in 1779, it was redecorated by James 'Athenian' Stuart in the Greek revival style, and today is a fine example of a complete neoclassical interior. The Chapel is dedicated to SS Peter & Paul, and is full of naval symbols, intended to remind the residents of the Royal Hospital for Seamen, who worshipped there daily, of their former lives. One of Abba Seraphim's ancestors, Joseph Potter (1769-1855), who was decorated for his part in the fierce naval Battle of Cape St. Vincent (1797) was a pensioner at Greenwich Hospital 1842-1855.
Abba Seraphim preached on the Gospel of the day, Mark VIII: 31-38 on the theme of taking up one's cross.