Posted on: Sunday, 5th February, 2012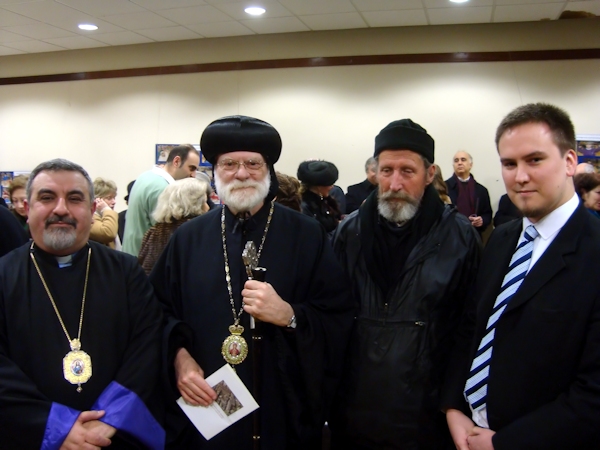 On 4 February the Armenian Parish of St. Sarkis in Kensington celebrated its Patronal Festival with an Ecumenical Service for Peace. Among the dignitaries attending were Her Excellency Mrs. Karine Kazinian, who took up her position as Armenian Ambassador to the Court of St. James last September but has quickly become a popular figure with the Armenian community here and Her Worship the Mayor of the Royal Borough of Kensington & Chelsea (Councillor Julie Mills). Among the clergy attending were Abba Seraphim, His Grace Bishop Angaelos and His Eminence Archbishop Elisey of Sourozh (Moscow Patriarchate) as well as priests from the Catholic Church, the Church of England and the Church in Wales.
After welcoming the ecumenical guests, His Grace Bishop Vahan spoke about the life of St. Sarkis and his example of service and the pursuit of  truth and peace. It has become a tradition at this annual celebration to honour the service of one of the long-serving members of the Armenian community and this year Mr. Armenag Topalian, who has served in various positions for some four decades and recently retired from his term as a Trustee of the Church (2004-2012) received a public citation of thanks.
Also attending from the British Orthodox Church were Deacon Theodore de Quincey and Reader Daniel Malyon (pictured with Bishop Vahan and Abba Seraphim).
The occasion also marks the eightieth anniversary of  the church's consecration (11 January 1923).