Posted on: Saturday, 7th January, 2012
Whilst attending the Eritrean Orthodox Nativity celebrations in Manchester on 6 January, Abba Seraphim also visited, Dorothy Bubbings at her home in Worsley. Mrs. Bubbings, who is 86 and has been suffering from an arthritic hip for the past year, is the widow of the late Father Charles Gardam Bubbings (1926-2001), sometime Vicar of Ringley. Father Charles was also second cousin to Abba Seraphim's mother and he and Archdeacon Alexander were frequent visitors to Ringley Parish Church, where Abba Seraphim preached on several occasions.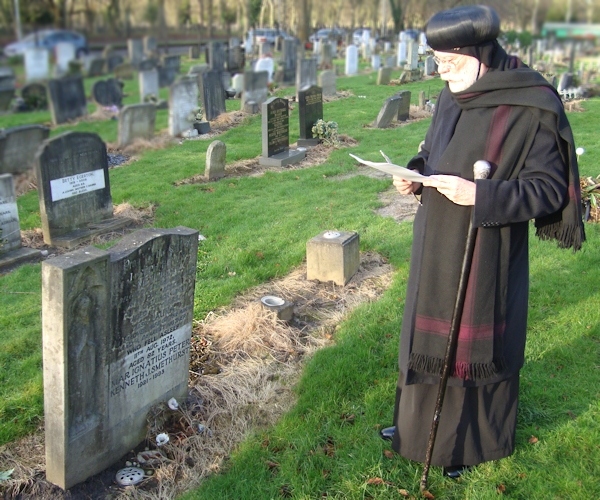 On 7 January Abba Seraphim said prayers for the departed at the grave of the late Bishop Ignatius Peter Smethurst (1921-1993), in the Southern Cemetery, Manchester. The late Bishop was one of Abba Seraphim's co-consecrators at his episcopal consecration in 1977 and served as Auxiliary to both Abba Seraphim and his predecessor. In his later years Bishop Ignatius Peter was co-pastor of the congregation at Cusworth and is still remembered with deep affection throughout the British Orthodox Church. He is buried with his parents in Grave No. AA2433, approached from Nell Lane.