Posted on: Sunday, 28th November, 2010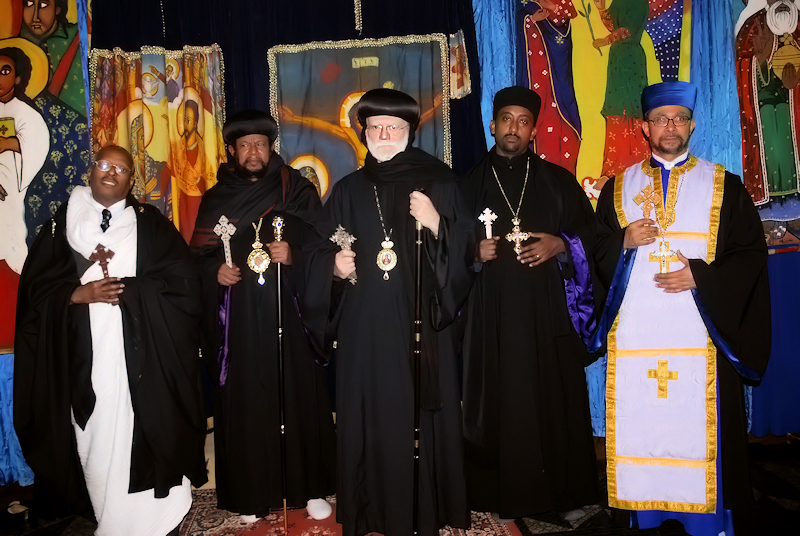 On Saturday, 27 November, Abba Seraphim attended the St. Mary of Zion (Tserha Sion) Festival of the Ethiopian Orthodox Tewahido Church held at St. James the Great Parish Church at Lower Claton, London, E5. The Festival is not only a Marian celebration but also commemorates the taking of the Ark of the Covenant to Ethiopia by the Emperor Menelik I and its placing in St. Mary of Zion Church in Axum, where many Ethiopian Emperors were later crowned. The festivities were presided over by Archbishop Antonios and following the Divine Liturgy there were traditional hymns and dances before the Holy Tabot was processed around the church amid much jubilation.
Following this Abba Seraphim addressed the congregation and offered congratulations on behalf of the British Orthodox Church and the Council of Oriental Orthodox Churches. St. Mary of Zion is the oldest of the Ethiopian Orthodox congregations in the United Kingdom although it has gathered in a number of different places in the three and a half decades since it was founded. Abba Seraphim fondly recalled his visit  to one of the first services held at a Church in Notting Hill in 1976 when the priest was the late Archimandrite Aba Aregawi Welde Gebriel (later consecrated as Archbishop Johannes) and the congregation was still very small. Under its present priest, Malake Sion Habte Marian Field, the congregation is actively fund raising to purchase their own property and Abba Seraphim looked forward to the day, with God's grace, when he would have the privilege of attending the consecration of their own church and recognising the fruits of so many years of faithful service. A festive lunch was held in the church hall aftwerwards, with traditional Ethiopian cuisine, which Abba Seraphim was delighted to share.