Posted on: Wednesday, 22nd May, 2013
22 May
The appalling attack on a local soldier by militant extremists, which took place in Woolwich, south London, this afternoon, occurred only a short walk from the BOC Church Secretariat. Abba Seraphim was home at the time and noticed the sound of helicopters overhead. In a statement this evening he said that our prayers go out for the victim and his friends and family as well as his colleagues at the Woolwich Barracks. In an area where local people have worked hard to promote good community relations among a diverse population, this must appear as a significant setback. He hoped, therefore, that religious and community leaders, of all traditions, would be absolute in their condemnation of this brutal murder and unequivocal in their rejection of violence – both in their language and their actions – as only this can restore trust and respect, which the evil perpetrators were clearly intent on destroying.
Posted on: Thursday, 15th March, 2012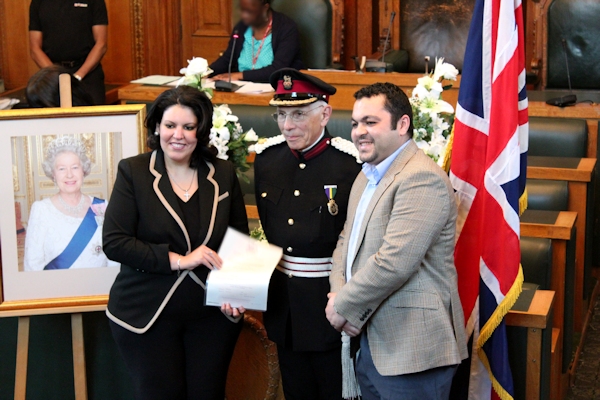 Abba Seraphim was present at the Town Hall in Woolwich on 15 March when Michel Wahba and his wife Marynet Bassily received their Certificates of Naturalisation from the Deputy Lieutenant for Greater London & Representative Deputy Lieutenant for the Royal Borough of Greenwich (Colonel Cyril Young, TD, DL, FRCOG). During the Citizenship Ceremony those seeking naturalisation swear allegiance to H.M. The Queen and promise to uphold the laws and values of the United Kingdom. The ceremony concluded with the singing of the National Anthem.
Both Michel and Marynet are members of the Coptic Orthodox Church, although neither was born in Egypt, Marynet having been born in Abu Dhabi and Michel in Kuwait. They now live in Thamesmead, so regularly attend the services at Charlton.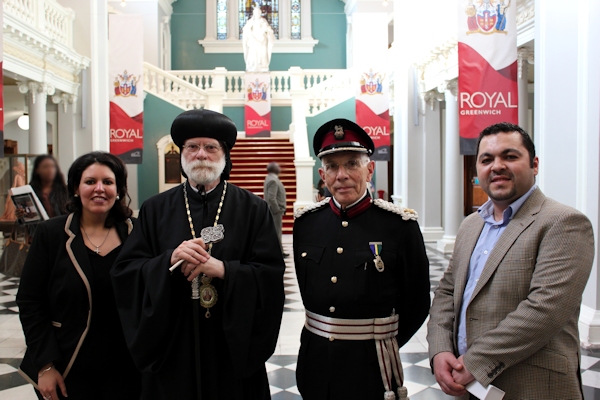 In conversation  after the ceremony, Colonel Young spoke warmly of his visits to Egypt and his respect for the Coptic Orthodox Church.  Since 1984 he has served as trustee of the Bible Lands Fellowship, giving as one of his reasons for being involved "is that I feel as Western Christians we need to understand that we are not the 'original' Christians and learn from those who still live in the Middle East."
Upcoming events
26 October 2014

Morning Incense & Divine Liturgy: Bournemouth

Morning Incense 09.30, Divine Liturgy 10.15

Raising of Incense & Divine Liturgy: Doncaster

Raising of Incense – 9:45am
Divine Liturgy – 10:30am

Morning Prayer: Babingley

10.30am Morning Prayer

Raising of Incense & Divine Liturgy: Charlton

Raising of Incense 2.00 p.m.
Divine Liturgy 2.30 p.m.