Posted on: Wednesday, 17th July, 2013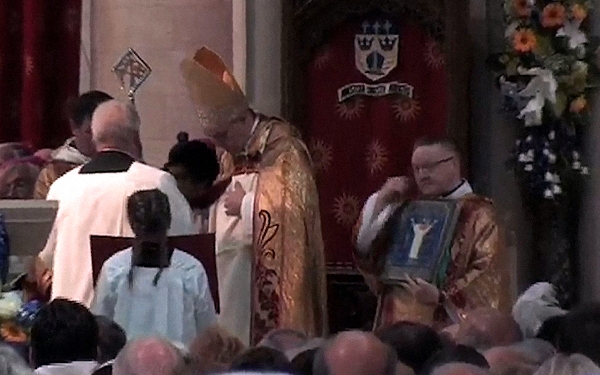 On 16 July 2013 Abba Seraphim was among the ecumenical guests invited to attend the Mass & Installation of the Right Rev'd Alan Hopes as fourth Catholic Bishop of East Anglia. The service took place as the Cathedral of St. John the Baptist in Norwich and the installation was performed by The Most Rev'd Vincent Nichols, Archbishop of Westminster, as Metropolitan of the Province of Westminster.  Large numbers of Catholic bishops attended as well as Anglicans. After an interregnum of two years, since the death of Bishop Michael Evans, the local clergy and faithful were filled with joy at this new appointment. Bishop; Alan had previously served as an Auxiliary Bishop of the Archdiocese of Westminster with the titular see of Chester-le-Street. Among other Orthodox clergy attending were His Eminence Archbishop Gregorios of Thyateira; Archpriest Raphael Armour, Dean of East England for the Russian Orthodox diocese of Sourozh; and Abuna Shishoy El Antony, Coptic Orthodox priest for St. Athanasius Parish, Easton, Norfolk.
Upcoming events
26 October 2014

Morning Incense & Divine Liturgy: Bournemouth

Morning Incense 09.30, Divine Liturgy 10.15

Raising of Incense & Divine Liturgy: Doncaster

Raising of Incense – 9:45am
Divine Liturgy – 10:30am

Morning Prayer: Babingley

10.30am Morning Prayer

Raising of Incense & Divine Liturgy: Charlton

Raising of Incense 2.00 p.m.
Divine Liturgy 2.30 p.m.