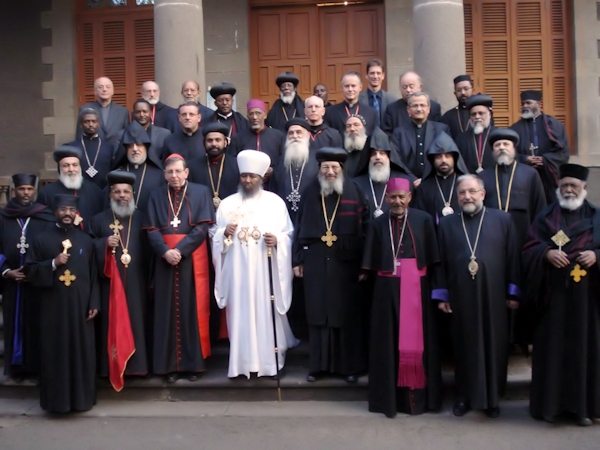 INTERNATIONAL JOINT COMMISSION FOR THEOLOGICAL DIALOGUE BETWEEN THE CATHOLIC CHURCH AND THE ORIENTAL ORTHODOX CHURCHES REPORT
Ninth Meeting
Addis Ababa, Ethiopia, January 17 to 21, 2012
The ninth meeting of the International Joint Commission for Theological Dialogue between the Catholic Church and the Oriental Orthodox Churches took place in Addis Ababa, Ethiopia, from January 17 to 21, 2012. The meeting was hosted by His Holiness Abuna Paulos I, Patriarch of the Ethiopian Orthodox Tewahedo Church. It was chaired jointly by His Eminence Cardinal Kurt Koch, President of the Pontifical Council for Promoting Christian Unity, and by His Eminence Metropolitan Bishoy of Damiette, General Secretary of the Holy Synod of the Coptic Orthodox Church.
Joining delegates from the Catholic Church were representatives of the following Oriental Orthodox Churches: the Antiochian Syrian Orthodox Church, the Armenian Apostolic Church (Catholicosate of All Armenians), the Armenian Apostolic Church (Holy See of Cilicia), the Coptic Orthodox Church, the Ethiopian Orthodox Tewahedo Church, and the Malankara Orthodox Syrian Church. No representative of the Eritrean Orthodox Tewahdo Church was able to attend.
The two delegations met separately on the morning of January 17. In the afternoon, the Catholic members attended a prayer service with the local Catholic hierarchy, clergy, religious and faithful, at the Cathedral of the Nativity of Our Lady. They were greeted with an address by Abune Berhaneyesus D. Souraphiel, CM, Metropolitan Archbishop of Addis Ababa and President of the Catholic Bishops' Conference of Ethiopia. Cardinal Koch was also invited to speak to the assembly. That same evening, all the members of the commission accepted a gracious invitation from His Excellency Archbishop George Panikulam, Apostolic Nuncio in Ethiopia, to attend a friendship dinner at the Apostolic Nunciature in honor of His Holiness Patriarch Paulos, who also attended the meal.