Posted on: Monday, 3rd December, 2012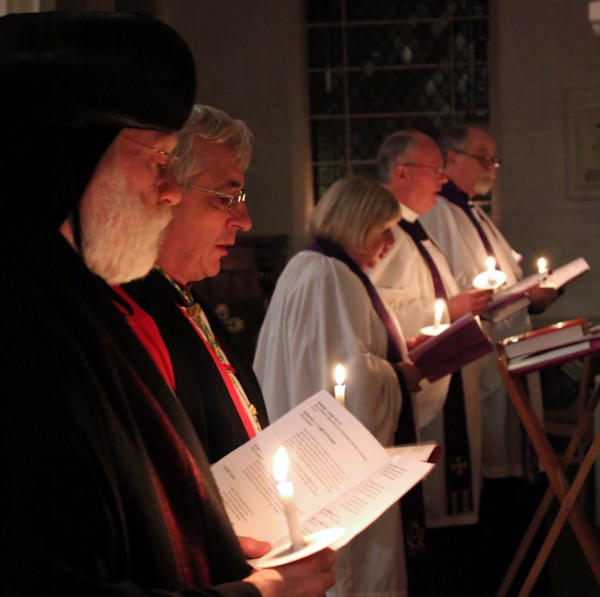 On 2 December, some of the congregation of St. Thomas British Orthodox Parish at Charlton joined their Anglican brethren of the Charlton United Benefice for a candlelit Advent Carol Service at St. Thomas' Church.
Presiding at the service was the Bishop of Woolwich (The Right Rev'd Michael Ipgrave), making his first visit to the church, assisted by the Rev'd Erica Wooff, Rector of Charlton and the Rev'd Lionel Kevis, Vicar of St. Mary's, Leigh, near Tonbridge (which has long been a partner parish to Charlton), as well as the Rev'd Bennett Spong and the Rev'd Liz Newman from the Charlton Benefice clergy team. Abba Seraphim, who joined the candlelight procession, was invited to read a lesson, offer a short meditation on "A Light of Promise" and offer a prayer.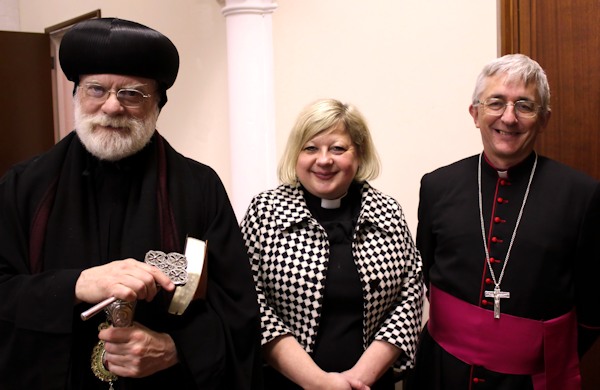 Following the service the clergy and congregation gathered together in fellowship & refreshments in the church hall.
Posted on: Sunday, 9th January, 2011
St. Thomas' Parish Church in Old Charlton, which has also been the home of a British Orthodox community for many years, held special prayers for the Alexandrian martyrs at their Sunday morning service on 9 January to show their love and concern for the Coptic Orthodox Church. Abba Seraphim was invited to address the congregation about the brutal attack on New Year's Eve and Orthodox worshippers joined the l0cal congregation to pray for the departed, the wounded, the bereaved and the entire Coptic Orthodox Church. Following the service Abba Seraphim said, "Not only are the Coptic and British Orthodox Churches united in prayer this morning, but Christians of other traditions have been so shocked by recent events that they too want to stand beside us. Just over a month ago we were showing our prayerful solidarity for Christians slaughtered in Baghdad, now it is our turn to be the victims.  The Apostle St. Paul tells us that if one member suffers, all the members suffer with it (1 Cor. XII: 26) and this desire for a united witness on behalf of the suffering church is a great joy and comfort in these troubled times."
Upcoming events
26 October 2014

Morning Incense & Divine Liturgy: Bournemouth

Morning Incense 09.30, Divine Liturgy 10.15

Raising of Incense & Divine Liturgy: Doncaster

Raising of Incense – 9:45am
Divine Liturgy – 10:30am

Morning Prayer: Babingley

10.30am Morning Prayer

Raising of Incense & Divine Liturgy: Charlton

Raising of Incense 2.00 p.m.
Divine Liturgy 2.30 p.m.