Posted on: Monday, 26th March, 2012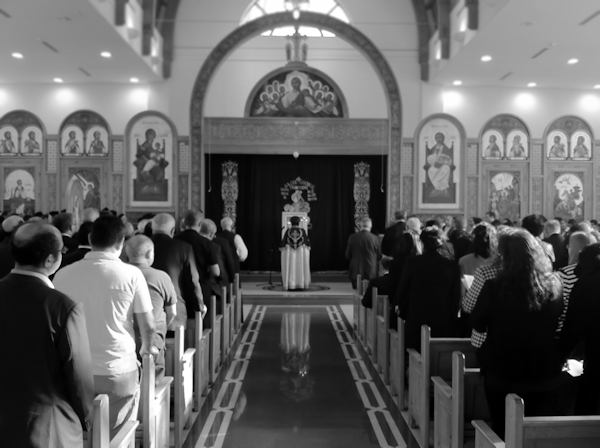 A Memorial Service for His Holiness Pope Shenouda III was held at St. George's Cathedral, Stevenage, on 24 March. Bishop Angaelos officiated and clergy of both the Oriental Orthodox and other traditions officiated. Abba Seraphim and Archbishop Athanasios (Syriac Orthodox Church) chanted the psalms; the Bishop of Southwark (The Right Rev'd Christopher Chessum) read the Pauline Epistle and a message from The Archbishop of Canterbury;  Abba Seraphim also chanted the Psali Adam and gave the Final Benediction.  Among the bishops present were His Eminence Archbishop Antonios (Ethiopian Orthodox Church) and His Grace Bishop Elisey (Russian Orthodox Church) whilst the Ecumenical Patriarchate, the Roman Catholic Church, the Armenian Apostolic Church and the Eritrean Orthodox Church were represented by priests. There were also a number of Coptic Orthodox priests who participated in the service. The British Orthodox Church was also represented  by Father Simon Smyth, Father Seraphim Mina, Father Peter Farrington, Deacon Mark Saunders, Deacon Christopher Barnes and a number of subdeacons, readers and  laity.  There was a large congregation including state and civic leaders and all present were invited to sign the Book of Condolence for His Holiness.
Upcoming events
26 October 2014

Morning Incense & Divine Liturgy: Bournemouth

Morning Incense 09.30, Divine Liturgy 10.15

Raising of Incense & Divine Liturgy: Doncaster

Raising of Incense – 9:45am
Divine Liturgy – 10:30am

Morning Prayer: Babingley

10.30am Morning Prayer

Raising of Incense & Divine Liturgy: Charlton

Raising of Incense 2.00 p.m.
Divine Liturgy 2.30 p.m.