Posted on: Friday, 7th December, 2012
On 5 December, Abba Seraphim and Subdeacon Daniel Malyon attended a performance of scenes from the York cycle of the mediaeval mystery plays, which was being performed at St. George-in-the-East Church at Shadwell. This was the first year that the Players of St. Peter, a long established group of amateur and professional actors, had performed at Shadwell. The extracts ranged from the Fall of the Angels and Moses and Pharoah through the Annunciation, Nativity and Baptism and concluding with the Last Judgement.
Mystery plays, depicting biblical stories from Creation to Doomsday were a common way of marking religious festivals in towns and cities and traditionally performed by different trade guilds were widespread throughout England, but fell into disuse at the Reformation when puritans disapproved of religious drama as much as they did of liturgical worship.
Commenting on the genre, Abba Seraphim observed that they had served as a catechetical device for rustic people of simple but strong faith at a time when the scriptures were not readily accessible. They were sound in doctrine and encouraged a good knowledge of both old and new testaments as well as a lively sense of good and evil.  Despite our sophistication and ready access to the scriptures, we live in a society where the Bible is a little-read best seller and, apart from regular church goers, knowledge of God's purpose in creation and redemption, is abysmal today.  He commended such plays and agreed with the Players' desire to feel in touch with a very ancient English tradition  of celebrating religious festivals.
Posted on: Saturday, 31st March, 2012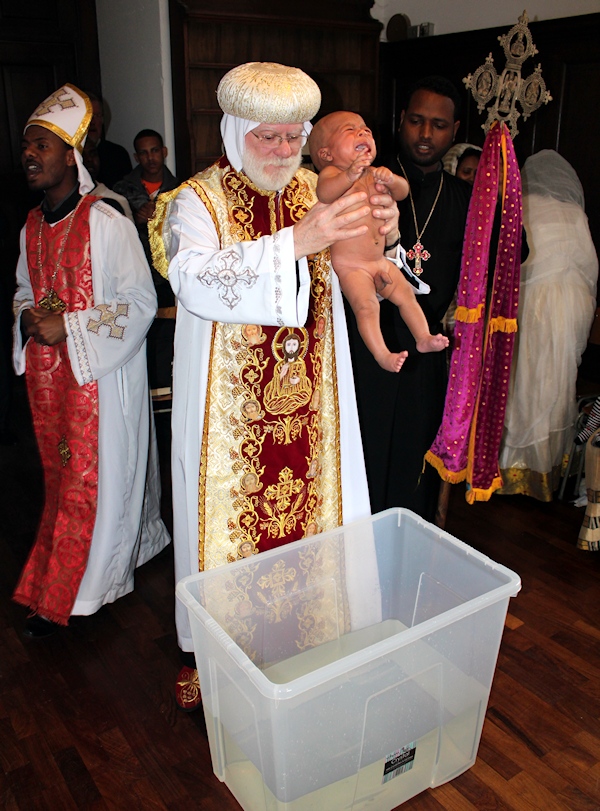 The first Liturgy to be celebrated for the new British Orthodox London Mission of SS. George & Paul the Hermit was preceded by a baptism.
On 31 March at St. George-in-the-East, Shadwell, Abba Seraphim baptised, Athanasios, the infant son of Father Yonas Tesheme, one of the priests of  the Eritrean Orthodox Diocese of Europe.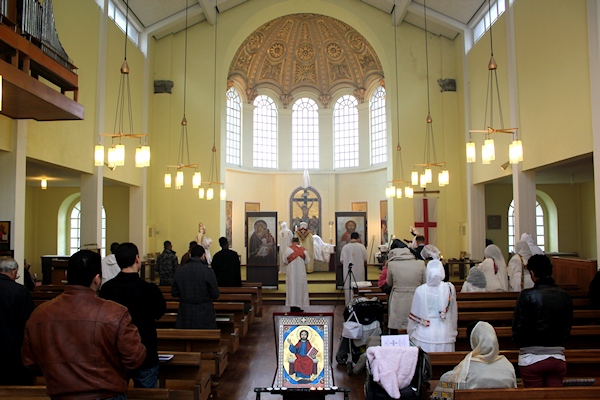 During the Liturgy Abba Seraphim was assisted in the sanctuary by Fathers Simon Smyth, Peter Farrington, Seraphim Mina and Yonas Tesheme with Subdeacon Michael Kennedy and Reader Daniel Malyon. Abba Seraphim preached on a text from the Gospel of the Day, "What do you want me to do for you?" (Mark X: 46-52). Canon Michael Ainsworth, Rector of St. George's, joined the congregation and Abba Seraphim publicly expressed his thanks to him and St. George's Church Council for their hospitality.  The congregation was a happy mix of British, Coptic & Eritrean Orthodox as well as visitors. Afterwards there was a lively time of fellowship with tea, coffee, biscuits and Ambasha.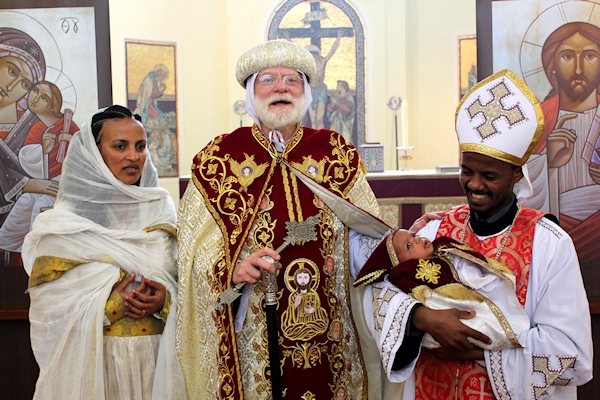 The next Saturday Liturgy will be on 5 May because of the Western Easter and Holy Pascha falling in April. At 7.30 p.m. on 12 April there will be the Ninth Hour Prayers of Holy & Great Thursday followed by a talk on prayer by Father Peter Farrington.
Posted on: Tuesday, 21st February, 2012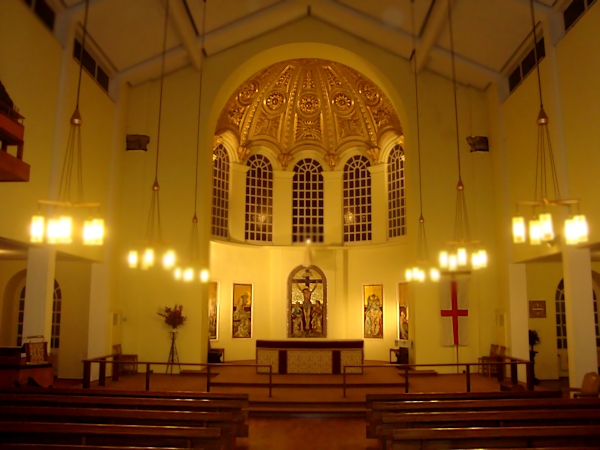 On 20 February, at the historic Church of St. George's-in-the-East, Abba Seraphim announced the launch of a new London Mission by the British Orthodox Church. Although services have been held in the Charlton and Blackheath area of south-east London since December 1972, it was always hoped to organise something in a more central location. Having investigated various possible venues and prayed that something appropriate would become available, the Parish priest of St. George's (Canon Michael Ainsworth) and the church's PCC had generously offered their facilities for Orthodox use.
Believing this to be a providential arrangement and being anxious to respond to the increasing number of requests by enquirers and seekers, Abba Seraphim, assisted by Fathers Seraphim Mina and Peter Farrington, have committed themselves to provide monthly liturgies as well as monthly meetings for study and instruction in Orthodox faith and spirituality. The first Monthly Meeting will be held on Thursday, 15 March with Evening Prayer at 7.30 p.m. followed by an address by Father Peter "Lord, teach us to pray" (Luke XI: 1-4) with a discussion and concluding with refreshments at 9.00 pm. The first celebration of the Divine Liturgy (St. James) will be on Saturday, 31 March (Raising of Incense 9.30 am, Liturgy 10.00 am; refreshments 11.45 am).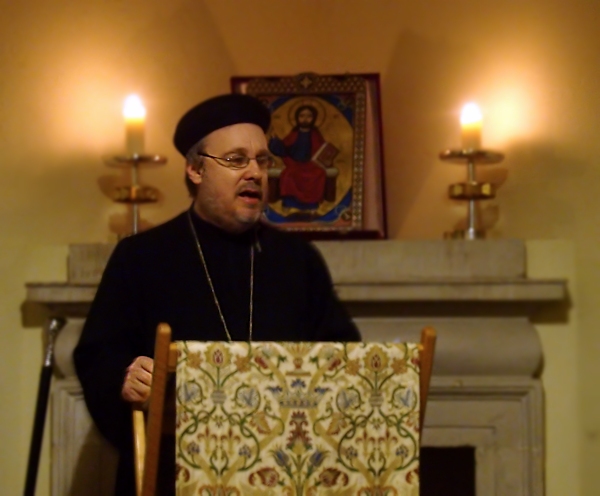 In his address Father Peter spoke of the nineteenth century mission of Father Bryan King, the Rector of St. George's at that time, whose ministry to the poor and wretched in the notorious Ratcliffe Highway and Docklands environs provoked the 1859-60 Ritualism Riots. There are parallels with our own time and he hoped that our Orthodox ministry would build on the Catholic vision of sacrifice and service. It was our strong desire not merely to bring Orthodox worship and spirituality to the area  for the edification of Orthodox Christians but to engage with and reach out to the local people and their needs. He desired that Orthodox would share in the ministry already being undertaken by other local Christian communities.
Abba Seraphim hoped that this mission would be an eirenic one of pan-Orthodox cooperation, demonstrating the universality of Orthodoxy as well as the richness of its local traditions. He welcomed the neighbouring outreach and ministry in the City of London, also beginning next month, under the oversight of His Grace Bishop Angaelos and the Coptic Youth and believed that this was no mere coincidence but an evangelistic impulse of the Holy Spirit. The two ministries would not only be united by a common faith but also in prayerful support of each other.
Upcoming events
18 September 2014

Evening Prayer & Discussion: Shadwell

7.30pm Evening Prayer
7.45pm Talk and discussion
9.00pm Refreshments

21 September 2014

Morning Incense & Divine Liturgy: Bournemouth

Morning Incense 09.30, Divine Liturgy 10.15

Raising of Incense & Divine Liturgy: Doncaster

Raising of Incense – 9:45am
Divine Liturgy – 10:30am

Raising of Incense & Divine Liturgy: Babingley

10.30 a.m. Morning Incense
11.30 a.m. Divine Liturgy

28 September 2014

Morning Incense & Divine Liturgy: Bournemouth

Morning Incense 09.30, Divine Liturgy 10.15