Posted on: Sunday, 15th January, 2012
Subdeacon Roger-Kenneth Player, aged 58, of St. Mary & St. Felix Orthodox Parish at Babingley was admitted to Queen Elizabeth Hospital in King's Lynn on 14 January following chest pains. After a thorough examination and several tests, he was found to have suffered a mild heart attack and the following day was transferred to Papworth Hospital where he underwent a coronary angioplasty, from which he is now recovering. It is hoped he may be discharged from hospital on 17 January. Prayers were said for him and his family at the morning celebration of the Divine Liturgy at Babingley.
Those wishing to send messages to Subdeacon Roger-Kenneth please use the contact form here
Posted on: Monday, 5th December, 2011
At the invitation of Abba Seraphim, Reader Daniel Malyon from the British Orthodox Parish at Portsmouth, was invited to St. Felix, Babingley, to preach the homily on the Gospel for the second Sunday in Kiakh (Luke XII: 20-28). This was Daniel's first opportunity to preach and it was very well received by the local congregation, who made him very welcome.
Posted on: Sunday, 3rd October, 2010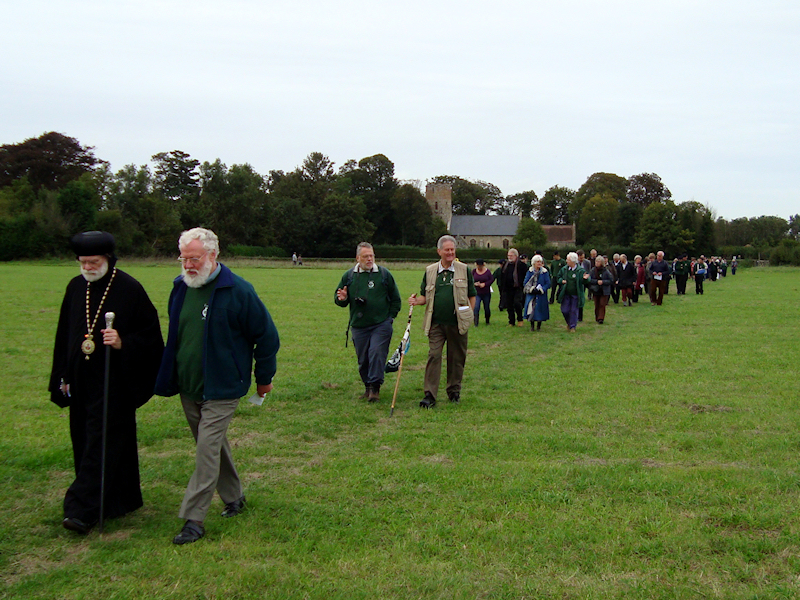 On 2 October Abba Seraphim was delighted to join the 14th annual pilgrimage in  honour of St. Fursey, an Irish monk who evangelised East Anglia in the seventh century, which is held at Burgh Castle near Great Yarmouth, where it is believed the saint established his monastery.  Apart from celebrating St. Fursey in services and pilgrimages, the Fursey Pilgrims have sponsored a number of lectures on the saint's life and have published impressive and scholarly booklets on the saint and related topics.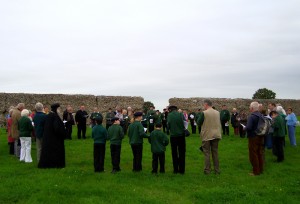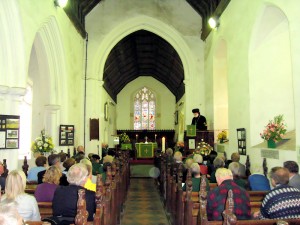 Abba Seraphim joined a goodly gathering of the pilgrims for lunch and fellowship, where much of the conversation revealed an enthusiasm and knowledge about East Anglia's ancient Christian heritage. Following this, a service was held at St. Peter and Paul's Church at Burgh Castle at which Abba Seraphim was the guest preacher. He spoke of the vitality of the Irish monastic tradition and the profound influence of St. Antony and Egyptian monasticism and suggested ways we might understand the balance between monasticism and evangelism & mission. Following the service in the church, Abba Seraphim joined the pilgrims in the short walk to the area within the substantial remains of the Roman fortress walls, where St. Fursey's community settled and the pilgrims joined in further prayers and hymns. The day concluded with tea in the parish hall and the opportunity to purchase some of the excellent publications including the latest booklet, a translation of the 8th century manuscript Life of St. Fursey,Transitus Beati Fursei, by Professor Oliver Rackham. (For details see the website: www.furseypilgrims.co.uk)
The following day, Sunday, 3 October, was the  Dedication Festival of St. Felix's Church at Babingley as an Orthodox Church, this being the ninth anniversary. Abba Seraphim spoke of his experience as a Fursey Pilgrim and said he had been struck by a prayer used which spoke of "footsteps in the sand." This reminded him of the impact of the early British and English missionaries, including St. Felix and their contribution and lasting impact on the local Christian community. We value their legacy and hope that our ministry in Norfolk will keep faith with the past but also ensure its vitality for the future, so that our footsteps might also appear in the sand.  Although we give thanks for the fine church where we worship and receive so  any blessings, we need also to be conscious of the footsteps which led us there, especially the former chapel at the African Violet Centre at Terrington St. Clements. We must never lose sight of the fact that the Church is not the building but the people, and today's lessons reminded us  of this when St. Paul referred to the Christians of Corinth as an "epistle of Christ … written not with ink but by the Spirit of the living God" and St. Peter spoke of us as "living stones … built up a spiritual house, a holy priesthood."
Upcoming events
1 February 2015

Raising of Incense & Divine Liturgy: Doncaster

Raising of Incense – 9:45am
Divine Liturgy – 10:30am

Morning Prayer: Babingley

10.30am Morning Prayer

7 February 2015

Raising of Incense & Divine Liturgy: Shadwell

9.30 am Raising of Incense
10.00 am Liturgy of St. James
11.45 am Refreshments

8 February 2015

Raising of Incense & Divine Liturgy: Doncaster

Raising of Incense – 9:45am
Divine Liturgy – 10:30am

Morning Prayer: Babingley

10.30am Morning Prayer