Posted on: Tuesday, 1st March, 2011
Father Peter and the congregation of St Albans Orthodox Church in Chatham organised a Family and Friends Liturgy this past Sunday. The beginning of Great Lent seemed an appropriate opportunity to pause and consider the meaning of our Christian life both for ourselves and for those folk who we are in contact with. We sent out quite a few emails to people we have welcomed as occasional worshippers, or as enquirers, as well as members of our families, and I wrote some note cards to a few people, personally inviting them.
On Sunday the Church looked beautiful. Members of the congregation had been in early to make sure everything was clean, and to arrange fresh flowers and light the candles. As usual it is never known who would respond, but we had prayed and left our organisation and efforts in God's hands, since the harvest belongs to the Lord.
By the time the Liturgy proper was underway we had 8 visitors, many of whom had never worshipped with us before. I made a point of greeting each one at the Kiss of Peace, and afterwards made sure that each received some of the anti-doran and a blessing. I had deliberately made use of the prospect of seeing some new faces to preach a sermon on fasting which considered its Biblical origins and its being part of the tradition of the Church from the very beginning.
Afterwards some of our congregation had prepared a buffet for us to share with our guests, and they all stayed for conversation and a light lunch with us. This is a useful means of inviting people to a fairly non-threatening situation, they are, after all, being categorised as Friends and Family. We will certainly be organising a similar event later in the year. We hope that some of the relationships we strengthened on Sunday will blossom into a greater desire to share our Orthodox Christian life.
Posted on: Friday, 8th October, 2010
On Saturday 2nd October Tina Hammond was baptised and chrismated at Chatham. The service was celebrated by Father Peter Farrington assisted by Reader Seraphim Mark and was well attended by regular Chatham parishioners as well as visitors invited by Tina.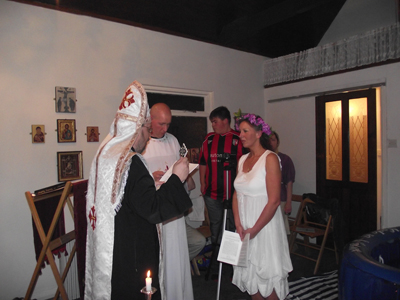 Although our facilities are limited we were able to conduct the baptism in the Church using an inflatable baptistery, and after the  service the evening Raising of Incense was celebrated.
Tina has taken the baptismal name Marina.
The occasion ended with a small buffet including some home-made cake made by Father Peter's wife Janet.  It was a very joyous occasion and a very great blessing to all who attended.
Sunday was a further blessing for Marina, as well as Father Peter when she received her first communion.
Please pray for Marina and for the congregation at Chatham, that we will continue to experience a time of growth in numbers.
Upcoming events
1 February 2015

Raising of Incense & Divine Liturgy: Doncaster

Raising of Incense – 9:45am
Divine Liturgy – 10:30am

Morning Prayer: Babingley

10.30am Morning Prayer

7 February 2015

Raising of Incense & Divine Liturgy: Shadwell

9.30 am Raising of Incense
10.00 am Liturgy of St. James
11.45 am Refreshments

8 February 2015

Raising of Incense & Divine Liturgy: Doncaster

Raising of Incense – 9:45am
Divine Liturgy – 10:30am

Morning Prayer: Babingley

10.30am Morning Prayer