Posted on: Sunday, 20th April, 2014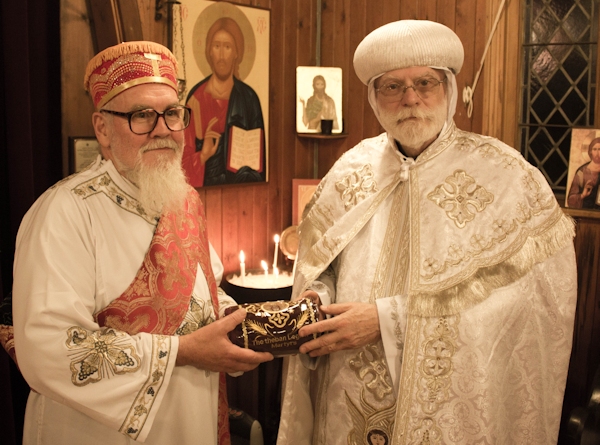 During the celebration of the Paschal Eve Liturgy at the British Orthodox Church of St. Mary & Felix at Babingley, Norfolk, Abba Seraphim presented the church with a reliquary containing the bones of some of the Theban Legion; illustrating the common hope of all Christians in the Resurrection. Having reminded the congregation that it is appointed for all men once to die (Hebrews IX: 27) he reminded them that Christ is the firstfruits (1 Corinthians XV: 23)  – the promise – of the great harvest of all men on the Day of Resurrection). We share that hope with Christians of all generations and with the saints of God, whom we call blessed souls. Abba Seraphim spoke of the faithful witness of the Theban Legion – Coptic Christians – serving under the Emperor Maximian in what is now Switzerland – who chose martyrdom in AD 286 rather than offer worship to the Emperor.  In entrusting the relics to the Babingley Church he expressed the hope that they would be a source of blessing and powerful intercessors to all enter the church to pray. Assisting Abba Seraphim were Deacon Christopher Barnes and Subdeacons Roger-Kenneth Player and James Trevor Maskery.
Special prayers were also said for Deacon Mark Saunders and his wife Sybil, who were both admitted to hospital during Holy Week.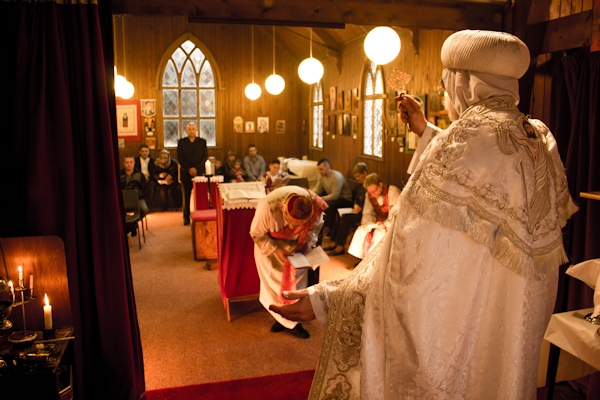 Posted on: Sunday, 15th January, 2012
Subdeacon Roger-Kenneth Player, aged 58, of St. Mary & St. Felix Orthodox Parish at Babingley was admitted to Queen Elizabeth Hospital in King's Lynn on 14 January following chest pains. After a thorough examination and several tests, he was found to have suffered a mild heart attack and the following day was transferred to Papworth Hospital where he underwent a coronary angioplasty, from which he is now recovering. It is hoped he may be discharged from hospital on 17 January. Prayers were said for him and his family at the morning celebration of the Divine Liturgy at Babingley.
Those wishing to send messages to Subdeacon Roger-Kenneth please use the contact form here
Upcoming events
1 February 2015

Raising of Incense & Divine Liturgy: Doncaster

Raising of Incense – 9:45am
Divine Liturgy – 10:30am

Morning Prayer: Babingley

10.30am Morning Prayer

7 February 2015

Raising of Incense & Divine Liturgy: Shadwell

9.30 am Raising of Incense
10.00 am Liturgy of St. James
11.45 am Refreshments

8 February 2015

Raising of Incense & Divine Liturgy: Doncaster

Raising of Incense – 9:45am
Divine Liturgy – 10:30am

Morning Prayer: Babingley

10.30am Morning Prayer