Posted on: Thursday, 8th March, 2012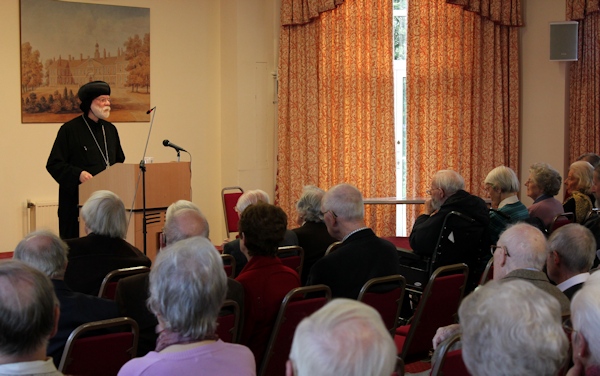 As one of their Lenten speakers, the chaplaincy of Morden College, Blackheath, invited Abba Seraphim to reflect on the current situation 0f Christians in the Middle East. Addressing a large audience on 8 March, Abba Seraphim outlined the problems of Christians in Iraq, Syria and Egypt since the Millennium and took the decline in the historic Christian communities in Iraq as a warning to the Christian world of how fragile they have now become. The problems faced by each country were each quite distinctive and owed much to their respective histories since the break up of the Ottoman Empire and the rise of militant fundamentalists. He emphasised the significance of Egypt, with the largest Christian community in the Middle East and the dynamic life of the Coptic Orthodox Church in the face of continuing sectarian attacks. Following a number of thoughtful questions from the audience, the Rev'd Nick Woodcock, chaplain, invited Abba Seraphim to lead the audience in prayer for the Christians of the Middle East.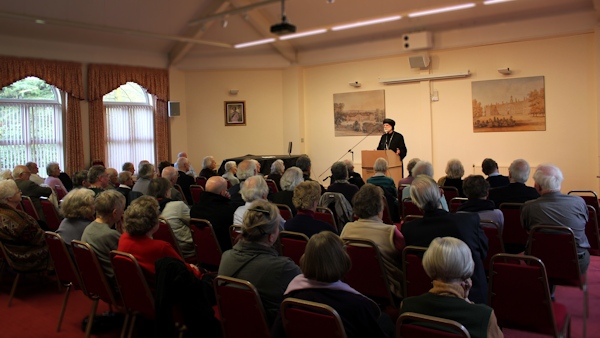 Upcoming events
19 April 2014

Joyous Saturday: Bournemouth

Saturday Worship 10.00
Paschal Vigil Liturgy 22.00

Eve of the Feast of Holy Pascha: Babingley

Eve of the Feast of Holy Pascha (Orthodox Easter)
4.00 -6.00 p.m A priest will be available for confessions.
7.00 p.m. Divine Liturgy for Holy Pascha

20 April 2014

Raising of Incense & Divine Liturgy: Doncaster

Raising of Incense – 9:45am
Divine Liturgy – 10:30am

Holy Pascha: Bournemouth

Morning Prayer with Holy Communion 10.00
Followed by Memorial Prayers, commencing at Church & continuing in
Wimborne Road cemetery

No service: Babingley

10.30 a.m. No service because of the celebration on Pascha Eve.