Posted on: Wednesday, 7th July, 2010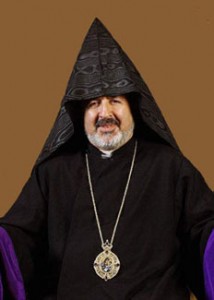 In consequence of the tragic illness of Patriarch Mesrob II Mutafyan, who has been incapacitated as a result of fronto-temporal lobe dementia, the Armenian community in Istanbul hoped to elect Archbishop Aram Ateshian as co-patriarch of Constantinople. However on 2 July 2010, the Governor of Istanbul  insisted that under the terms of the patriarchate's own statutes there could be no co-patriarch during the lifetime of an existing patriarch (who is elected for life) and therefore named Archbishop Aram as General Vicar of the Patriarch for the term of Patriarch Mesrob's life, with full patriarchal rights.  Archbishop Aram, who was consecrated to the episcopate in 1999 has effectively administered the see for the past two years.
Abba Seraphim and Patriarch Mesrob became personal friends when the latter was Archbishop of the Princes' Islands and Abba Seraphim became a frequent visitor to Istanbul during the patriarchate of Karekin I.  Abba Seraphim, accompanied by the future Father Peter Farrington attended Patriarch Mesob's enthronement on 21 November 1998.
In his letter of congratulation to Archbishop Aram, Abba Seraphim noted that "the dignified and sensitive way in which your community has responded to [the crisis over Patriarch Mesrob's health] speaks loudly for the wisdom and maturity shown and is a worthy example of Christian conduct in the face of an intractable problem." In his reply Archbishop Aram spoke of the "strong relatiobns between two sistwer churches" and said he looked forward to a future visit to the patriarchate by Abba Seraphim with pleasure
Upcoming events
26 October 2014

Morning Incense & Divine Liturgy: Bournemouth

Morning Incense 09.30, Divine Liturgy 10.15

Raising of Incense & Divine Liturgy: Doncaster

Raising of Incense – 9:45am
Divine Liturgy – 10:30am

Morning Prayer: Babingley

10.30am Morning Prayer

Raising of Incense & Divine Liturgy: Charlton

Raising of Incense 2.00 p.m.
Divine Liturgy 2.30 p.m.