Posted on: Sunday, 19th January, 2014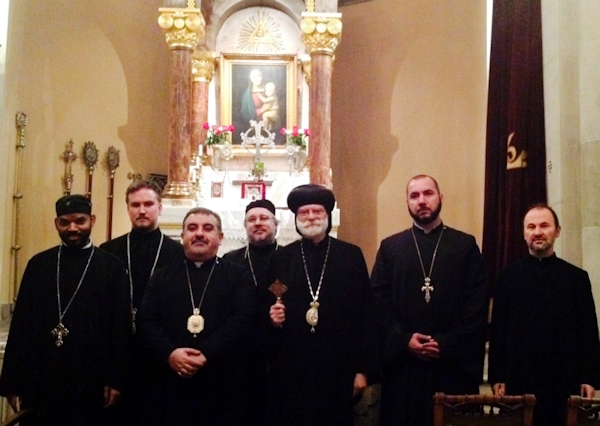 The second Orthodox Education Day, organised by the Council of Oriental Orthodox Churches (COOC), took place at St. Sarkis Armenian Orthodox Church in London on Saturday, 18 January. The topic for study was "Extra Biblical Sources of Faith and Tradition." The day began with Morning Prayer in the Armenian Orthodox tradition. After a welcome by His Grace Bishop Vahan Hovhanessian, President of COOC, Abba Seraphim introduced the topic with a talk, "What is Tradition?" in which he drew a clear distinction beteen traditions or customs and Holy Tradition. Father Peter Farrington,  talking on "Tradition and Councils" examined the apostolic and earliest known local councils. After an excellent lunch Bishop Vahan explained the rich Armenian hymnic tradition with examples from the canon of sharakans, a sequence of eight hymnic chants sung in a fixed, logical succession. Deacon Daniel Malyon concluded the talks with his study of 'The role of the canons in the formation of Orthodox Tradition", giving some interesting examples from, the Alexandrian tradition.  Summing up, Abba Seraphim spoke of the broadness of Holy Tradition, extending not only over the Sacred Scriptures, but also encompassing worship and hymnology, as well as moral and ethical issues.
Posted on: Wednesday, 29th September, 2010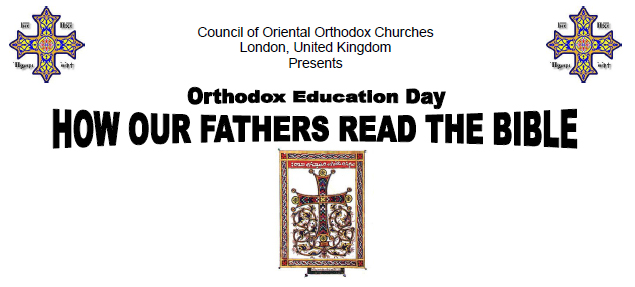 Join us for a day of exploring the Bible and reflecting upon it as the source of our faith and inspiration. The faithful of the Armenian, Coptic, Eritrean, Ethiopian, Malankara Indian and Syrian Orthodox Churches and the affiliated churches are cordially invited to attend this daylong educational seminar and great opportunity for fellowship.
Location: Nevart Gulbenkian Hall
St. Sarkis Armenian Orthodox Church
Kensington, London
Date: Saturday, 9 October, 2010
Time: 10:00am-3:00pm
According to the following schedule:
10:00 AM: Matins in the Armenian Church
10:15 AM: Registration, Tea and coffee in the Church Hall
10:30 AM: Welcome and announcements
10:40 AM: Message by His Grace Bp. Angaelos, Coptic Orthodox Church
10:45 AM: Lecture 1– His Grace Abba Seraphim: "The Septuagint in the Oriental Orthodox Traditions"
11:15 AM: Lecture 2 – V. Revd Fr. Vahan Hovhanessian: "The Bible as the source of spirituality in the writings of the Armenian Church Fathers."
11:45 PM: Q&A Re: lectures 1 & 2
12:00 Noon: Lunch (buffet)
1:30 PM: Lecture 3 – Revd Fr. Peter Farrington: "The Bible as the source of Orthodox Christology."
2:00 PM: Q&A Re: lecture 3
2:10 PM: General Discussion
2:25 PM: Announcements
2:30 PM: Final blessing
Registration for attendees will be £5.00 to defray the cost of the lunch and materials
For further information or to sign up in advance please e-mail: fatherpeter@britishorthodox.org
Upcoming events
26 October 2014

Morning Incense & Divine Liturgy: Bournemouth

Morning Incense 09.30, Divine Liturgy 10.15

Raising of Incense & Divine Liturgy: Doncaster

Raising of Incense – 9:45am
Divine Liturgy – 10:30am

Morning Prayer: Babingley

10.30am Morning Prayer

Raising of Incense & Divine Liturgy: Charlton

Raising of Incense 2.00 p.m.
Divine Liturgy 2.30 p.m.