Posted on: Tuesday, 27th March, 2012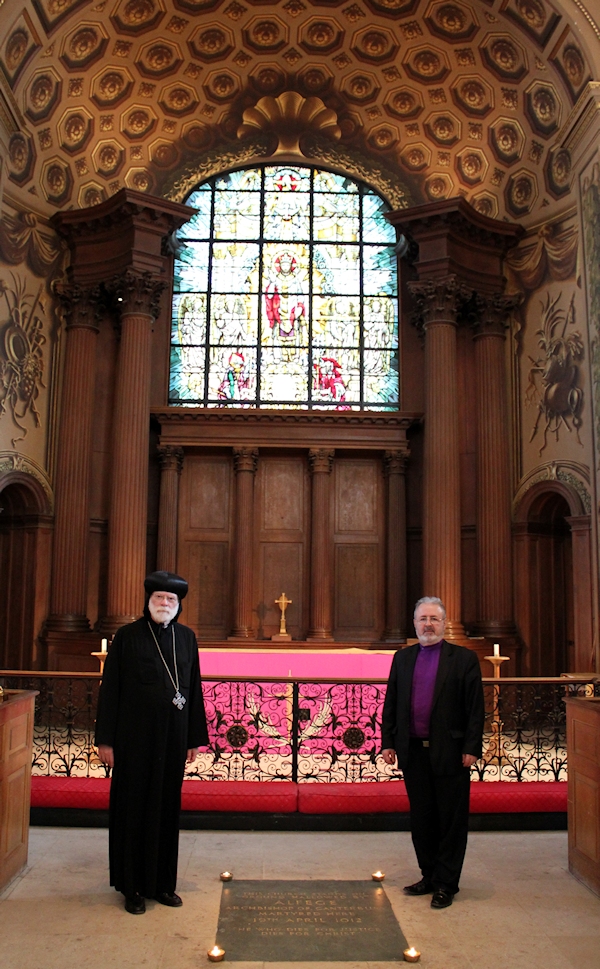 On 27 March Abba Seraphim was delighted to welcome His Eminence Archbishop Aram Ateshian, General Vicar (Acting Patriarch) of the Armenian Patriarchate of Constantinople to the British Orthodox Church Secretariat at Charlton and to take him on a tour of some of the religious and historical  sites of Greenwich. His Eminence was visiting London for a few days and was accompanied by Father John Whooley, with whom he was staying during his visit. Accompanied by Mr Trevor Maskery, Abba Seraphim met the Archbishop at Greenwich Pier and the party lunched together before touring Greenwich.
The first site was St. Alfege's Parish Church, where they prayed at the memorial marking the place of the saint's martyrdom a thousand years ago. After this they visited the Old Royal Naval College (now Greenwich University) beginning with the Painted Hall and concluding with the fine chapel, where they were received by the chaplain, Rev'd Jeremy Frost. They then drove into Greenwich Park to view the Royal Observatory and the fine views across London. After this they drove to Charlton where Abba Seraphim introduced Archbishop Aram to his three resident aquatic Van Cats: Hripsime, Shoushan and Senekerim. They later discussed matters of mutual interest, before dining together in the evening.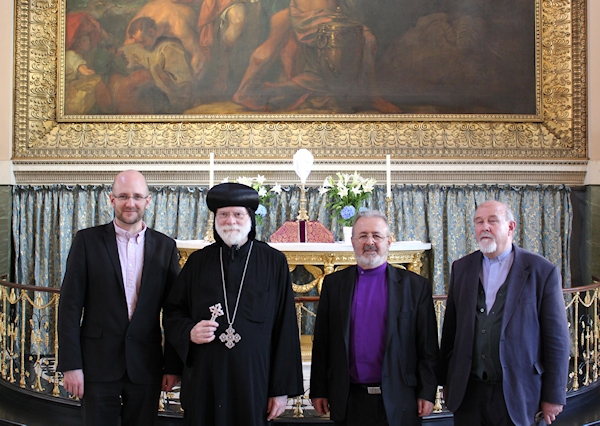 The British Orthodox Church and the Armenian Patriarchate of Constantinople have long enjoyed warm relations and since the illness and incapacity of Patriarch Mesrob II, Archbishop Aram has served as Acting Patriarch. Abba Seraphim will be visiting Istanbul this summer and Archbishop Aram assured him of a warm welcomed at the Patriarchate in Kumkapi.
Posted on: Monday, 5th March, 2012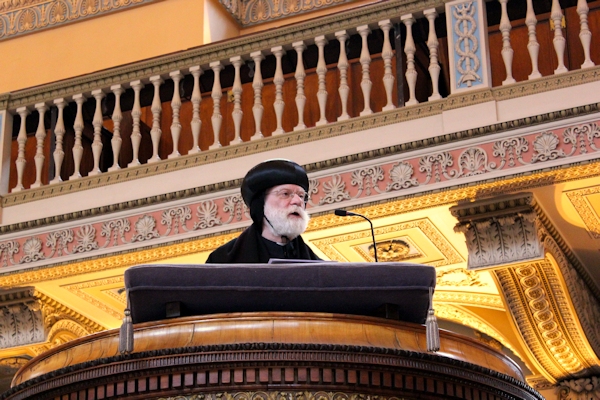 At the invitation of the Chaplain, The Rev'd Jeremy Frost, Abba Seraphim preached at the Choral Eucharist at the Old Royal Naval College Chapel at Greenwich. The College is now part of the University of Greenwich but the Chapel,  which was constructed by Thomas Ripley to the designs of Sir Christopher Wren, was the last major part of the Royal Hospital for Seamen to be built. Following a disastrous fire in 1779, it was redecorated by James 'Athenian' Stuart in the Greek revival style, and today is a fine example of a complete neoclassical interior. The Chapel is dedicated to SS Peter & Paul, and is full of naval symbols, intended to remind the residents of the Royal Hospital for Seamen, who worshipped there daily, of their former lives. One of Abba Seraphim's ancestors, Joseph Potter (1769-1855), who was decorated for his part in the fierce naval Battle of Cape St. Vincent (1797) was a pensioner at Greenwich Hospital 1842-1855.
Abba Seraphim preached on the Gospel of the day, Mark VIII: 31-38 on the theme of taking up one's cross.