Posted on: Friday, 13th August, 2010
Following the cancellation of the pilgrimage planned in May as a result of industrial action on British Airways, Abba Seraphim and Father Simon Smyth will lead a small pilgrimage group to Egypt 13-20 October. The group will be based in Cairo but will visit the Red Sea monasteries as well as some of  the monasteries of the Wadi N'atrun and St. Mina's monastery in Maryut. Those interested in joining this group should contact the Church Secretariat at Charlton to see if there are still places available.
Posted on: Friday, 25th June, 2010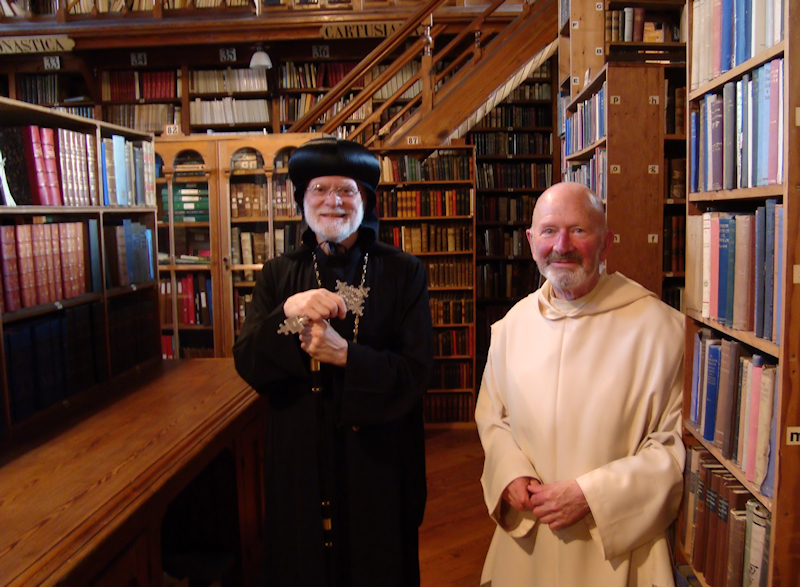 On 24 June 2010 Abba Seraphim, accompanied by Mr. John Wetherall and Mr. James Carr, visited St. Hugh's Charterhouse at Parkminster, Sussex. Before the Reformation there were twelve houses of the Carthusian Order in England but they were all destroyed. The Parkminster house was founded in 1873 by monks from France and is the only Carthusian monastery now in Britain. It is constructed on a vast scale in the Carthusian tradition of individual eremetical houses around a great central cloister.
Upon arrival  Abba Seraphim and his companions were met by Dom Cyril Pierce, the Novice master (pictured above), and conducted on a tour of the monastery, including the impressive library. They concluded their visit by joining the thriving community for Vespers for the Nativity of St. John the Baptist, after which they were received by the Prior, Dom Jean Babeau. He and Abba Seraphim were able to discuss traditions and current trends common to Carthusuian and Coptic monasticism as both having the same spiritual fathers, St. Antony the first monk and St. Paul of Thebes, the first hermit.
Posted on: Tuesday, 25th May, 2010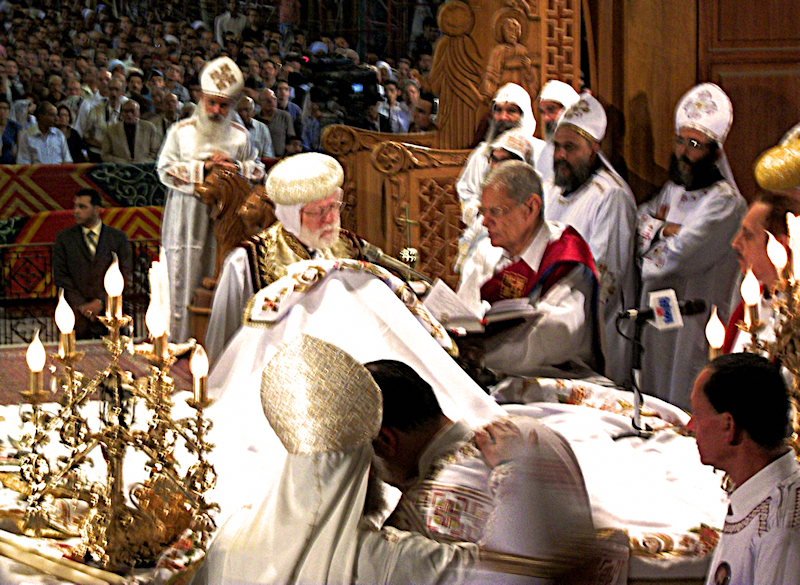 Abba Seraphim assisted at the Divine Liturgy for the Feast of Pentecost in St. Mark's Cathedral, Abbesseya, Cairo, on 23 May 2010. During the Divine Liturgy His Holiness Pope Shenouda III ordained a number of new priests for both the churches in Cairo and those in the lands of emigration. These included Father Boula to work alongside Fr. Kyrillos in Abagaya, where Abba Seraphim and other British Orthodox members have been regular visitors; and Fr. Mina for the Coptic Orthodox Parish of St. Mary & Archangel Mikhael at Golders Green.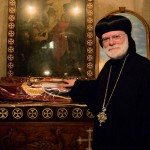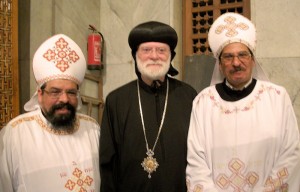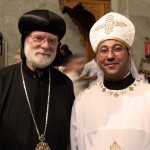 In the afternoon, Abba Seraphim, accompanied by Shenouda Mamdouh and his wife Mary, visited the Monastery of St. Macarios (Deir Abu Maqar) in the Wadi al Natrun to pray at the shrines of the three St. Makarios, St. John the Short, the 49 Martyrs of Sheheet and the more recently discovered relics of St. John the Baptist and the Prophet Elijah. They were warmly received by the fathers and entertained to lunch. Returning to Cairo Abba Seraphim invited the family of his host, Mr. Mamdouh Abdou to a Nile felucca trip.
Upcoming events
1 February 2015

Raising of Incense & Divine Liturgy: Doncaster

Raising of Incense – 9:45am
Divine Liturgy – 10:30am

Morning Prayer: Babingley

10.30am Morning Prayer

7 February 2015

Raising of Incense & Divine Liturgy: Shadwell

9.30 am Raising of Incense
10.00 am Liturgy of St. James
11.45 am Refreshments

8 February 2015

Raising of Incense & Divine Liturgy: Doncaster

Raising of Incense – 9:45am
Divine Liturgy – 10:30am

Morning Prayer: Babingley

10.30am Morning Prayer