Posted on: Saturday, 16th March, 2013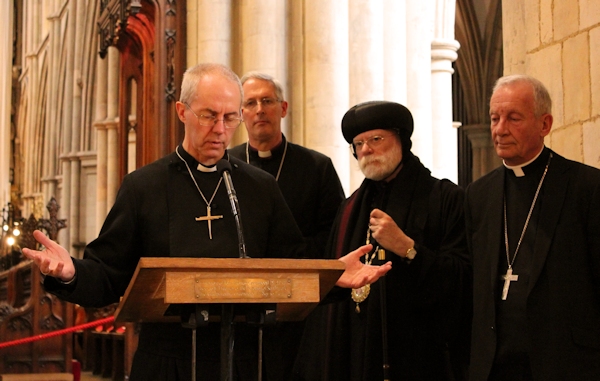 In preparation for his enthronement on 21 March, the new Archbishop of Canterbury, The Most Rev'd Justin Welby, has been making a 'Journey of Prayer' around the Province of Canterbury. On the afternoon of 16 March he visited Southwark Cathedral to meet with the clergy and people of that diocese as well as representatives of other Christian communities, who would be his new ecumenical partners in his new ministry. Although Southwark Cathedral was cheerful and bustling, the emphasis on prayer in its many manifestations was apparent as was a general spirit of welcome and good-will. The Archbishop, Bishop Christopher Chessum of Southwark and his suffragans were scattered around the cathedral and all easily accessible to those who came to greet them and especially to assure the  new Archbishop of their prayers.  Among these were Mgr. Peter Smith, the Catholic Archbishop of Southwark, and Abba Seraphim, who both greeted him warmly.  In his prayers in their presence Archbishop Justin gave thanks for the recent elections of both the Coptic and the Roman Popes. The afternoon concluded with a short evening prayer, which included two Orthodox elements: the Trisagion and the Great Litany.
Upcoming events
26 October 2014

Morning Incense & Divine Liturgy: Bournemouth

Morning Incense 09.30, Divine Liturgy 10.15

Raising of Incense & Divine Liturgy: Doncaster

Raising of Incense – 9:45am
Divine Liturgy – 10:30am

Morning Prayer: Babingley

10.30am Morning Prayer

Raising of Incense & Divine Liturgy: Charlton

Raising of Incense 2.00 p.m.
Divine Liturgy 2.30 p.m.