Posted on: Wednesday, 8th September, 2010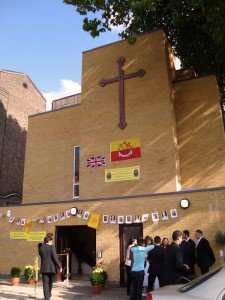 On Tuesday, 7th September, the members of the Council of Oriental Orthodox Churches in the UK met together at the Syrian Orthodox Cathedral of St Thomas, Acton, London. The tube strike might have been expected to deter the bishops and priests from attending, but in fact five of the member Churches were represented. Abba Seraphim and Father Peter Farrington represented the British Orthodox Church, and decided to drive to the venue, rather than rely on the over-stretched public transport system.
The meeting was chaired by His Eminence Mar Thimothios, of the Indian Orthodox Church, while His Grace Bishop Angaelos attended as President of the Council. Other members who were attending were: Father Vahan Hovhanessian, Father Shnork Bagdassarian, Father Antonious Shenouda, Father Shenouda Shenouda, Father George Joy and Father Ishak Tuza.
The main topic of discussion at the meeting was the Orthodox Education Day, which has been planned to take place on Saturday 9th October at the Nevart Gulbenkian Hall of the St. Sarkis Armenian Orthodox Church in Kensington from 10am. Members of the Council will be giving a number of presentations on the day, and His Grace Bishop Angaelos will provide a welcoming message as he is unable to be present. The Council plans to sponsor and organise four more such study days during 2011.
The council also discussed the forthcoming visit of Pope Benedict of the Roman Catholic Church. Members of the Council will be attending a service of Vespers in Westminster Abbey.
There was an opportunity for warm conversation after the meeting, while the members enjoyed the refreshments kindly provided by the Syrian Orthodox community. His Grace Archbishop Athanasios was travelling abroad but had insisted on generously providing hospitality for the Council meeting. Father Ishak was a very attentive host, and the Syrian food which had been prepared for us was very enjoyable.
Posted on: Wednesday, 25th August, 2010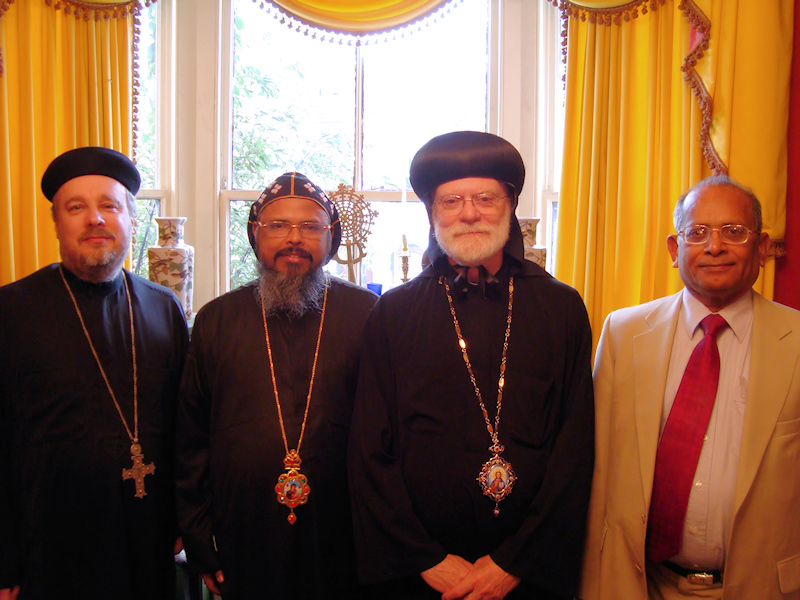 His Grace Dr. Mathews Mar Thimothios, Bishop of the Malankara Orthodox diocese of the UK, Europe and Africa paid a fraternal visit to the British Orthodox Church Secretariat at Charlton on 25 August, where he was wamly welcomed by Abba Seraphim.
His Grace Mar Thimothios is in the United Kingdom for a two month stay after having travelled extensively in Africa and Europe on pastoral visits to his  diocese, which must be one of the largest in the world. He and Abba Seraphim last met during the latter's pilgrimage to Kerala in January this year. He was accompanied by Dr. George Kutty, Secretary of St. Gregorios Orthodox Church in Brockley, South-east London, who both lunched with Abba Seraphim and Father Peter Farrington, Secretary of the Council of Oriental Orthodox Churches in the UK. During the visit the two bishops were able to discuss various pastoral issues as well as aspects of the history and traditions of the Malankara Church. Abba Seraphim  presented Mar Thimothios with a copy of his A Pilgrimage to Malabar.
Upcoming events
1 February 2015

Raising of Incense & Divine Liturgy: Doncaster

Raising of Incense – 9:45am
Divine Liturgy – 10:30am

Morning Prayer: Babingley

10.30am Morning Prayer

7 February 2015

Raising of Incense & Divine Liturgy: Shadwell

9.30 am Raising of Incense
10.00 am Liturgy of St. James
11.45 am Refreshments

8 February 2015

Raising of Incense & Divine Liturgy: Doncaster

Raising of Incense – 9:45am
Divine Liturgy – 10:30am

Morning Prayer: Babingley

10.30am Morning Prayer