Posted on: Wednesday, 25th August, 2010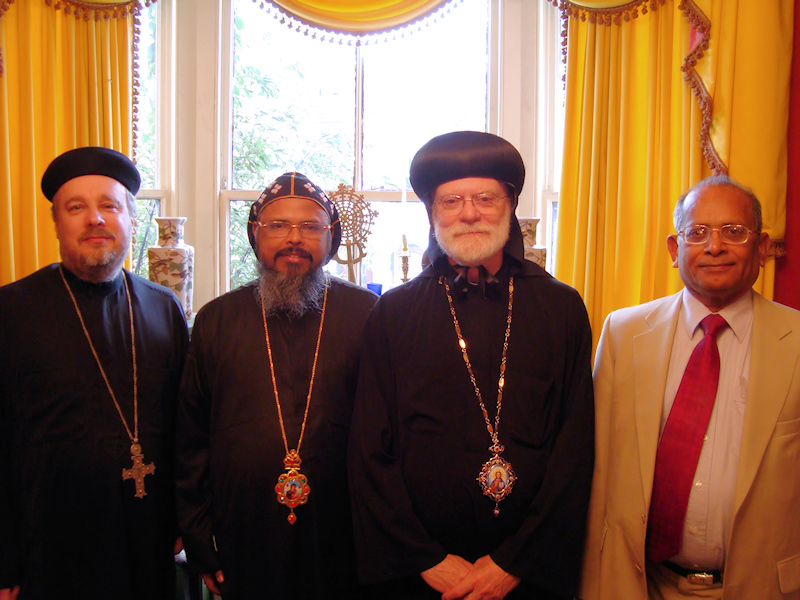 His Grace Dr. Mathews Mar Thimothios, Bishop of the Malankara Orthodox diocese of the UK, Europe and Africa paid a fraternal visit to the British Orthodox Church Secretariat at Charlton on 25 August, where he was wamly welcomed by Abba Seraphim.
His Grace Mar Thimothios is in the United Kingdom for a two month stay after having travelled extensively in Africa and Europe on pastoral visits to his  diocese, which must be one of the largest in the world. He and Abba Seraphim last met during the latter's pilgrimage to Kerala in January this year. He was accompanied by Dr. George Kutty, Secretary of St. Gregorios Orthodox Church in Brockley, South-east London, who both lunched with Abba Seraphim and Father Peter Farrington, Secretary of the Council of Oriental Orthodox Churches in the UK. During the visit the two bishops were able to discuss various pastoral issues as well as aspects of the history and traditions of the Malankara Church. Abba Seraphim  presented Mar Thimothios with a copy of his A Pilgrimage to Malabar.
Upcoming events
26 October 2014

Morning Incense & Divine Liturgy: Bournemouth

Morning Incense 09.30, Divine Liturgy 10.15

Raising of Incense & Divine Liturgy: Doncaster

Raising of Incense – 9:45am
Divine Liturgy – 10:30am

Morning Prayer: Babingley

10.30am Morning Prayer

Raising of Incense & Divine Liturgy: Charlton

Raising of Incense 2.00 p.m.
Divine Liturgy 2.30 p.m.